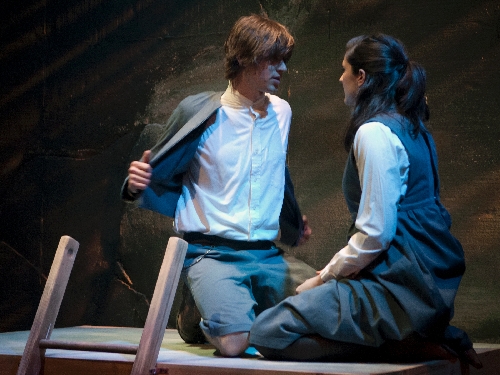 Reaching for his hand, she guides it to her leg. "Do something," she coos. "Do anything."
No need to tell a teenage boy twice. Right?
Yet this one is terrified. Confounded by newfound sexual stirrings. Shoved unwillingly into budding manhood. Headed toward a tragic end.
Toss in a rape that might not be a rape. Plus a whipping that's not a masochist's sexual nirvana — but on some level it is.
Mature material about not-yet-mature characters for mature audiences.
"It's not incredibly explicit, there's no nudity, although it has kind of an R rating," says Kenn McLeod, director of Nevada Conservatory Theatre's "Spring's Awakening" at the University of Nevada, Las Vegas, at a recent rehearsal. "We do have kissing between (the same) gender, abuse, abortion, suicide. But we took a Greek aspect to it, so a lot occurs offstage with repercussions onstage."
Sex and teens. Combustible stuff. Not "Porky's." Not "90210." Not even "Spring Awakening," the Tony-winning 2006 musical, though the latter is based on this Frank Wedekind German play — subtitled "A Children's Tragedy" — written in 1890 with a history of hysterical controversy: numerous bans, with a planned run in New York City in 1917 that was condemned as pornographic, a court's permitting one performance only for a limited audience.
Indicting stifling religious, moral and familial constraints that strangle the sexual curiosity of teenagers, "Spring's Awakening" (in which all cast members are at least 18) centers around three 14-year-olds' exploring emerging sexual feelings: Moritz, the school dunce afraid of his hormonal changes, who asks Melchior — cool kid/presumed sexpert — to pen an essay for him about copulation.
Meanwhile, Melchior explores his attraction to childhood friend Wendla, herself confused but fascinated by her own oncoming womanhood. Numerous supporting characters populate the hot-button play, which is a couple of generations removed from Wedekind's original, based on Francis Ziegler's 1910 English translation, and further adapted by McLeod and Nevada Conservatory Theatre collaborators Elizabeth Leavitt and Jeremiah Munsey.
"He has a birthmark," one girl titters onstage, coaxing another into some reverse Peeping Tom-ism. "I don't want to see the boys with no clothes on," the other protests. Doesn't sound pornographic, but that's what adaptations are for.
"There's a scene in the original where the boys are (masturbating) on a coin," McLeod says. "We replaced that."
Elsewhere in the piece, Wendla, who's from a well-off family and helps poor people who've been beaten, finds a switch in the woods and asks Melchior to beat her so she understands the feeling. "I think people will be fine with what they're seeing, except for the whipping scene. That might be a little, 'Uhhhh,' " says Wendla's portrayer, Melody Wilson.
"Most people would think, 'Oh yeah, it turns her on.' That's not necessarily true. But she's so curious and so hungry for information, whether it be about sex or not. She's not exactly been lied to by her parents about the facts of life, but they've left out information, so she finds these ways to make her feel different."
Misinformation and prudish parental attitudes come into play in the "rape" scene between Melchior and Wendla, which was clear in the original, but more open to interpretation here — nonconsensual or mutual curiosity?
"What if I kissed you right now," asks John Maltese, aka Melchior, onstage and in character. "I'd slap your face," says Wilson's Wendla, who's been told by her mother that children are only born when two people love each other. "People love when they kiss," Wendla says. "But you're not in love with me. … Are you in love with me?"
Yet Mom's take on love and sex is revealed as fatally flawed when Wendla winds up pregnant.
Mom: "You haven't gotten chlorosis! You have a child!"
Wendla: "I can't! I'm not in love!"
Parental shortcomings are also pointed out in the disconnect between sex information and academic pressures. "They don't give them reasonable expectations about sex," Maltese says. "But they're piling on all these other expectations about their academic life and future careers. They set this double standard: 'Grow up and be like businessmen now,' but won't tell the other side."
Tragic consequences loom. Abortion pills and suicide factor into a play that, 120 years after it was written, speaks to contemporary issues. Consider the rash of bullying against gay students. A Nov. 6 New York Times story relayed how one Montana school, in an effort to enlighten children, proposed teaching first-graders that "human beings can love people of the same gender" and fifth-graders that sexual intercourse can involve "vaginal, oral or anal penetration." Parents roared their disapproval.
"Spring's Awakening," in fact, features two gay boys. "It's one of their awakenings," McLeod says. "It's, 'I love you, and I don't know why. I know who I'm supposed to love, and this isn't it, but I'm having the right feelings.' It's one of the only relationships that ends happily."
Little seems to change from generation to generation. Parents still tiptoe around — or flat-out avoid — straightforward conversations as their kids awaken to the pleasures and pitfalls of sex.
Meanwhile, in schoolyards everywhere, those words are still whispered: "Do something. Do anything."
Contact reporter Steve Bornfeld at sbornfeld@ reviewjournal.com or 702-383-0256.
Preview
"Spring's Awakening"
(intended for mature audiences only)
8 p.m. today, Saturday, Dec. 1-4; 2 p.m. Sunday and Dec. 5
Black Box Theatre, University of Nevada, Las Vegas,
4505 S. Maryland Parkway
$15 (895-2787; pac.unlv.edu)