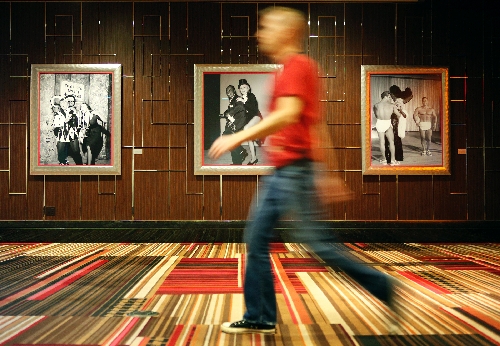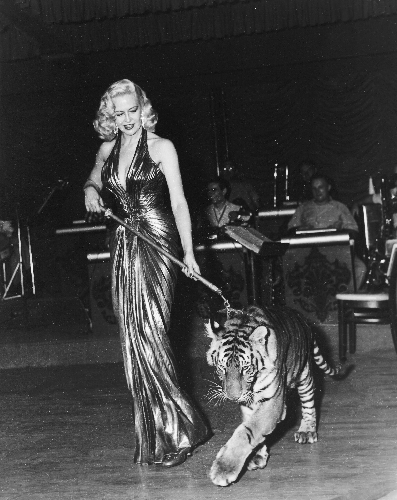 When burlesque icon Tempest Storm went into the striptease business, she vowed to do a classy act.
Back in the day, says Storm, 84, the act of taking one's clothes off to music was a big deal. She was backed up by a full stage production with show boys and choreographed dances.
Nowadays, she says, "they take their clothes off by the first 16 bars. In those days, it was more glamour and more classy, sexy, not all out there. They left something to the imagination."
Those days are gone, but history buffs can get a glimpse of Storm's Las Vegas in "The Golden Age of Glam" at The Cosmopolitan of Las Vegas. The 20 large-scale photos, curated by Brian Alvarez, is an exhibit honoring the 65th anniversary of the Las Vegas News Bureau. Originally a marketing arm for the Las Vegas Chamber of Commerce, the News Bureau's photographers documented the valley's entertainment landscape over the years, capturing photos of icons such as Frank Sinatra, Dean Martin, Sammy Davis Jr., Mae West and many others.
The News Bureau used a lot of "cheesecake" photography to promote the city as a destination, Alvarez says. Their over-the-top photos depicted beautiful women walking tigers on leashes, posing next to a block of ice dressed as a polar bear, even sitting at a table, eating dinner and playing a slot machine – under water.
One photo from 1956 shows Robby the Robot playing craps. That was an attempt to appeal to the masses and make Las Vegas seem inviting to everyone, Alvarez says.
A photo of Storm from 1969 adorns the wall on the second floor of The Cosmopolitan. In it, she wears a sequined bikini and stands onstage at the Aladdin.
"I really feel honored The Cosmopolitan chose my photo to put up there," says Storm, who is semiretired in Las Vegas. "After I'm gone they'll still remember me. I like to think of myself that I'm unforgettable.
It is one of curator Alvarez's favorite photos.
"It was the Golden Era for Las Vegas," Alvarez says. "People think the things happening today in Vegas are new and edgy. But they did it all back then. That's the beauty of Vegas."
The exhibit was a good match for The Cosmopolitan and the hotel's "Just the Right Amount of Wrong" advertising campaign, says the hotel's chief marketing officer Lisa Marchese. Many of the photos are similar to images used by The Cosmopolitan, she adds.
One photo, of burlesque dancers from Barry Ashton's "Wonderful Revue of Burlesque" at the Silver Slipper, shows the women posing with a giant shoe. Nearby sits a giant shoe sculpture of a woman's high heel. It is a popular photo spot for hotel guests, Marchese says.
"We're so committed with creating a sense of discovery for our guests," Marchese says. "It's a great alignment for what we typically do."
The photos will be on display through 2012.
Contact reporter Sonya Padgett at spadgett@reviewjournal.com or 702-380-4564. Follow @StripSonya on Twitter.