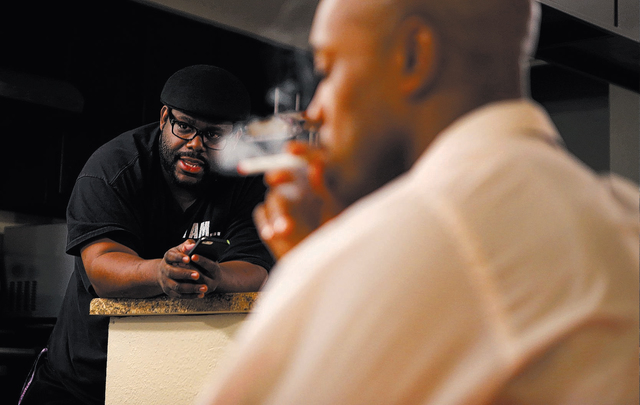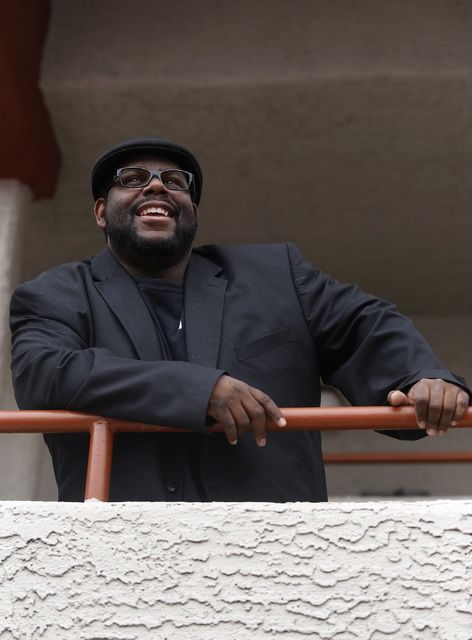 He'd been to the mountaintop — and had seen the promised land.
"I may not get there with you," Martin Luther King told his audience at the Mason Temple in Memphis, Tennessee, on April 3, 1968. "But I want you to know that we, as a people, will get to the promised land."
The next day, on the balcony of Room 206 of Memphis' Lorraine Motel, a fatal bullet from assassin James Earl Ray's pump-action rifle triggered King's final journey.
What happened in between King's final speech and King's final day inspires "The Mountaintop."
Broadway in the Hood's production of Katori Hall's award-winning drama begins a four-performance run Friday — the launch of the long Martin Luther King Jr. holiday weekend — at The Smith Center's Troesh Studio Theater.
But "The Mountaintop" introduces audiences to a different side of the legendary civil rights leader in its fictional portrayal of his last night on Earth.
The play takes place in the spare motel room that King and colleague Ralph Abernathy used so often it was known as the "King-Abernathy Suite."
But Abernathy's not there. King (played by Mario Peoples) has sent his friend out to get some Pall Mall cigarettes.
Turns out someone else also smokes Pall Malls: Camae (Tiffany Thompson), the first-night-on-the-job maid who brings King his coffee.
As "The Mountaintop" reveals during its 90-minute running time, the sassy Camae is there to deliver much more than room service — including firecracker-feisty remarks, some punctuated by the kind of profanity not generally associated with religious and civil rights leaders.
But that's precisely the point, according to Broadway in the Hood founder Torrey Russell, who's directing "The Mountaintop" — and has transformed his Las Vegas apartment's living room into Room 305 for rehearsals.
Camae is "this wonderful character who really brings out the human side of Dr. King," according to Russell — who spent eight years as poet Maya Angelou's tour manager and heard King tales from Angelou and, among others, King's widow, Coretta Scott King.
" 'We drank — we had such fun,' " Russell remembers Angelou telling him. "You don't see the laughing, drinking Dr. King" in most portrayals.
In short, King "was as human as the next guy," Russell comments, yet "he was able to accomplish so much."
Portraying such an iconic figure is "definitely intimidating," Peoples admits.
"Dr. King is such an iconic leader," he notes. But playwright Hall "wanted to show a different side of Dr. King — more of a human being we can all relate to." Especially as he realizes "a bullet with his name on it" may find him sooner rather than later.
The character of Camae, meanwhile, is "a lot more than just a maid" in Thompson's view. "She definitely brings a magical element" to the play, even as she and King discuss his looming doom.
Unlike Peoples, "I have to create something nobody knows," Thompson says of Camae. "I have to make sure people get it." One influence on her portrayal: Marla Gibbs' tart-tongued maid Florence on TV's "The Jeffersons."
The "Jeffersons" reference also hints at "The Mountaintop's" humorous moments, Peoples notes.
"It's definitely an emotional roller coaster," he says of Hall's drama. "There are only two people on stage for 90 minutes — you need to have a laugh. In this play, you're going to laugh, cry, be in suspense."
An award-winning hit when it debuted in Britain, "The Mountaintop" received a less rapturous reception on this side of the Atlantic, when Samuel L. Jackson and Angela Bassett headlined a 2011 Broadway production.
"After not going to see it, I heard so many wonderful things about it," the director comments.
Recent "police shootings and killings and other things" that signaled "a lack of care for African-American lives … made me read this piece," Russell says. "And once I read it, I really got into it," thinking "if we don't tell this story, history can repeat itself."
In the play, King and Camae discuss the view from "The Mountaintop," with King acknowledging, "Some nights I ask God" to "please, get it over with," prompting Peoples to ponder the impact of his role.
"I feel like I was called to act," he says, "so I could use my voice and inspire" audiences.
"I think it's inspirational and motivational," Thomas says of the drama. "People are going to get a lot out of it."
To Russell, "it's time for theater to reflect everyone and everything," he says. "This story is definitely relevant to now," as well as being "a reflection of what we should all strive for … so we can stand up and be proud and love one another as human beings."
Read more from Carol Cling at reviewjournalcom. Contact her at ccling@reviewjournal.com and follow @CarolSCling on Twitter.
Preview
What: "The Mountaintop"
When: 7 p.m. Friday, 2 and 7 p.m. Saturday, 3 p.m. Sunday
Where: Troesh Studio Theater, The Smith Center for the Performing Arts, 361 Symphony Park Ave.
Tickets: $34 (702-749-2000, www.thesmithcenter.com)