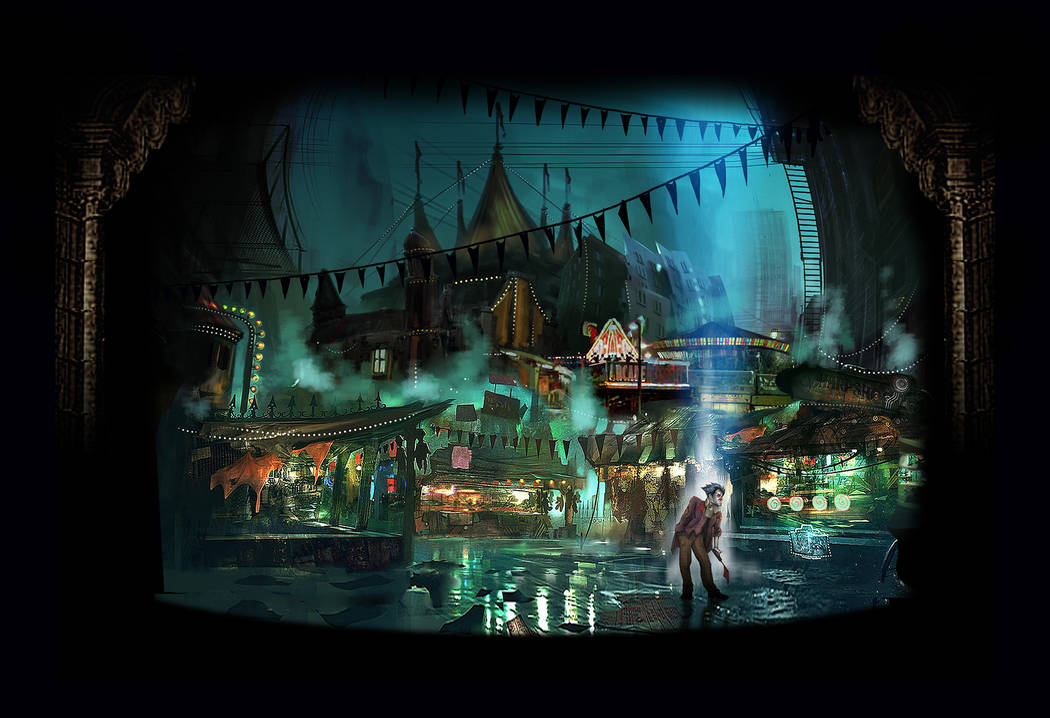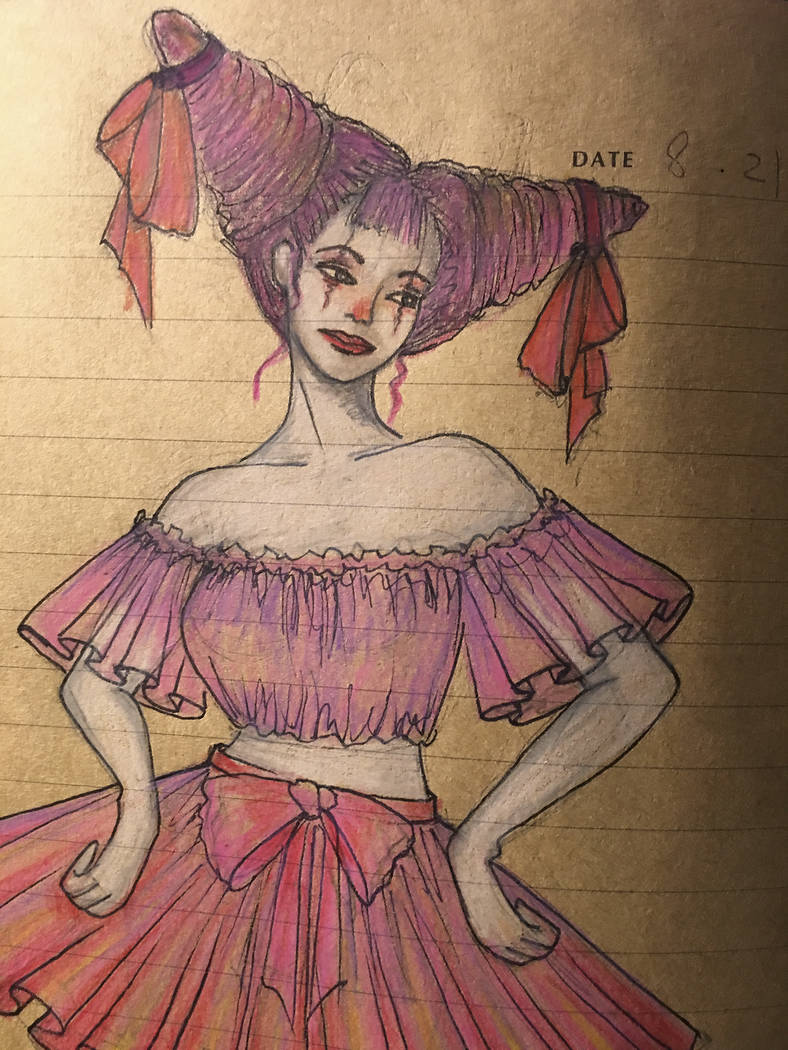 Clowns are born, not made. At least in "Clowntown."
The imaginary — yet topical — title realm provides the setting for the new musical, which debuts this weekend in workshop form at UNLV's Judy Bayley Theatre. The three performances will benefit Nevada Conservatory Theatre, UNLV's professional theater training program.
But one warning: If you're going to visit "Clowntown," check your circus-magic expectations at the door. "Clowntown's" streets can be mean, with murder and menace accompanying the red noses and painted-on smiles.
That's because it's an amusement park where all those born clowns have been exiled — and forgotten. At least until a high-profile slaying forces the world's greatest clown to return to the walled compound he used to call home.
In short, "it's a noir," according to NCT artistic director Christopher Edwards, who describes "Clowntown" as " 'The Maltese Falcon' meets Cirque du Soleil meets Barnum and Bailey."
Make it noir with "a dark comedy take," adds director Allegra Libonati, who's coming to Las Vegas to direct "Clowntown" from her base in Boston, where she's a resident director at the Harvard-affiliated American Repertory Theater.
In addition to showcasing traditional clowning, the musical "also makes fun of the idea that clowns are scary, clowns are evil," she says.
Yet the notion of "Clowntown" as a "failed social experiment is what attracted me to the story," says Michael Brennan, who composed "Clowntown's" score and wrote the musical's book with lyricist John Masse, a longtime friend.
"There are so many levels of social commentary," Brennan explains. "When we started the script, there was no talk of building a wall. But it seems like our play gets more and more politically relevant every day."
Although sets will be minimal and actors will have scripts in hand, a nine-piece band will give the performances "a concert-style presentation — with sparkle," Libonati says.
And the staging will include some aerial sequences made possible thanks to a Flying by Foy rig used at the theater during NCT's season-ending "Peter Pan" earlier this month, Brennan adds.
In his "day job," Brennan serves as musical director for "Le Reve" at Wynn Las Vegas. He also co-founded, with current host Keith Thompson, the Composers Showcase of Las Vegas, now playing monthly at The Smith Center's Cabaret Jazz — where attendees first heard some of "Clowntown's" rock-style songs.
The road to "Clowntown" began in California, during a visit Brennan made to his friend Masse, creative director for Skechers USA. (In that role, Masse's advertising background comes in handy; he writes and sometimes does voice-overs for the shoe company's commercials — and even designs footwear, including the Chewbacca slippers inspired by "Star Wars: Episode VII — The Force Awakens.")
During the visit, Brennan spotted "this incredible picture book" Masse had illustrated to promote a "Clowntown" movie at Hollywood pitch meetings. Perusing the pictures depicting various "Clowntown" denizens, "my head is spinning," Brennan recalls. "The whole concept about clowns being a species, a race of humans, was fascinating to me as a social experiment."
So Brennan and Masse convinced screenwriter Nathan Olney to give them the rights to bring his script to the stage.
The next stop on the "Clowntown" tour: the August 2015 NextFest at Seattle's 5th Avenue Theatre, where four actors performed seven of the show's songs.
Then, in March 2016: a full reading by a Las Vegas cast at a local recording studio, where performers read the script and sang the songs, convinced the creators they needed to write more scenes and songs to better develop the show's characters.
That's when Edwards first encountered "Clowntown" and suggested a workshop production at UNLV, to give them "a sense of what it might look like in a theater."
Audiences who sign on for this trip to "Clowntown" will experience "the first incarnation of the script," Libonati notes. "So much is left to your imagination," she adds, that a staged reading is "sometimes just as rich an experience. The audience becomes part of the experience."
Contact Carol Cling at ccling@reviewjournal.com or 702-383-0272. Follow @CarolSCling on Twitter.
Preview
■ What: "Clowntown"
■ When: 2 and 7:30 p.m. Saturday, 2 p.m. Sunday
■ Where: Judy Bayley Theatre, UNLV, 4505 S. Maryland Parkway
■ Tickets: $30 (702-895-2787, unlv.edu/pac/tickets)
It's a small world: 'Clowntown'
It's all about who you know.
That adage applies in many contexts, but it's particularly pertinent when it comes to creating a new musical such as "Clowntown," which debuts this weekend at UNLV's Judy Bayley Theatre.
UNLV students and faculty members are participating in the show, on and off stage; they're joined in the cast by such Las Vegas-based performers as Justin Sargent (Palazzo's "Baz — Star Crossed Love"), "Steve Wynn's ShowStoppers" alumni Randal Keith and Nicole Kaplan and former "Jersey Boys" star Travis Cloer.
"Clowntown" co-creator Michael Brennan is the music director at Wynn Las Vegas' "Le Reve." That explains the involvement of "Le Reve's" Didier Antoine, who's overseeing "Clowntown's" aerial moves.
Broadway vocal arranger AnnMarie Milazzo (whose credits including "Finding Neverland," "Next to Normal," "Spring Awakening" and the upcoming "Once on This Island" revival), a longtime friend of Brennan's, heard some of the songs he wrote with lyricist John Masse, another longtime friend — and was inspired to create "Clowntown's" vocal arrangements.
"She just believes in it 100 percent," Brennan says of Milazzo — whose involvement led to the involvement of director Allegra Libonati, with whom she worked on a production at American Repertory Theater in Cambridge, Massachusetts.
"She thought of me," Libonati says, because "I love musical theater and I love clowning."
NCT in 2015 played host to another work-in-progress musical: "Ace," co-written by "Ka!" musical director Richard Oberacker, who's currently represented on Broadway by the Tony-nominated musical "Bandstand."
Oberacker noted "how it had gone well for him, and we thought, 'Let's give it a shot,' " notes Christopher Edwards, NCT's artistic director. (At least until Edwards leaves UNLV in June to run an East Coast theater.)
"It's this wonderful beeline from one person to the next," Brennan observes. "Everyone's donating their time."
As for the result of all the collaboration, "we're not quite sure what we've got," he acknowledges. "But it's going to be fun."