'This is our life': The Punk Rock Museum opens in Vegas
Updated April 3, 2023 - 7:26 pm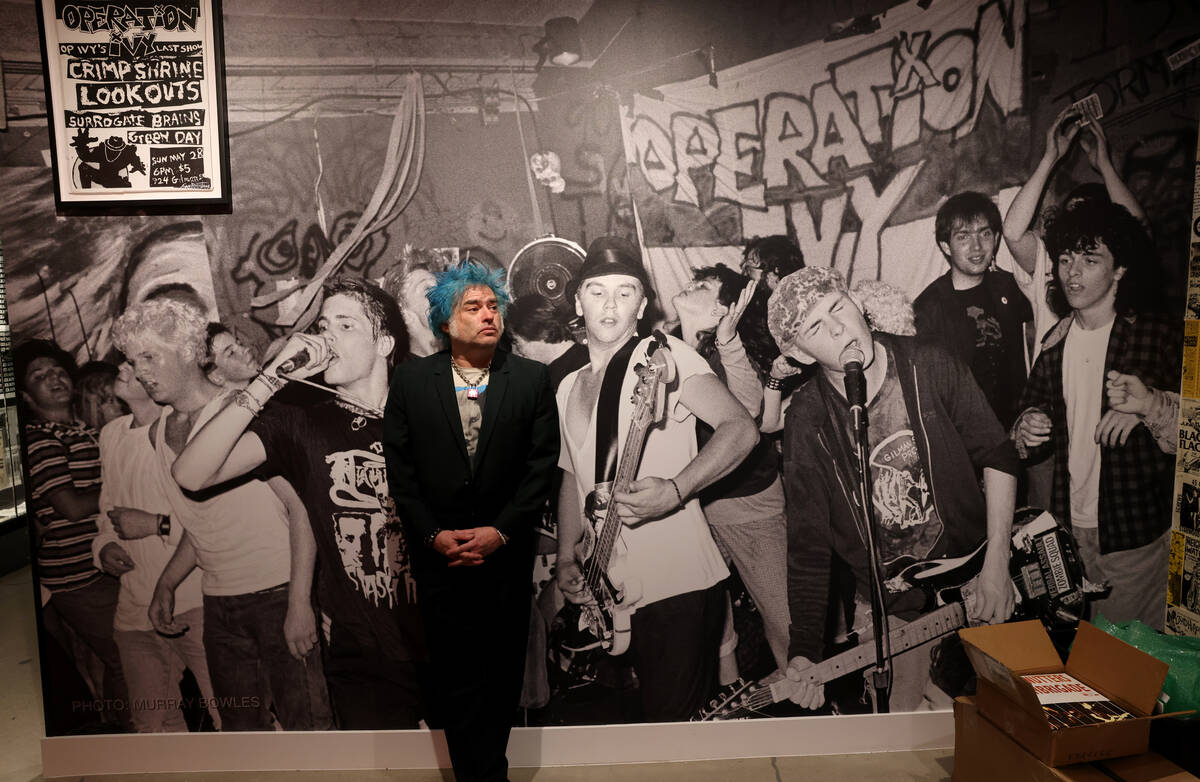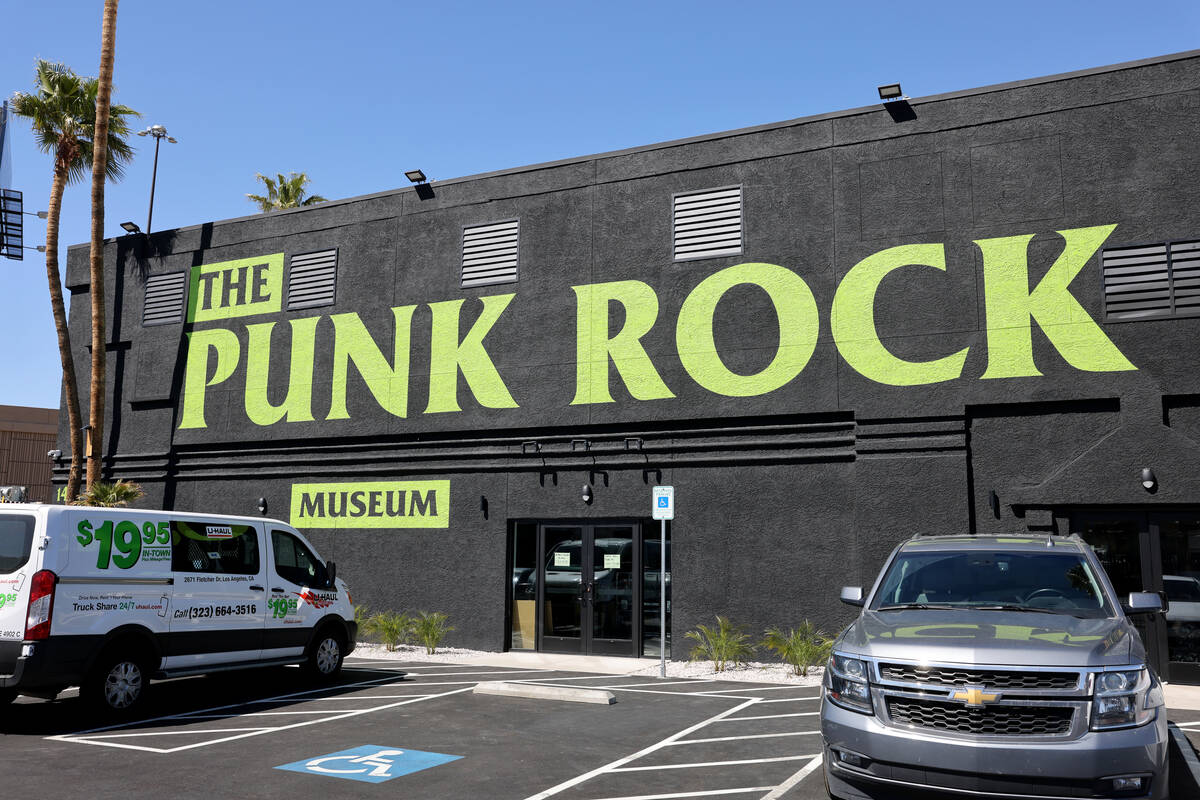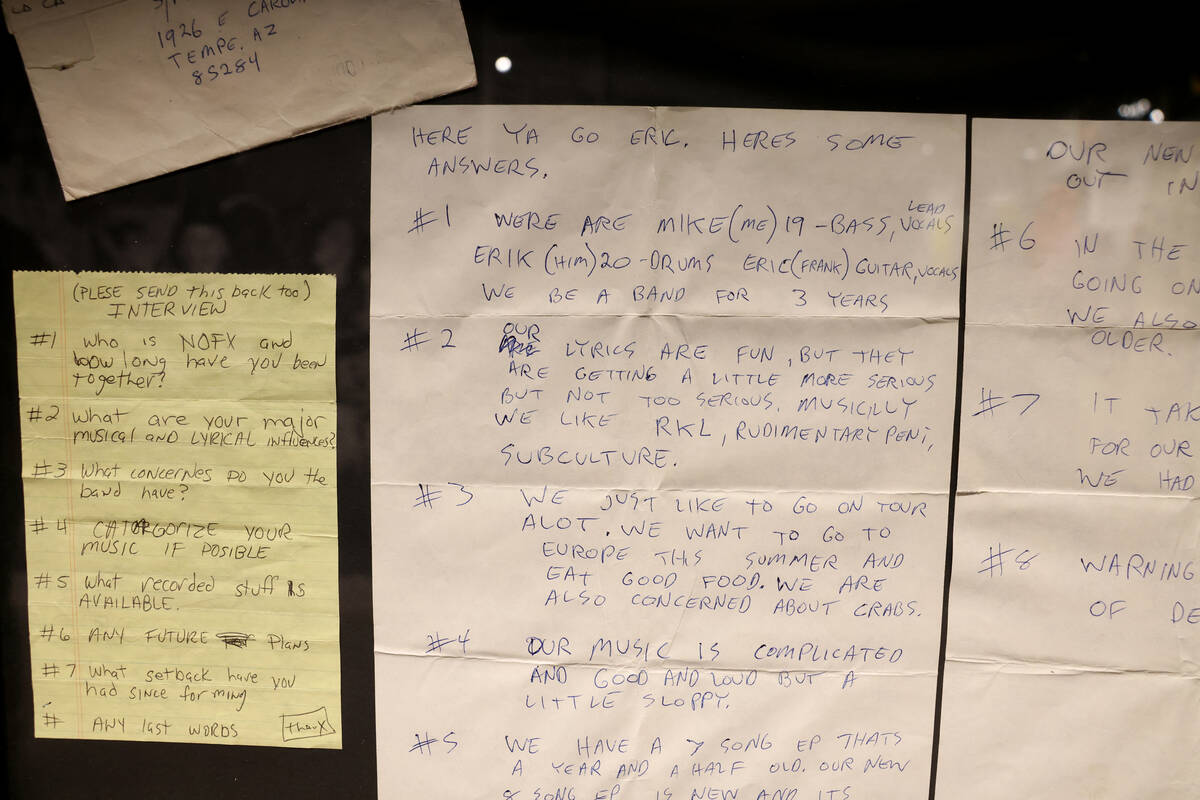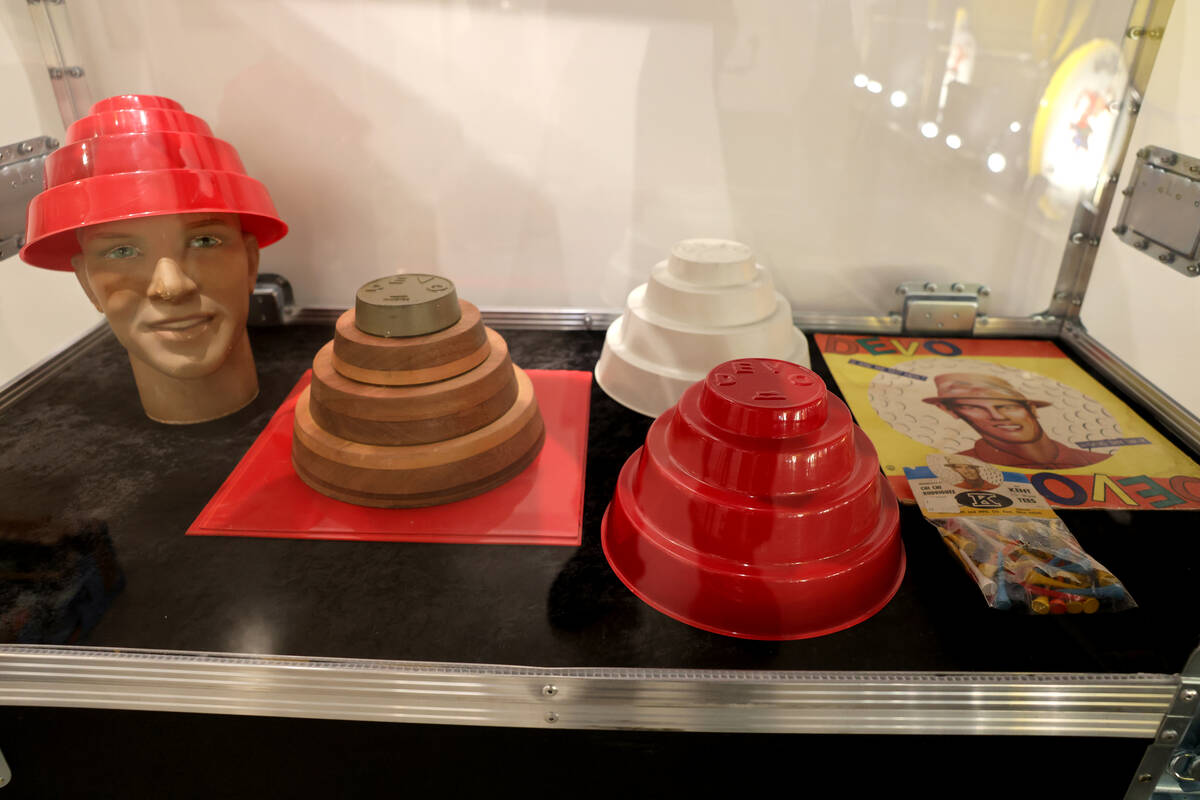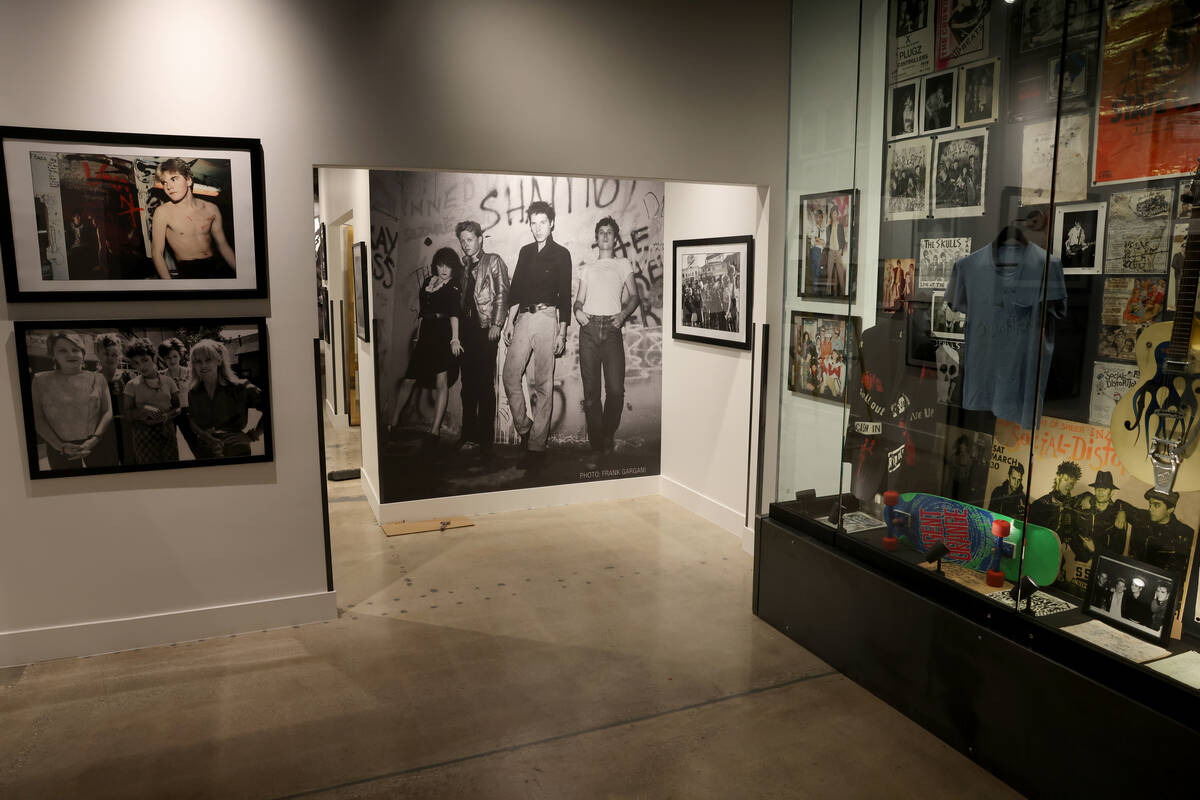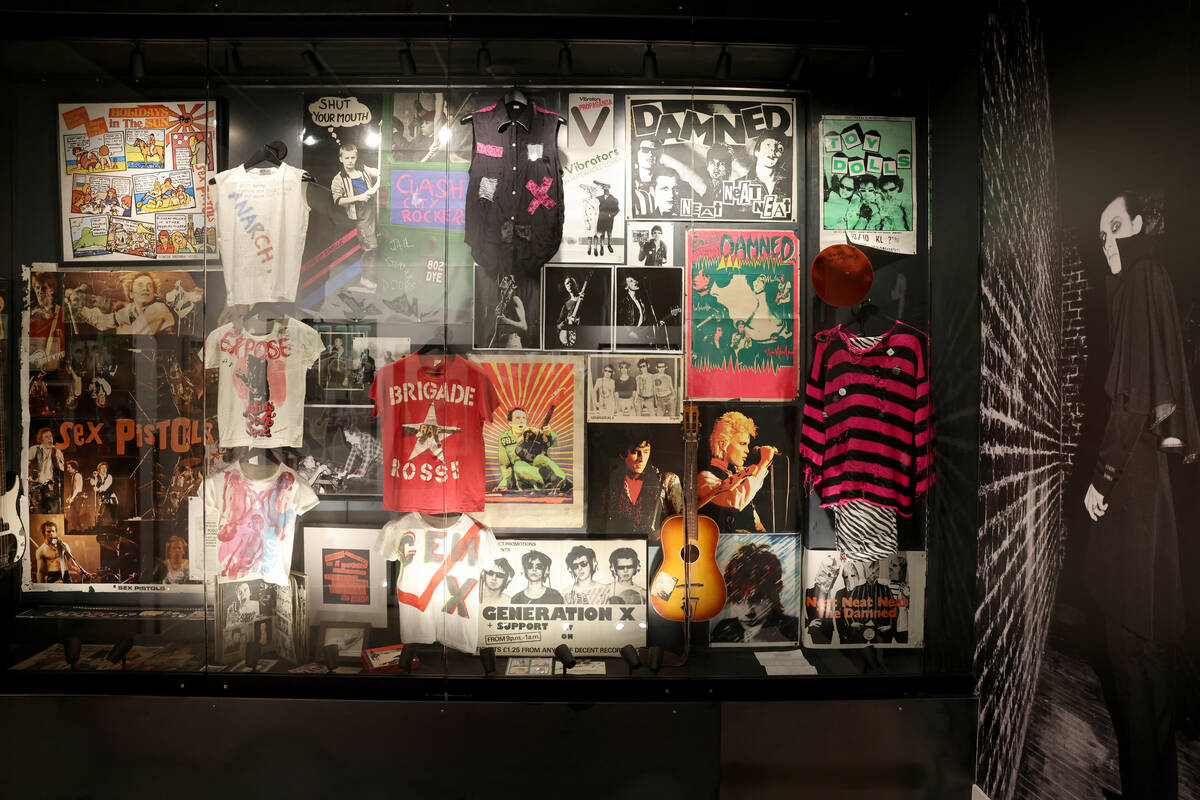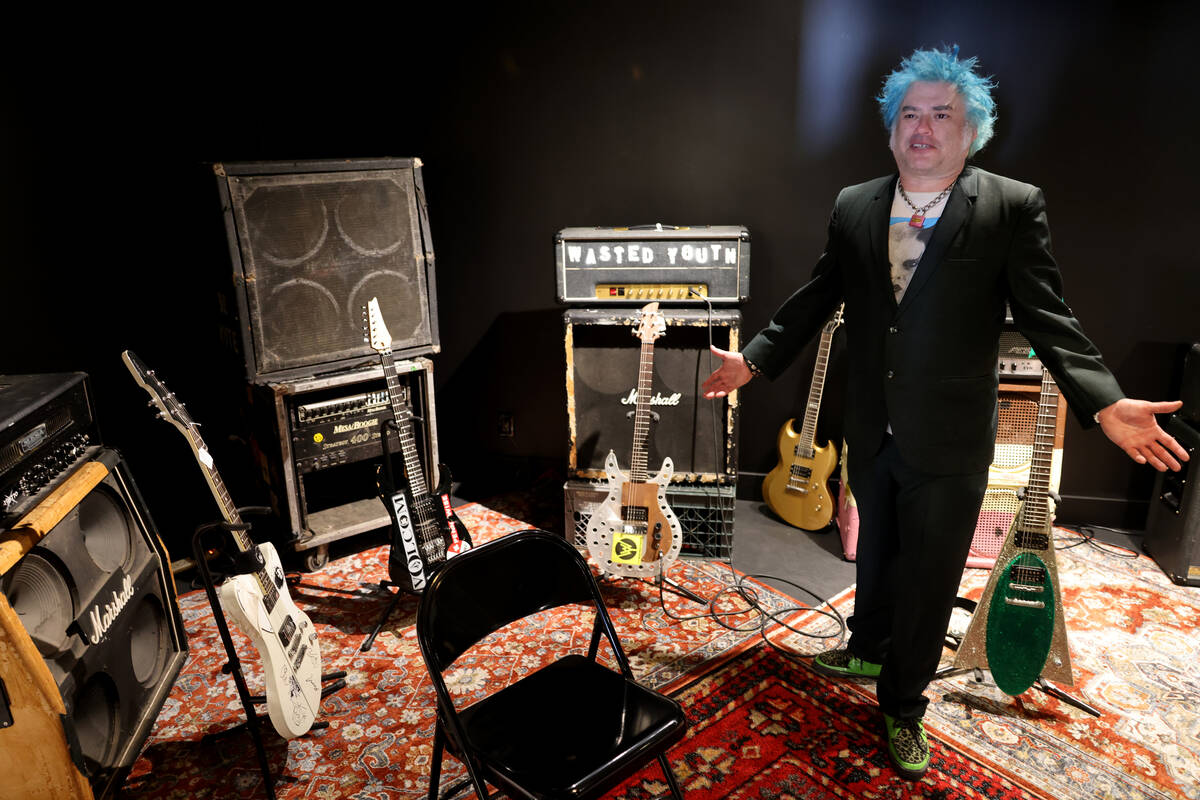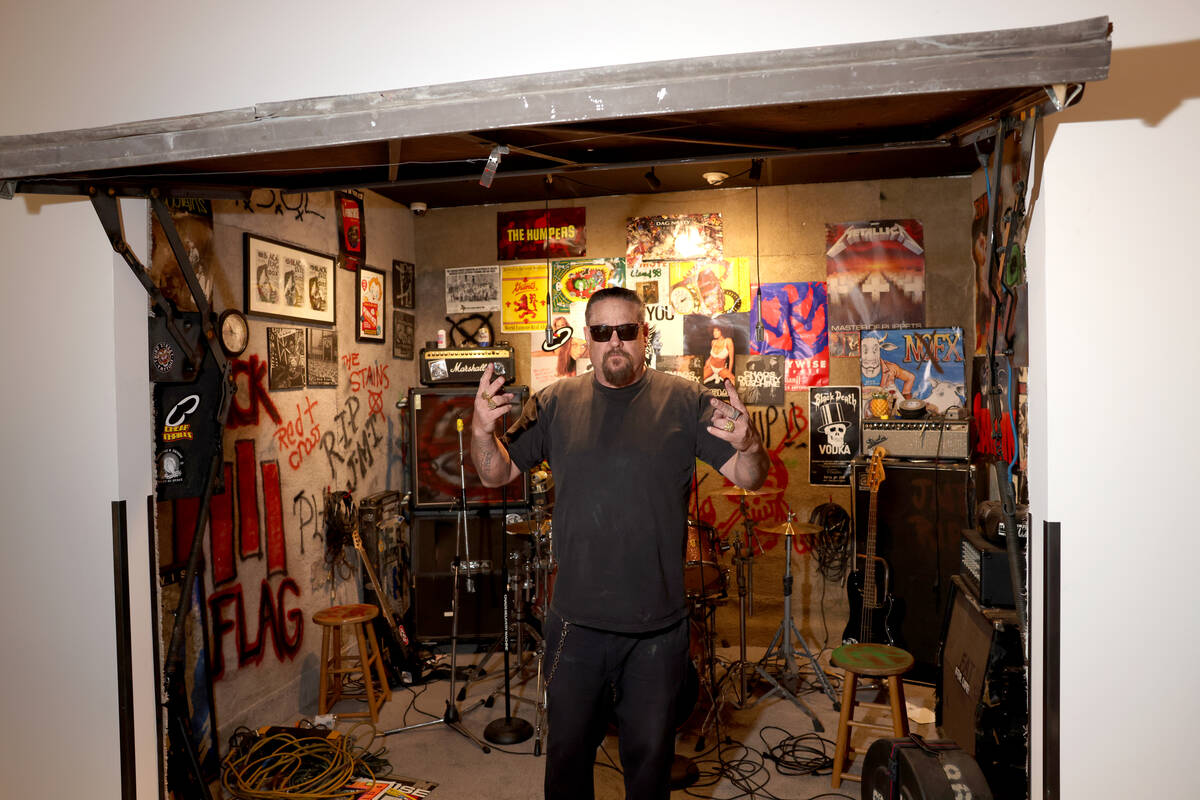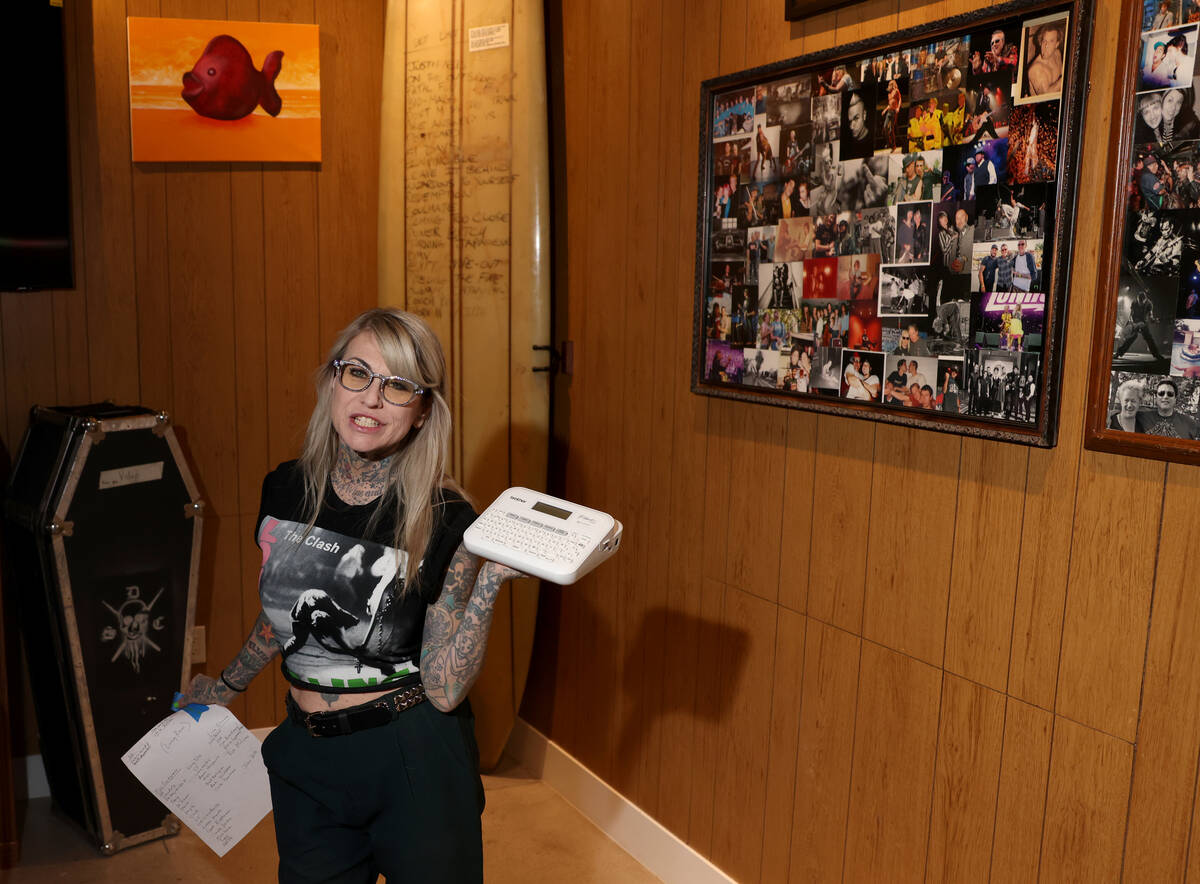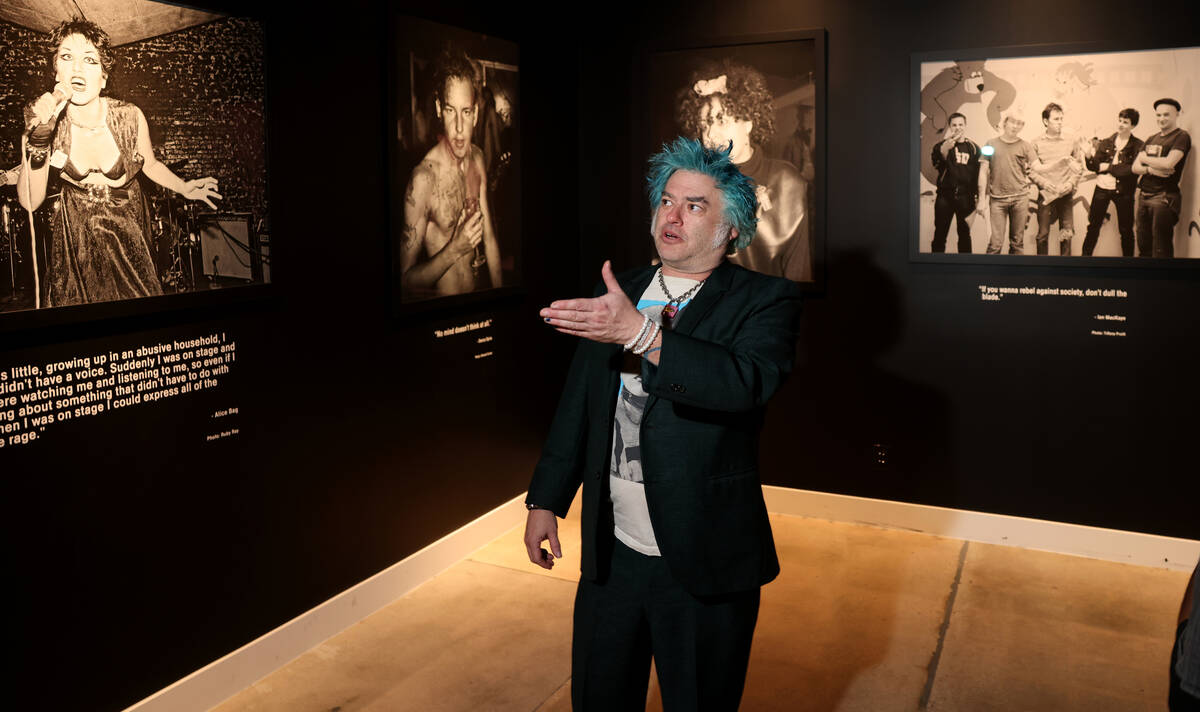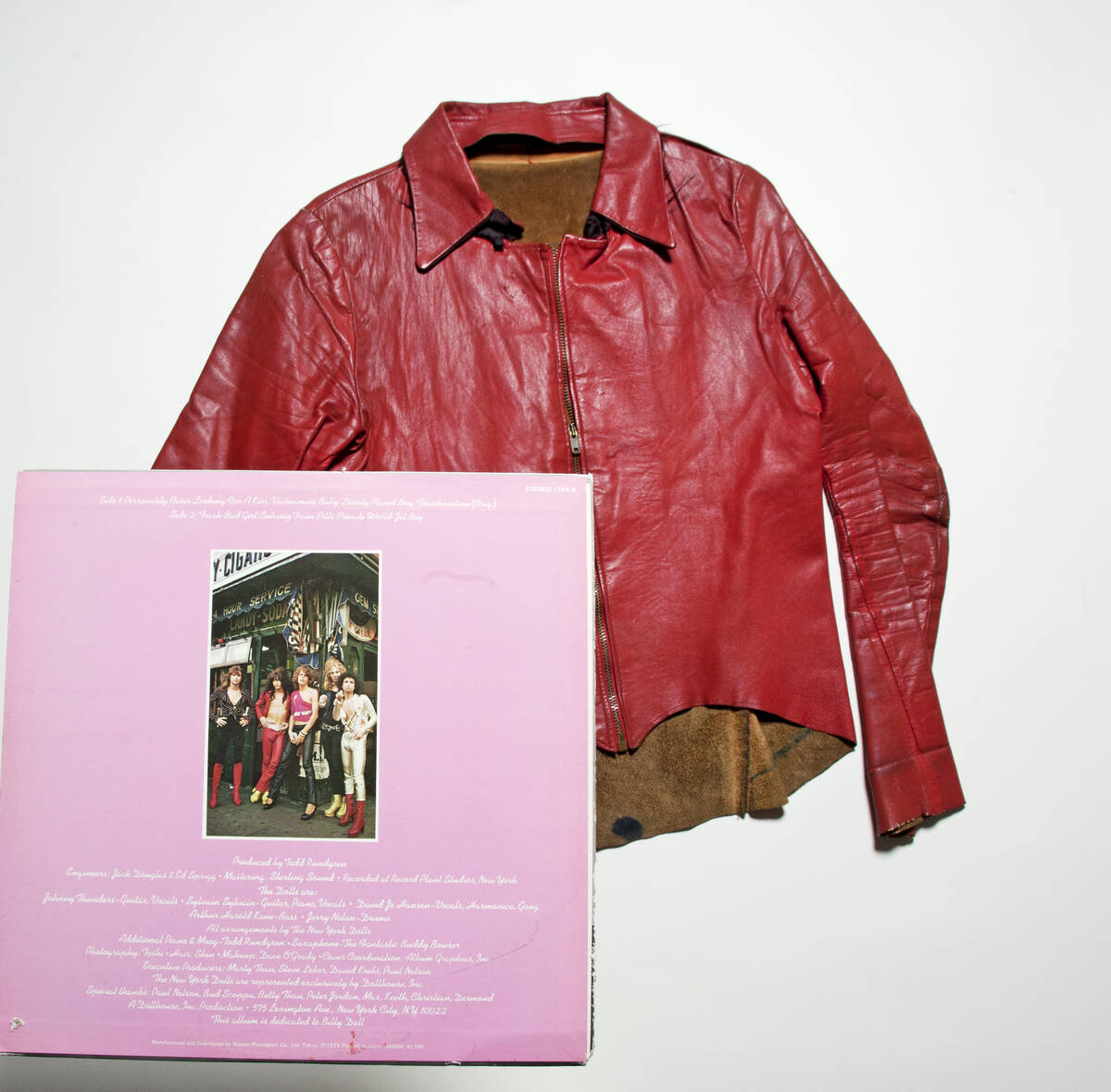 "Warning, beware of Detroit."
"Fat" Mike Burkett's eyeing some handwriting from 37 years ago encased in a glass frame, grinning at the red-inked scrawl of a 19-year-old punk.
"I wrote that."
Back in 1986, someone sent his band — the middle-finger-with-guitars that is NOFX — interview questions in the mail.
It's some pretty standard stuff — Who are you? What do you sound like? etc. — with Burkett's responses as short and to-the-point as the majority of his band's sarcasm-heavy, fat-free songs: "We be a band for three years;" "Our lyrics are fun but they are getting a little more serious."
He ends the letter with a cryptic shot at the Motor City.
"In Detroit, we had four people show up to our show, which was $1 to get in," Burkett explains, clad in a black dress and matching boots, hair as blue as his band's repertoire can be, at times. "And all four of them left after the first song. The soundman's like, 'There's no one here, you can stop playing,' We're like, 'Clearly we need the practice.' Then we siphoned gas to get to the next city.
"But that's magic, you know," he continues, alluding to the letter that stirred the story he's just shared. "The little things that we have here."
He says that word a couple times — magic — as he walks through the new Punk Rock Museum, a two-story, 12,000-square-foot wonderland of combat boots, drum kits, show fliers, chainsaws, more show fliers, set lists and memories, so many memories.
It's widely considered (by those who would know) to be the world's most comprehensive collection of all things punk.
There's a tattoo parlor offering band-themed ink from acts like Bad Religion, AFI and the Descendents; a bar — The Triple Down — overseen by Double Down Saloon owner P Moss; and, of course, a wedding chapel complete with portraits of punk rock's most infamous couple: Sid Vicious and Nancy Spungen.
The place is to die for, literally: The chapel is also available for wakes.
Officially, the museum took two years and four months to go from conceptualization to completion — not that it'll ever be fully complete, the idea here is the collection will continually evolve.
But really, this was a lifetime in the making — a lifetime of shows, a lifetime of songs, a lifetime of not fitting in from a bunch of outsiders who now have a home of their own.
"We're a satellite of the music industry," Burkett explains, "There's no Grammy for punk rock — even though the biggest rock bands in the world are Green Day and Blink (182). They're punk bands. There's no chart in "Billboard" for punk — and that's how we like it, because we're not part of the music industry.
"We're not respected," he continues. "And we don't want respect. We want a place. We want a place where any punk rocker from around the world can come and feel like they're part of something special."
Vinnie Fiorello, former drummer for ska punks Less Than Jake who also does graphic design and oversees merch for the museum, nods in agreement.
"It's a pilgrimage," he says. "This is the church of punk rock music, man."
'It's a museum about punk by punkers'
"This is maybe my favorite thing," says Fat Mike Burkett, who has a lot of favorite things here.
One of The Punk Rock Museum's most elaborate features is a full-on recreation of SoCal punk mainstays Pennywise's garage practice space — the instruments, the sound-absorbing carpet on the walls, the band posters ranging from Metallica to Samhain, complete with garage door — all of it transferred from the group's home state and reassembled here.
"This won't be gated," Burkett notes, meaning fans can hang in the same environment where the band wrote and rehearsed the songs they sing along to.
It's Monday afternoon, five days before the museum opens on Saturday, and Burkett — who co-founded the place and who'll serve as a tour guide here from time to time, along with the likes of Louichi Mayorga from Suicidal Tendencies, Noodles from The Offspring, Angelo Moore from Fishbone and Jennifer Finch from L7, among others — is getting some practice in.
"Did you see the Germs stuff we have?" he asks as he makes his way to a display featuring the pioneering L.A. punks.
Among the gems: Germs guitarist Pat Smear's first royalty check, for a cool $8.34, and singer Darby Crash's little black address book, which Mike has opened to a page that reads "Poser" — this makes him giggle.
The museum is laid out chronologically, by era and scene, opening with 1970s New York — check out that vintage New York Dolls show bill with Kiss as openers — going through the '80s California and Washington ranks — Black Flag and Circle Jerks drum kits; portraits of Bad Brains frontman H.R. that scream off the walls — all the way to contemporary acts on the second floor, from a Sum 41 chainsaw to a gold record earned by Taking Back Sunday.
"It's not a throwback," Fiorello says in front of items from modern bands like Masked Intruder, Old Man Markley and Anti-Flag. "It's a living museum."
Thing is, it wasn't even supposed to be a museum — at least not at first.
Burkett, who owns a home in Vegas, initially just wanted to open a punk rock shop here.
He reached out to Lisa Brownlee, former tour manager for the Warped Tour for 24 years, about running the place.
"She suggested, 'Oh, that sounds cool,'" Burkett recalls. "'But I think we should get some cool punk artifacts.'"
Before long, Mike had gone from looking for a 1,200-square-foot storefront to eventually scoring a space 10 times that size.
"Then it was like, 'No, this is a museum — with a punk shop,'" he says.
About their location, at 1422 Western Ave., next door to a gentlemen's establishment: "I didn't want to have a place near the Strip," Burkett quips. "I wanted a place near the strip club."
With Brownlee aboard as co-founder, they recruited peers like Fletcher Dragge, Fiorello, Bryan Ray Turcotte, head of the Kill Your Idols publishing company, and hundreds more to form the Punk Collective, which oversees the museum.
"Punk rock has always been do-it-yourself, right?" Fiorello asks rhetorically, "not waiting for someone else to do it for you. And for me, the museum represents that to the nth degree. It's a museum about punk by punkers."
From the desert to the display case
Their first Vegas gig wasn't actually in Vegas. Instead, NOFX performed in an unincorporated stretch of the desert, miles outside of town.
It was 1985.
The Vegas punk scene was the definition of D.I.Y. in those days: with few all-ages venues and zero punk rock-friendly clubs, bands and fans resorted to creative — and really, really hot, dusty and nasal-cavity agitating — lengths to put on shows.
Abetted by a generator, some lights, maybe a little plywood to serve as a "stage," they made it happen in the middle of nowhere.
"Every town had their little warehouses and every town had their Elks Lodges, but not every town had desert shows," says Vegas punk lifer Rob Ruckus, who's played in dozen of local bands ranging from Ruckus to The Vermin. "That's what made us kind of special."
"You didn't make a lot of money coming out here," he continues, voice gritty as a dirt road. "but there was always a rabid crowd of a couple hundred kids in the desert or in the warehouses or at the Huntridge (Theater). We would always show up. Every single time."
Among those who showed up on the night in question: Danny Breeden, frontman for Vegas hardcore punks F.S.P.
He was there when NOFX's van broke down hours before dawn.
"Our starter went out," Burkett recalls. "It was like 97 degrees at four in the morning. So he pushed our van with his truck."
Nearly four decades later, Burkett recruited Breeden to curate a Vegas wing of The Punk Rock Museum.
The exhibit includes a drum head from old, old-school Vegas punks Subterfuge, photo tributes to late scene forebears Mike Conley and Todd Sampson along with dozens of show fliers chronicling everything from Black Flag's initial Vegas appearance to $5 Decendents gigs.
"I wanted to start with the very early scene, because I think as the older we get, it's becoming faded and forgotten," explains Breeden, who says that more items from later eras will be added and encourages locals to share any memorabilia they might want in the museum. "With the new bands coming up, I don't know if they know the history of their scene here and how far it goes back, from '79, early-'80s."
The Vegas wall also features one of Ruckus' Rickenbacker basses — and a nude bobblehead of the man, naturally.
"I have to be a part of this," he says. "This is my life. I grew up in this.
"This is finally vindication after 40 years of living like what people called a maniac," he laughs. "Now I get to be in a museum."
An art form for everyone
He's looking for you to get a little weepy upon coming here, and he's leading by example.
"I get teary-eyed every day," Burkett acknowledges of the emotions stirred by being around so much punk rock history, so many stories, that fill these halls.
"I want people in small bands — some band like Simple Six, who were only a band from '82 to '83 — to come in here and see their band and cry," he says.
"One of my main goals is to get every band on the wall somewhere," he continues, "I want a kid from Indonesia to come in here and see a photo of his band or the name of his band on a flier. I want small bands from Oklahoma — NOTA, from Tulsa — I want them to come here and go, 'We're part of it! We're in the Punk Rock Museum.' It's pride."
From day one, punk rock has been about tearing down any barrier between artist and audience, fan and performer.
It's an inherently egalitarian art form — there are rock stars but there are no punk rock stars, because that would be a contradiction in terms. Rock stars are venerated; like the stars in the night sky, they exist on a plane above you.
The punk ethos, by contrast, remains posited on equality, inclusiveness — you can't be a misfit in a genre with The Misfits — and the idea that anyone who wants to be a part of this can be, regardless if you can only play four chords on a guitar or never had a face for MTV.
This is why the museum will feature artifacts from any punk band or musician that's ever been on a flier, played a show or recorded a demo in someone's kitchen.
Sure, there are items here from icons like Blondie's Debbie Harry, New Wave progenitors Devo and platinum-selling punks Rancid.
But there's also a red jacket from overlooked female garage punks Red Aunts, a flier from Minneapolis' The Selby Tigers, who lasted but five years before disbanding in 2003 in relative obscurity, and tons of other acts that weren't even household names in their own house.
"It's definitely leveling the playing field when you have a guitar from Tim (Armstrong) from Rancid and then next to it is a band that is one-eighth the size of Rancid as far as record sales, notoriety goes," Fiorello says. "It feels that everybody gets an equal showing. That's a pretty cool feeling, because when you're talking about art and artists, you always talk about putting someone up on this pedestal, but the museum evens things out for everybody."
This includes visitors: One of the coolest components of the museum is the Jam Room, which will be run by Ruckus, where you can play the instruments of various punk notables.
"You become one with these people," Ruckus says. "You get to pick up their guitar, I'll plug it into their amp, and you play on it."
Consider Burkett stoked.
"If I was a kid and I got to play Joe Strummer's guitar? Oh my god!" he exclaims. "It's not seeing it behind glass. You can play my bass. You can play Tim Armstrong's guitar."
A few minutes later, he gets a call informing him that the museum will be getting a pair of boots from Harley Flanagan, singer-bassist for seminal New York City hardcore troupe Cro-Mags.
"They still have teeth marks in the toes from kicking people!" Burkett announces merrily.
He then makes his way to a series of framed photo collages resting on the floor, waiting to be hung.
"The photos that make me so happy are these and these," he says, pointing to candid shots of various musicians doing nothing in particular, "just people hanging out backstage, doing what they do, out by the van."
The reason that he digs the images so much is that they capture a bunch of punk rockers just being people; people being punk rockers.
He wants you to leave this place understanding that there's no difference between the two.
More than anything else, this is what The Punk Rock Museum is all about.
"This is a part of our lives," Ruckus explains. "It's not just music to us. This is our life."
Contact Jason Bracelin at jbracelin@reviewjournal.com or 702-383-0476. Follow @jbracelin76 on Instagram.
The Punk Rock Museum
Where: 1422 Western Avenue
When: Open daily 11 a.m.-10 p.m.
Tickets: $30; $100 for guided tour (thepunkrockmuseum.com)