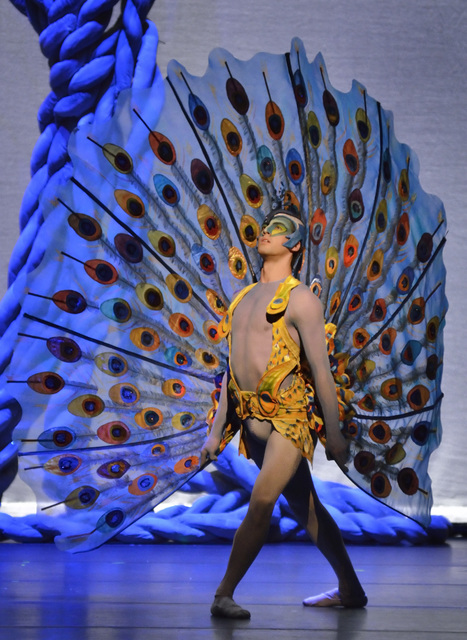 'The Nutcracker'
There's still time to catch the holiday magic of Nevada Ballet Theatre's "The Nutcracker," with two more performances full of fanciful characters and eye-popping effects (accompanied by Tchaikovsky's beloved score) at 7:30 p.m. Friday and 2 p.m. Saturday in The Smith Center's Reynolds Hall. For tickets ($29-$179), call 702-749-2000 or visit www.thesmithcenter.com.
'Oil'
The clock's ticking on this standout exhibit at UNLV's Barrick Museum, featuring photographer Edward Burtynsky's international odyssey to depict the world's thirst for oil. The museum's closed Monday (and Jan. 2), but otherwise you can explore "Oil" from 9 a.m. to 5 p.m. weekdays (Thursdays until 8 p.m.) and noon to 5 p.m. Saturdays, through Jan. 14. Admission is free (suggested donation $2-$5); call 702-895-3381 for more information.
'December to Remember'
Holiday traditions from around the world inspire the 10th annual "December to Remember" at the Las Vegas Natural History Museum, with displays, programs and activities — from making a nutcracker to creating a nighttime winter collage — from 11 a.m. to 2 p.m. through Dec. 31. The museum, 900 Las Vegas Blvd. North, is open from 9 a.m. to 4 p.m. daily (closed Christmas Day, open from 11 a.m. to 4 p.m. Jan. 1); admission is $5 to $10. For more information, call 702-384-3466 or visit www.lvnhm.org.
'Science Fiction, Science Future'
Playing games with robots, moving objects with your mind, becoming invisible — these are a few of the phenomena explored in the touring "Science Fiction, Science Future" exhibit at the Springs Preserve, 333 S. Valley View Blvd., through Jan. 8. Closed Christmas Day, the preserve otherwise is open from 9 a.m. to 5 p.m. daily; admission is $4.95 to $9.95 for Nevada residents, $8.95 to $18.95 for nonlocals. For more information, call 702-822-7700 or visit www.springspreserve.org.
George Bugatti
If you're looking for some old-school Vegas cool — and some mellow musical vibes — singer-pianist George Bugatti obliges from 6:30 to 10:30 p.m. Fridays and Saturdays (including Christmas Eve) at the Bootlegger Bistro, 7700 Las Vegas Blvd. South. For reservations, call 702-736-4939.