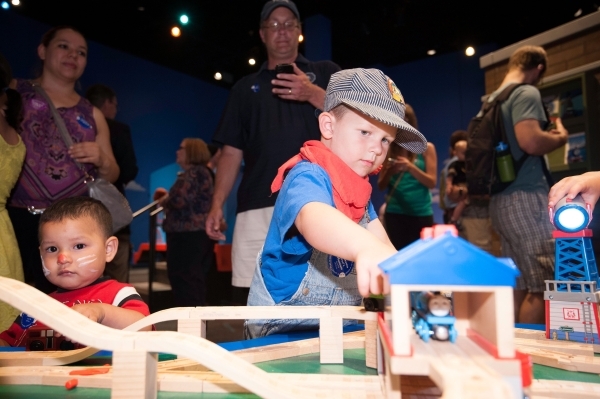 Which came first, the steam or the STEM?
That is the question — at least when it comes to "Thomas & Friends: Explore the Rails."
The touring exhibit pulls into the Discovery Children's Museum on Saturday for a 3½-month run, combining the fun of Thomas the Tank Engine and such steam locomotive pals as Gordon (the big one) and Percy (the small one) with the Science, Technology, Engineering and Math curriculum known as STEM.
So, what's the priority, fun or education?
"You kind of have to start with both," according to Matthew Cox, an exhibit developer at the Minnesota Children's Museum in St. Paul, where "Thomas & Friends" originated in 2014 before embarking on a 10-year tour.
From the first glimpse of Thomas, the friendly blue No. 1 engine, the exhibit delivers familiar sights — and sounds, from train whistles to choo-choo puffs of steam.
"Thomas & Friends" transports visitors to the trains' island home, Sodor, bringing to life locations from Knapford Station to Sodor Steamworks.
Kids can climb into Thomas' cab and explore the steam engine's inner workings.
And at Sodor Steamworks, where Percy's got a wobbly wheel, visitors can remove and replace parts to get the little engine back on track.
Percy's also in on the action as helpers load his coal box with coal and fill his tank with water from a water tower.
Back at Knapford Station, kids can don a conductor's cap and jacket to sell tickets to prospective passengers. (There's also a chance to load luggage, freight — even livestock — onto two train cars.)
There's even an oversized wooden railway train table (shaped like Sodor) where young engineers can run their own trains past such favorite destinations as Tidmouth Sheds, Brendam Docks and the Sodor Search & Rescue Station.
HIT Entertainment — the Mattel subsidiary behind the "Thomas & Friends" TV show, videos, books and more — approached the Minnesota museum with the idea for the exhibit, according to Cox.
HIT officials were "very interested in STEM education and how that applied to their brand," he notes. And there's "a lot of crossover with STEM education" when it comes to trains.
As a result, exhibit designers kept both education and fun "simultaneously in mind" during the yearlong development process, he explains in a telephone interview from St. Paul.
"Exhibit development is a lot about balance," he adds. "In some cases, we had a fun idea and had to figure out how to make that educational."
At other times, exhibit developers began with the educational component "and "had to figure out how to make that fun."
As an example of the latter, they wondered "how could we include math," Cox says, considering "things about time, about money identification, about 3-D images."
Then the exhibit developers realized that "a lot of stuff happens at Knapford Station," where prospective train passengers purchase tickets (money identification!), check schedules (time!) and tote luggage in various shapes and sizes (3-D images, from cubes, cylinders, even shape-shifting sacks of flour and grain) to load on the train.
By contrast, when it came to "running the train, the fun came before the education," Cox notes. "You can't have a Thomas exhibit without letting kids get close to Thomas."
During the development phase, "we all had to become Thomas experts," Cox says. "We all watched a lot of Netflix and YouTube clips."
Of course, some of the designers had "grown up watching Thomas" on PBS' "Shining Time Station," where both ex-Beatle Ringo Starr and comedian George Carlin served as "Mr. Conductor" storytellers.
Even before "Thomas & Friends" became TV stars, however, the trains were sparking kids' imaginations thanks to books featuring characters that Rev. W. Awdry created in 1943 to amuse his measles-stricken son. (Awdry's "Railway Series" books were published from 1945 to 1972.)
"Thomas & Friends: Explore the Rails" also explores that past with displays of Awdry's original drawings and manuscripts, plus other memorabilia tracing Thomas' evolution — including model engines from the original British live-action TV series.
Not only do kids watch "Thomas & Friends" on TV today, but "parents have their own memories" of the characters, dating back to their first appearances in books, Cox points out. "Thomas has a very long history that extends across generations."
For every generation, however, the fun — and the learning — remain the same.
"At its core," Cox says, " 'Thomas' is about teamwork and collaboration — and that's a valuable lesson. It speaks to a lot of different generations."
Or as railway boss Sir Topham Hatt would say, "it's a chance to be really useful" — and have a steam-powered blast in the process.
— Read more from Carol Cling at reviewjournal.com. Contact her at ccling@reviewjournal.com and follow @CarolSCling on Twitter.