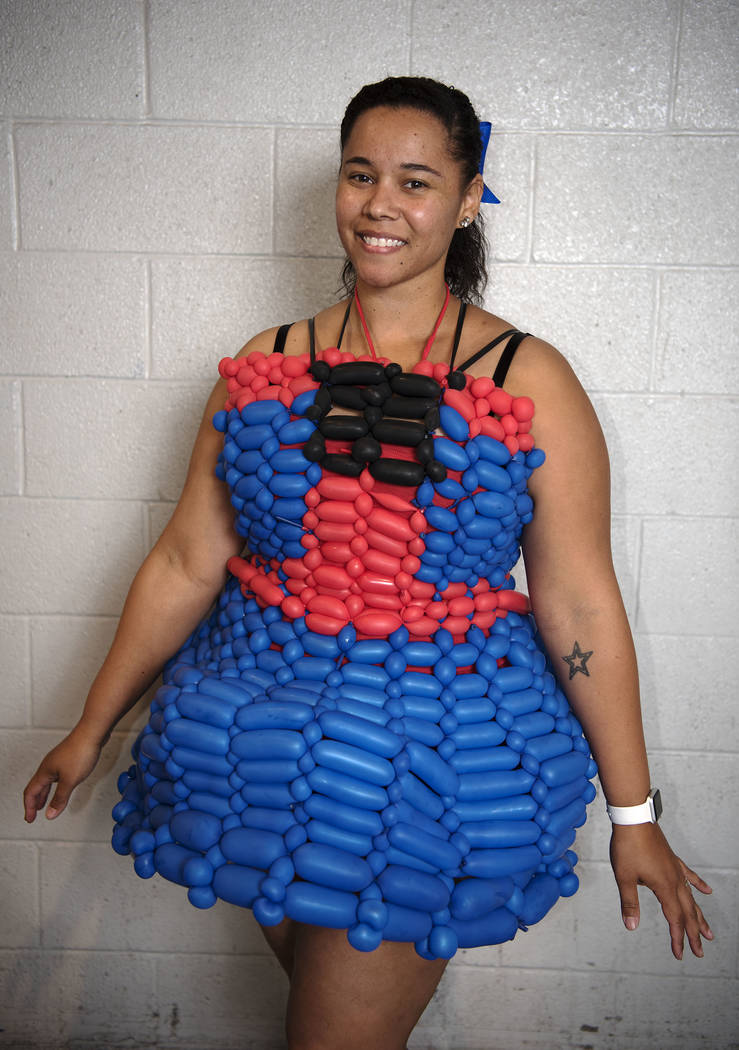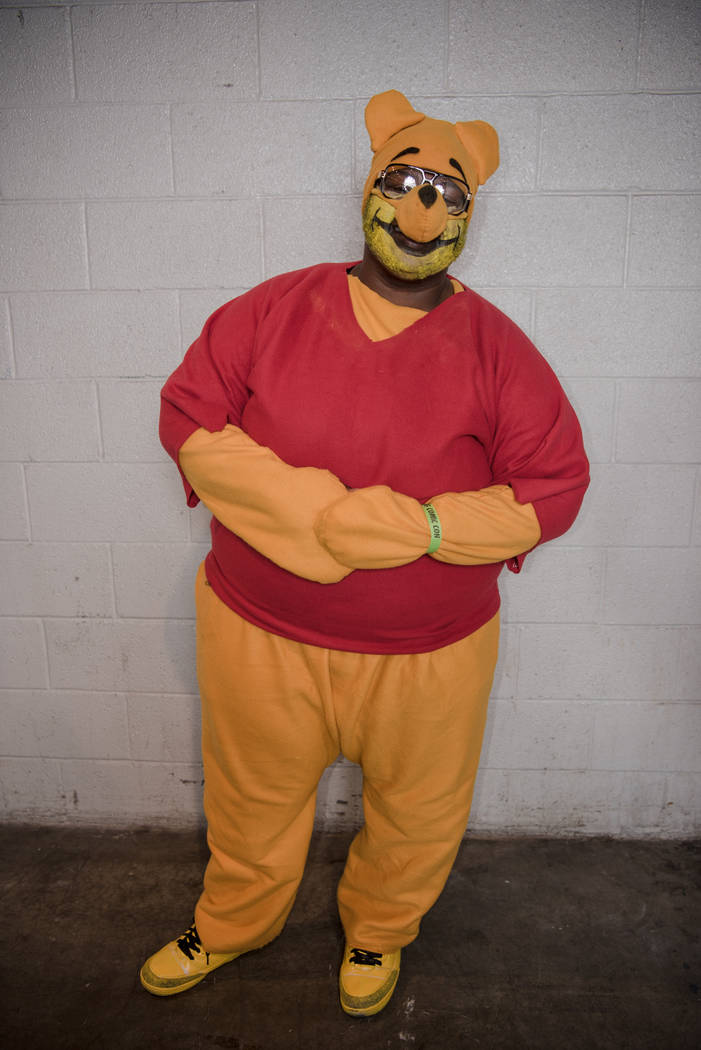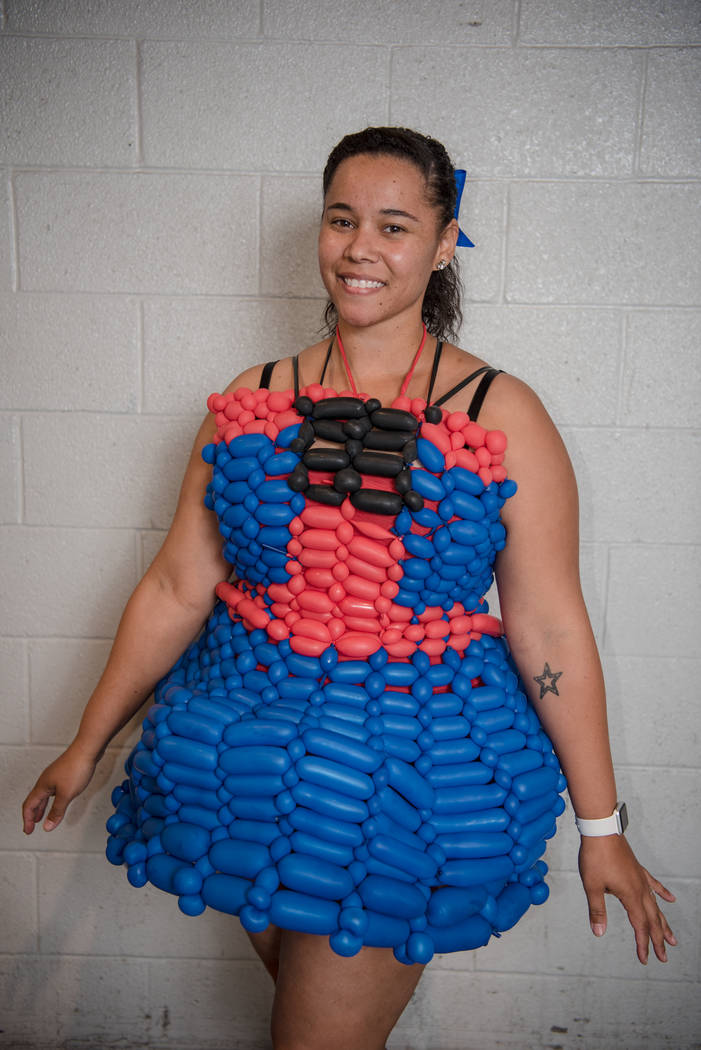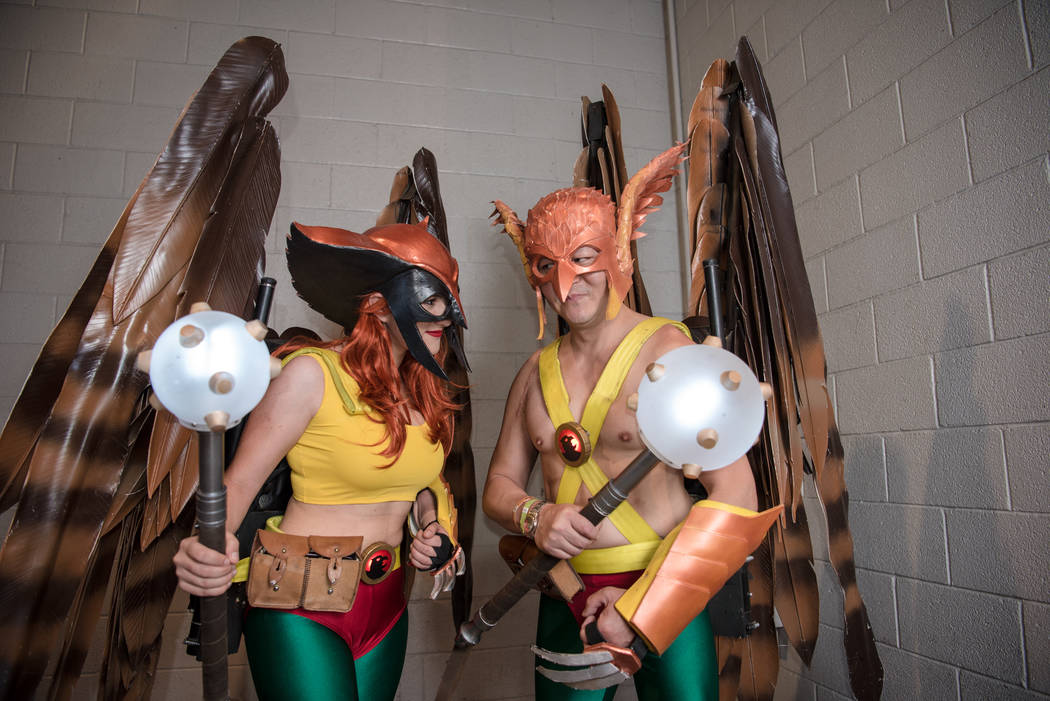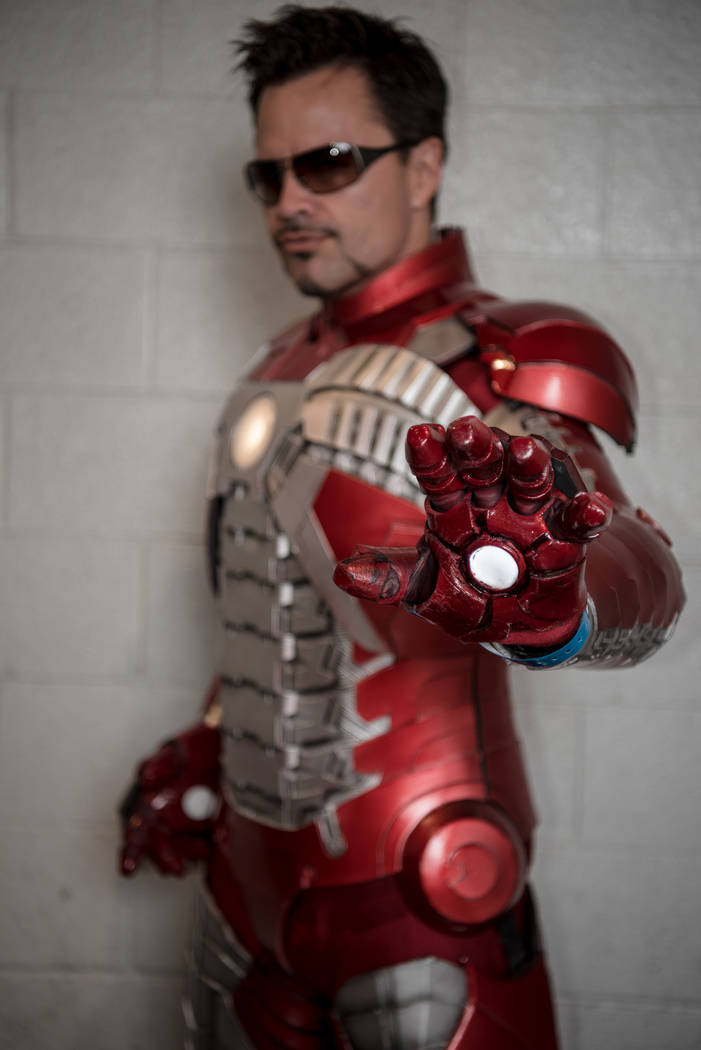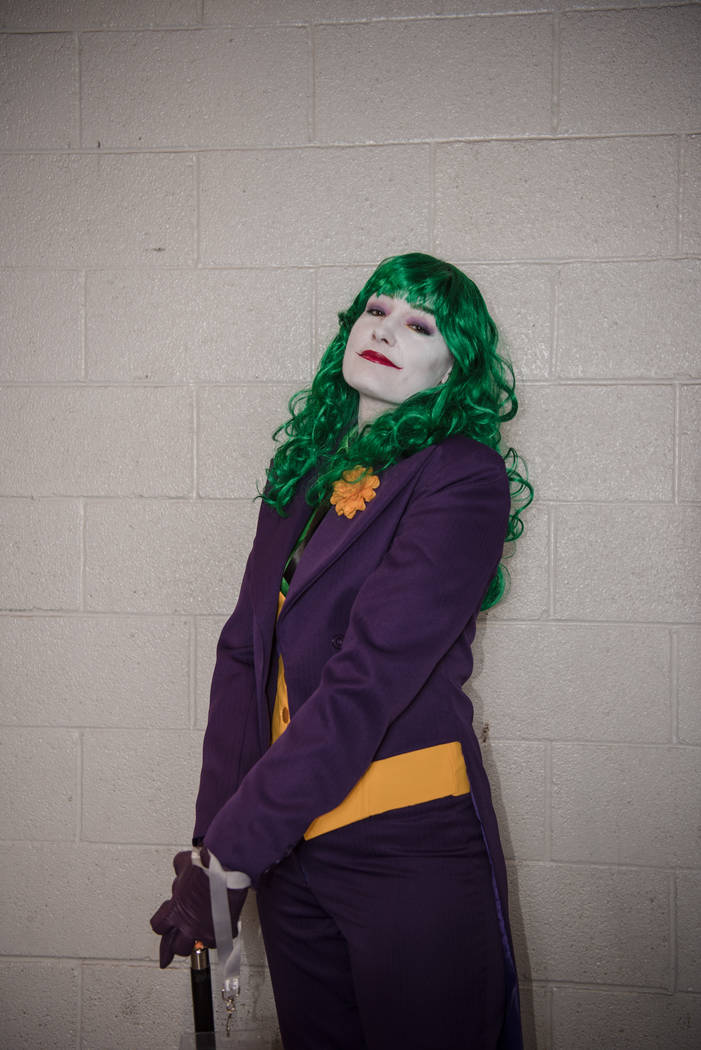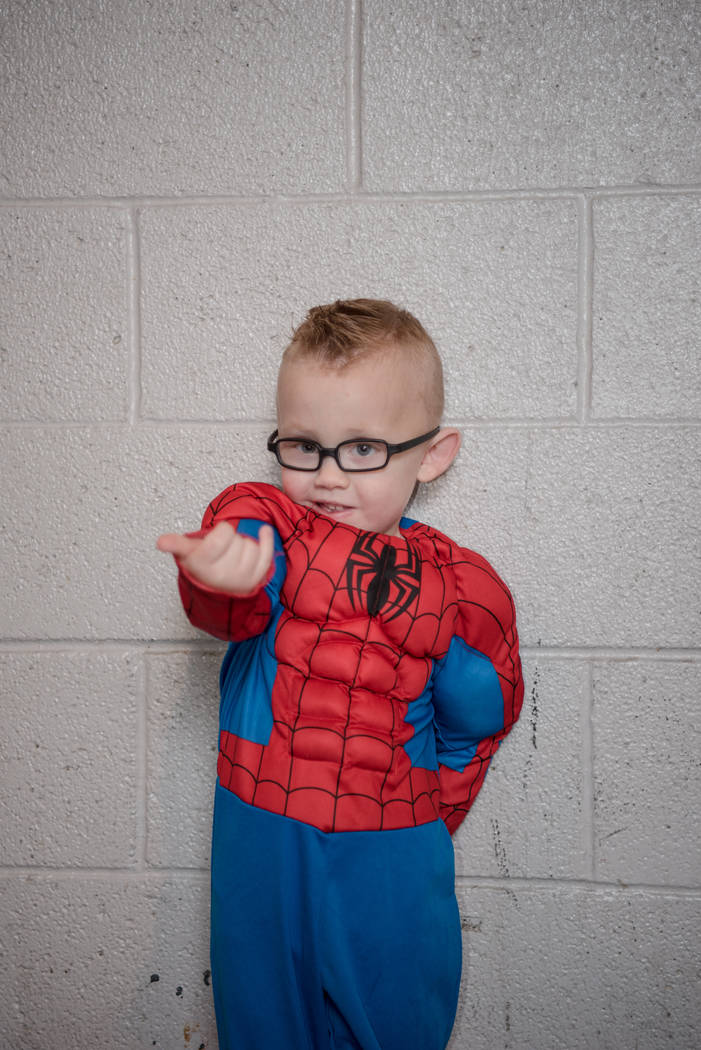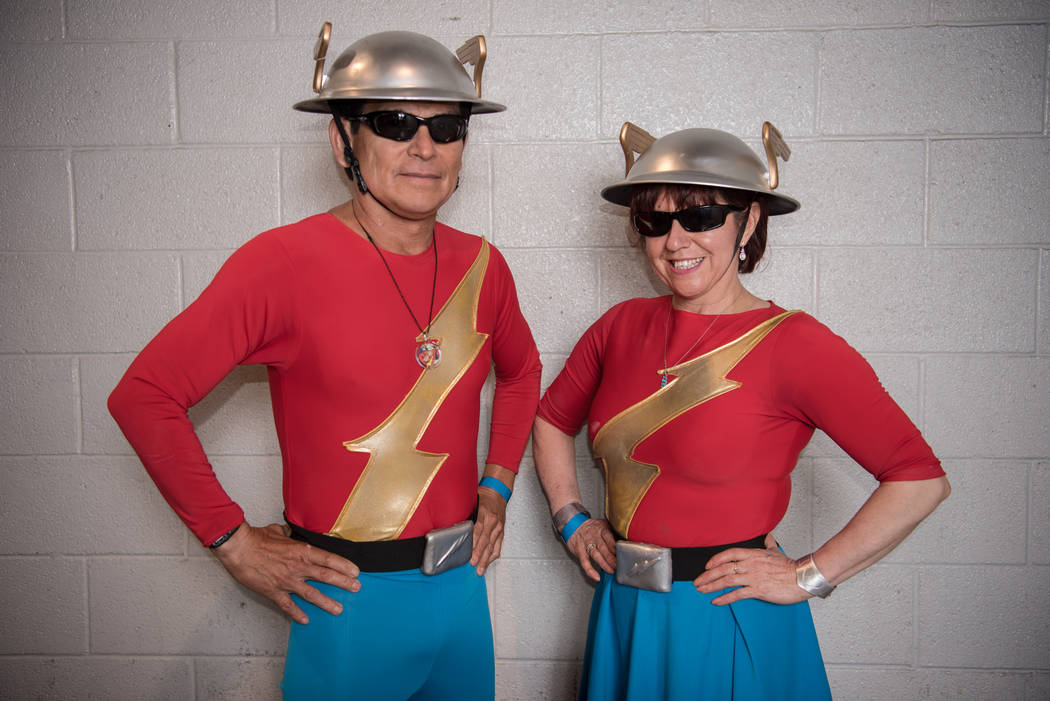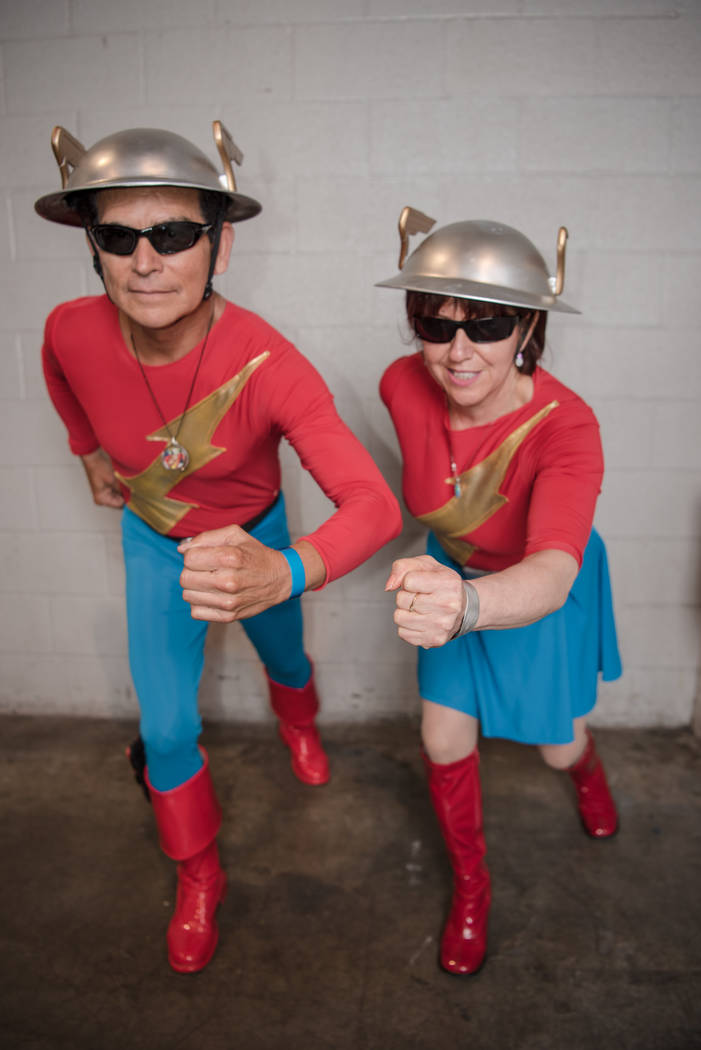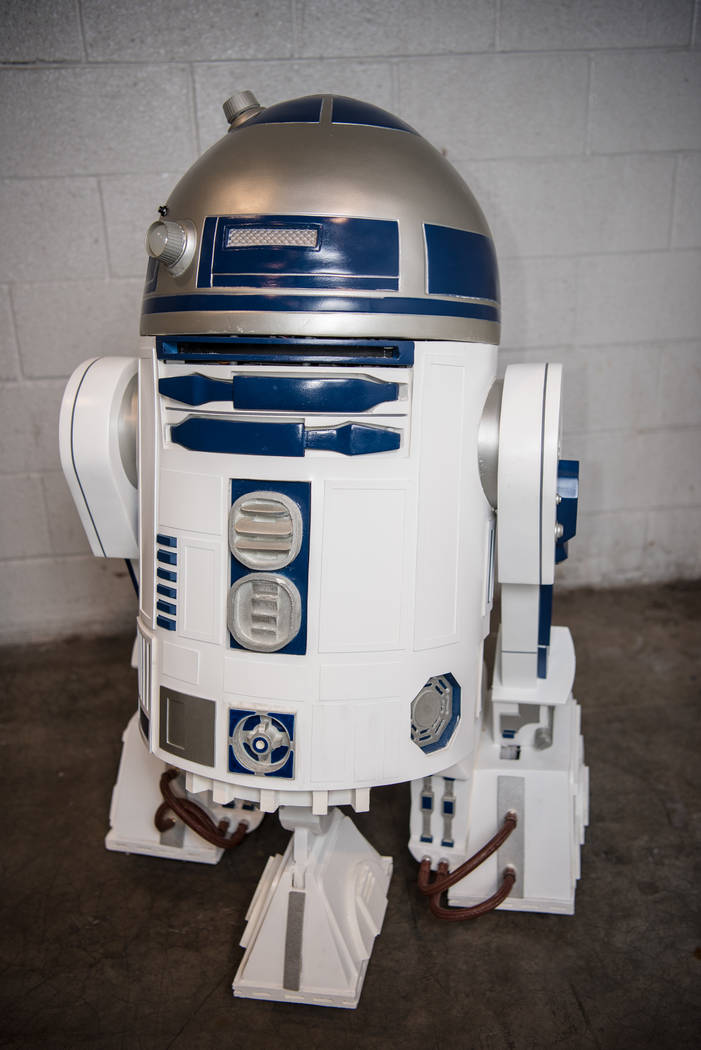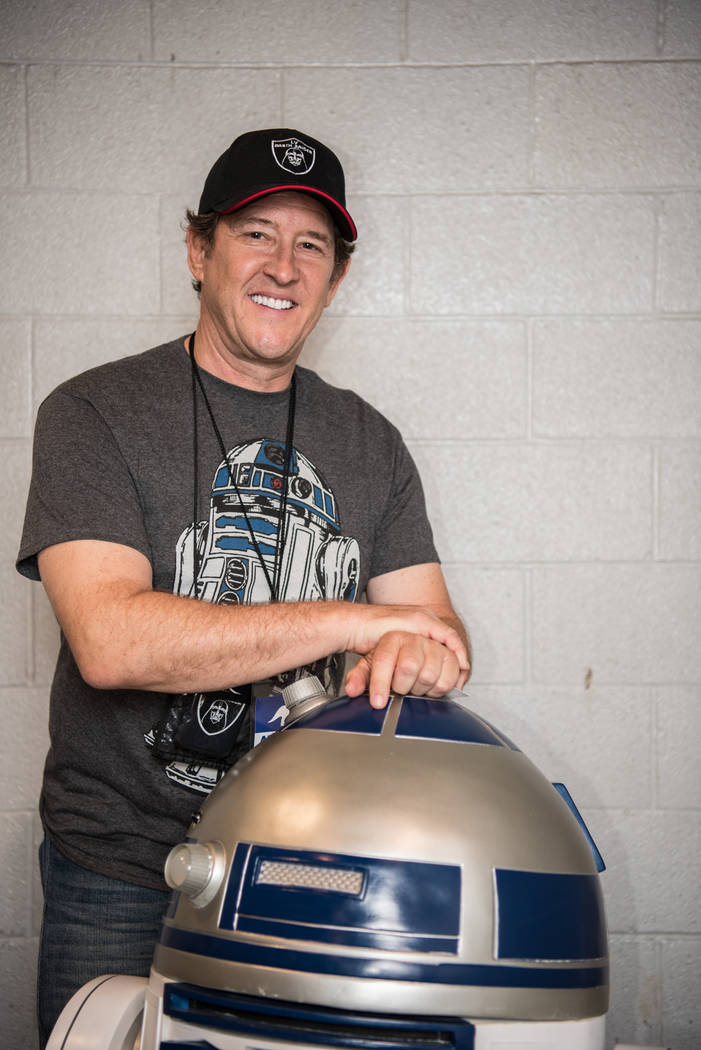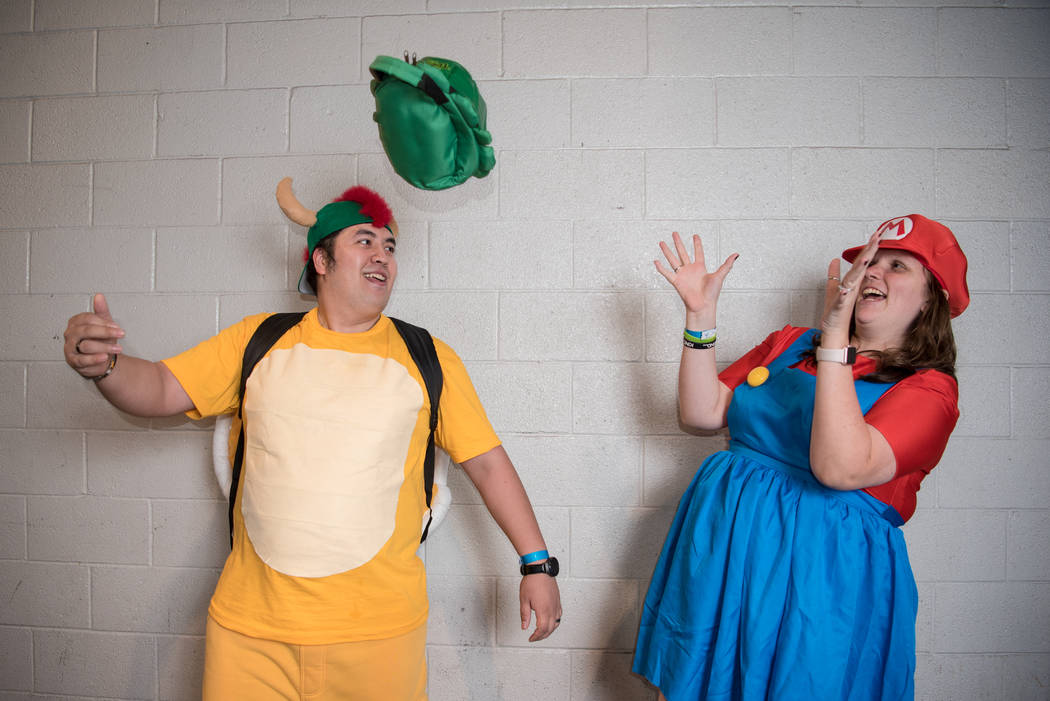 Scores of superheroes, comic book crime fighters and "Star Wars" characters swarmed the Las Vegas Convention Center on a mission to witness the sights and sounds of the fifth annual Amazing Las Vegas Comic Con.
On Saturday, Ohioan Brittany Hastings donned the green clothing of a savage.
Las Vegas local Amanda Liguori came dressed as Rocket Raccoon. Not far away, Brent Lindquist and his 5-year-old son strolled around their third convention as father-and-son Clark Kents, their shirts unbuttoned and their ties tossed over their shoulders.
Nearly impossible to miss were Hawkman and Hawkgirl, who posed for photos while each wore wings with a 13-foot span.
"We fight crime together," said Andy Holt, aka Hawkman.
Many came hoping to catch a glimpse of Stan Lee — the 94-year-old legendary co-creator of Marvel Universe who was slated to sign autographs and speak on a panel Saturday afternoon.
Xavier Conerly dressed as Winnie the Pooh, a hat with ears wrapped around his head and eyebrows painted on it. Asked why he came as Pooh, Conerly said he ran out of time to put together a superhero outfit, so he recycled last year's Halloween costume.
It was Conerly's first comic convention, but he said it wouldn't be his last.
His main objective? "To meet Stan Lee," he said. "That's my goal. To tell him he's one of my heroes."
He wasn't alone.
Balloon artist Ronnie Johnson wore flattened the skirt of her dress — a Spider-Man ensemble made entirely of red and blue balloons tied together.
"I heard Stan Lee was coming today, so it needed to be Spider-Man," Johnson, 33, said.
Earlier in the day, the dress, which she wore over shorts, reached her shins. Now it was above her knees. The sun shrank it, Johnson said.
The dress took her 10 hours to make, she said. "I can't decide if I want to make another one for tomorrow or if I want to sleep tonight."
The show,which organizers said brings in thousands of fans over its three-day run, also featured more than 100 exhibitors, more than 200 artists, a costume contest and games to win discounted or free merchandise.
On Saturday, Kevin Eastman, creator of Teenage Mutant Ninja Turtles, signed autographs. Others scheduled to appear during the convention included Rob Liefeld, best known as the creator of Deadpool, and Todd McFarlane, who created the fantasy series Spawn.
Ray Park, who played Darth Maul in "Star Wars: Episode I — The Phantom Menace," participated in a panel discussion and took questions from the crowd.
"When I was first saw a picture of Death Maul, I saw him as a gentleman," Park told the crowd.
John Napa, shirtless but painted in red with horns sticking out of his head to resemble Park's character, came up to the microphone.
"I just wanted you to meet my beautiful girlfriend," Napa told Park. "On our first date, we saw a 'Star Wars' movie," he said. His girlfriend, Morgane Latouche, stood close by, dressed as Princess Leia.
"Well, she's a keeper," Park said, laughing. "You're a keeper, too."
At that moment, Park summoned him to the stage.
"You and I are gonna pose together for a photo with your light sabers," he said.
The audience erupted in cheers as Napa carried his light sabers and joined Parker. The light sabers flashed red, as the two men twirled the sabers from opposite ends of the stage.
At the end of the panel, Napa smiled.
"I just wanted to thank him for being an inspiration, and one of the reasons we got together," he said. His girlfriend said the two saw "Rogue One" on their first date and had connected because of their passion for "Star Wars" and animals. On Saturday, Latouche hired a makeup artist to dress Napa as his favorite character.
"It's your day," she said.
Napa corrected her, "No, it's our day."
Contact Briana Erickson at 702-387-5244 or berickson@reviewjournal.com. Follow @brianarerick on Twitter.
Comic Convention events happening Sunday
Amateur Esports Competition — all weekend: Fans will square off with popular video game personalities.
DIY Cosplay Workshops — all weekend.
Kids' Day — Sunday, all day: Free sketches by Mat Nastos, artist with Disney Channel's Phineas and Ferb, and Tony Fleecs with My Little Pony. For kids 10 and under only.
Ticket information
Friday- or Sunday-only passes: $25
Weekend passes: $60
VIP tickets: $160-$200
Kids 10 and under: Free all weekend with a paid adult.