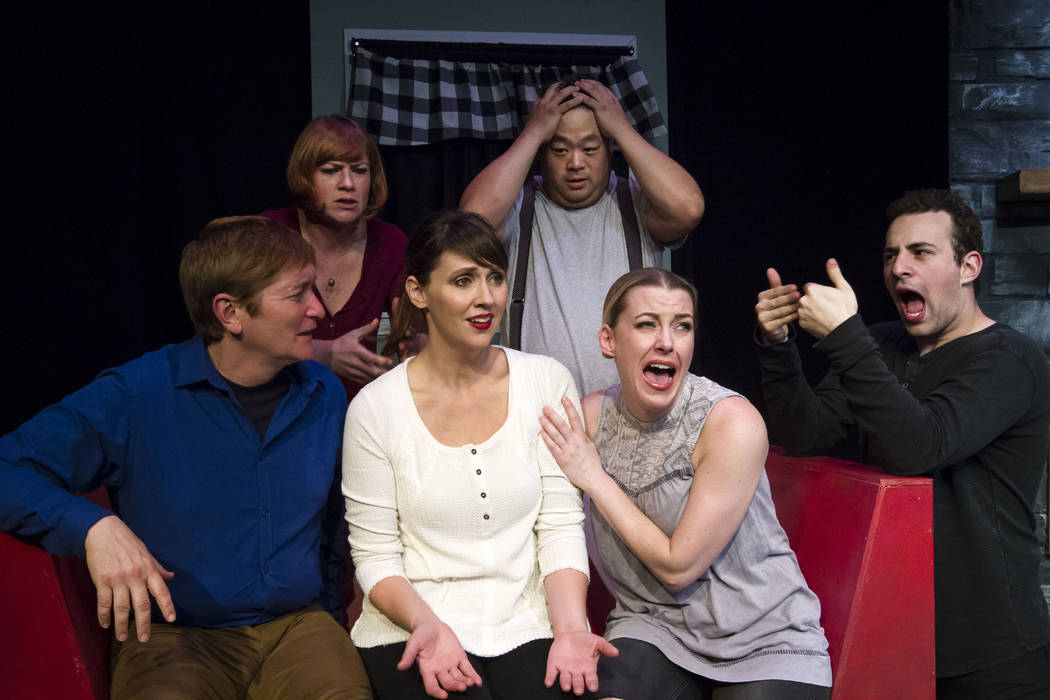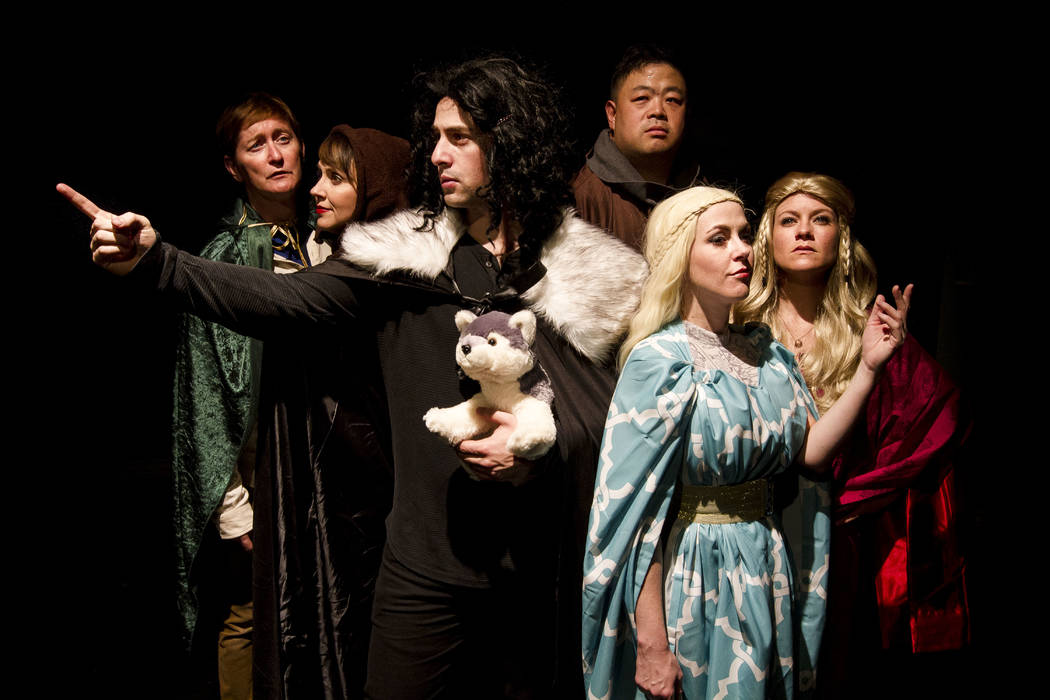 In a panic because HBO's "Game of Thrones" returns for its final season in a week — and you don't know the difference between Westeros and Western Union?
Never fear — you're in the clear. Thanks to "Thrones! The Musical Parody," which launches its nine-day Las Vegas debut at The Space on Friday, a mere three days before the beginning of "Game of Thrones' " end.
That's because explaining the medieval fantasy is part of the "Thrones!" plot.
"Thrones!" opens with six friends gathering to watch a "Game of Thrones" season finale — but only five turn out to be fanatical followers. When the sixth confesses utter unfamiliarity with the show, the others helpfully act out all six seasons for the newbie.
"If you like plotlines that end in disaster, though the blond girl in the desert could move a little faster, if you get your kicks in a public beheading, and if you get scared when you go to a wedding, it's 'Thrones!' "
So goes the opening number of the musical spoof, which has racked up successful runs at Scotland's Edinburgh Fringe Festival (where it originated in 2015), London, Chicago and Los Angeles.
But "we were never running in the U.S. when 'Game of Thrones' was on HBO," notes Emily Dorezas, a "Thrones!" producer. (She's also a producer and writer for the "50 Shades of Grey" spoof "50 Shades! The Parody" at Bally's.) "With the TV show starting back up, we wanted to be running in the U.S."
So when Mark Shunock — who co-hosts the Hard Rock Hotel's "Magic Mike Live" and runs the off-Strip performance venue The Space — approached the "Thrones!" team about a Las Vegas run, their response was immediate. And positive.
News of the Las Vegas run was "a happy surprise" to cast members from the L.A. production, according to Jordan Stidham, who plays Jon Snow (among others) in "Thrones!"
The show had extended its L.A. run, and when cast members asked "Is this it?" after it finally closed in May, they were told," 'Nope, we're going to Vegas,' " Stidham recalls.
They'll have two days to remount and rehearse the show in Las Vegas following "a brief brush-up in L.A.," he explains. "It's a bit of a tight turnaround, but when you spend over half a year" performing a show, "it's in all of our bones at this point."
So is "Game of Thrones," when it comes to the musical spoof's creators, according to Dorezas.
"The folks who wrote the show are so obsessed with 'Game of Thrones,' " she says. As are the fans they're spoofing.
"It's not just the TV show and books" the show parodies, Dorezas explains, noting it also targets "the fans (who) take everything so seriously."
As a result, "Thrones!" — unlike some other parodies that focus solely on "Game of Thrones" itself — also offers affectionate humor about the show's fanatical followers, according to Dorezas and Stidham.
"There are some who treat it like it's their new religion," he observes. "Some love the books and hate the show, some hate the books and love the show. I know all these people." (As for the character he most closely resembles, Stidham says "in every group, there is a person who read the books before they were cool … and has to put his two cents in about how much they know.")
But "Thrones!" isn't just for "Game of Thrones" fanatics.
"If you haven't seen it, you'll be OK," Dorezas says. Besides, "this is a great way to catch up" before the show's final season begins, with irreverent references to everything from White Walkers to the Red Wedding.
Once the show returns, the "Thrones!" writers — from the improv comedy troupe Baby Wants Candy — will react accordingly, revising or replacing material before the musical returns to the Edinburgh Fringe Festival this summer.
"They've improvised musicals for years and years," Dorezas points out. "They can whip up a song really quickly."
That explains why a standout song in one "Thrones!" production — such as a boy-band number featured in the Chicago run — might be gone by the next production.
"It might seem a bit overwhelming, but the drive to keep it fresh" keeps the score changing, Dorezas explains.
The writers are "really just lovers of the musical theater genre," Stidham says, adding that audiences "can hear echoes" of Broadway classics from "Oklahoma!" onward. "That makes it fun."
It also makes "Thrones!" a natural as a musical — something Stidham realized when he started watching the HBO series.
"The general rule of thumb is, when the stakes get so high you can't talk about them, you have to break into song," Stidham comments. "And, oh boy, do the stakes get high in 'Game of Thrones.' "
Spoofing around: 'Thrones!' tests performers' collective mettle
More than 50 characters — and only six performers to play them all.
"Thrones! The Musical Parody" may be a light-hearted romp, but there's serious business afoot during the performances, which begin Friday at The Space.
"I didn't expect, going into it, that this would be the show that got me in great shape," admits Jordan Stidham, who plays Jon Snow and Jaime Lannister (among many others) in the musical spoof of HBO's medieval fantasy series.
After all, "there are only six of us," he points out. "We sometimes have two seconds to make a full costume change."
In addition, "because of the size of the cast, we have to be economical with the choreography," Stidham adds. But the "big wigs and costumes" help sell the comedy, as do the cast members' collective attempts to replicate the accents of "Game of Thrones' " original cast members.
But that's part of the fun — as is the show's focus on "Game of Thrones' " legion of fanatics.
"Our approach is a little more tongue-in-cheek," Stidham says, with the cast trying to "share the love ('Game of Thrones') has inspired in the cultural zeitgeist."
They're not just poking fun at "Game of Thrones," however; "Thrones!" performers also are big fans of the show.
"The new season's going to premiere when we're in Las Vegas," Stidham notes, predicting "the cast is going to get together and watch it together."
Contact Carol Cling at ccling@reviewjournal.com or 702-383-0272. Follow @CarolSCling on Twitter.
3460 Cavaretta Court, Las Vegas, NV