Time drawing short to catch Monet, da Vinci exhibits
December 28, 2012 - 2:01 am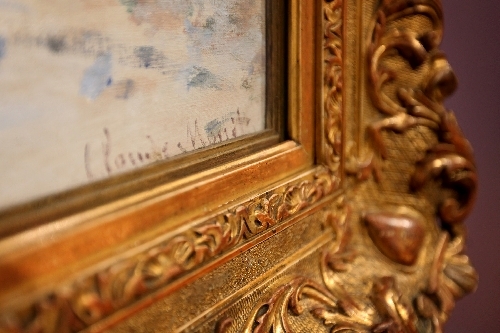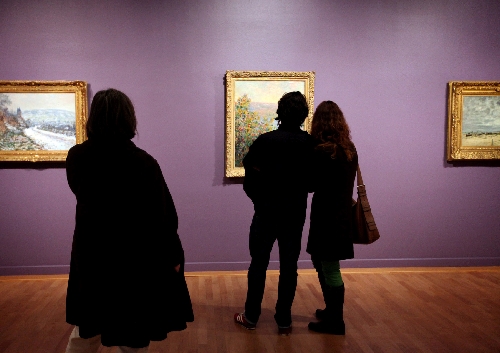 No rush. Plenty of time.
Chances are, you've said that to yourself multiple times when pondering various area attractions, figuring you'd get around to seeing them someday.
But for two exhibitions celebrating great artists, that time is now – because the clock's winding down on their time in Las Vegas.
After more than 10 months, "Claude Monet: Impressions of Light" is scheduled to depart the Bellagio Gallery of Fine Art in a little more than a week, on Jan. 6.
You have a bit more time to catch "Da Vinci – The Genius" at The Venetian's Imagine Exhibitions Gallery; it's not closing until Jan. 27.
And while neither exhibit qualifies as an only-in-Vegas natural, they provide a definite alternative to the jangle and clang of the casino floor.
One recent afternoon, a steady stream of visitors venture into the Bellagio's Impressionist exhibit, showcasing 20 Monet works – and eight more by such predecessors and contemporaries as Jean-Baptiste-Camille Corot , Camille Pissarro and Eugene Louis Boudin .
All 28 canvases on display come from Boston's Museum of Fine Arts, which partnered with the Bellagio gallery on the exhibit.
The Boston museum has "the most Monets outside of Paris," notes Tarissa Tiberti , the Bellagio gallery's executive director. "They have an amazing collection," one that's "encyclopedic in range."
Yet "to see these 28 works together" – even in the Boston museum's expansive Impressionist wing – "is very unlikely," Tiberti says. "We like to get shows that people won't have the chance to see in other places."
Monet and his fellow Impressionists have proved a definite draw, according to Tiberti, who declines to specify attendance figures but says the show has outdrawn the gallery's two previous exhibits.
Just ask visitor Barbara McKinnon of Arcadia, Calif., who's making her second visit to the show.
She and a fellow Monet fan, Melanie Topalian of Santa Barbara, Calif., have made a special pilgrimage to see not only Monet but "other artists that influenced Monet – and Monet influenced," McKinnon explains.
Kentuckians Heather and Jeremy Case, by contrast, have come to Las Vegas to celebrate their 20th anniversary.
Jeremy's not much of a Monet fan. Yet there he sits, patiently gazing at one of the exhibit's signature paintings – Monet's glowing 1891 "Grainstacks (Sunset)" – while Heather peruses other canvases, indulging her enthusiasm for Monet.
She discovered the exhibit's existence during pre-vacation Internet research.
Her reaction to the notion of viewing Monet canvases inside a Strip megaresort: "Really? In the middle of Las Vegas?"
As Tiberti comments, "It's usually not what you think you're going to get in Las Vegas."
The same sentiment applies at The Venetian, where "Da Vinci – The Genius," originally scheduled to close in October, has been extended through Jan. 27.
"We'll probably see 100,000 people by the time we close" after a seven-month run, according to Tom Zaller , founder of Imagine Exhibitions, which has leased the Venetian space once occupied by the Guggenheim Hermitage Museum. (Imagine's other local attractions include Luxor's Bodies and Titanic exhibitions and the Tropicana's Mob Attraction.)
Developed by Australian-based Grande Exhibitions, "Da Vinci – The Genius" explores the multiple masteries of the original Renaissance man.
Several galleries, featuring hand-crafted models and life-size re-creations, showcase everything from da Vinci's "Father of Flight" status (with designs foreshadowing helicopters and airplanes) to such inventions as a portable piano and an underwater diving suit.
One gallery focuses on da Vinci's most famous painting, the "Mona Lisa" (more formally known as "La Gioconda") – and presents high-definition images, from ultraviolet to infrared, that address everything from the original colors the artist used (which, five centuries later, have faded considerably) to whatever happened to her eyebrows and eyelashes.
Visitor Jack Smith, 5, enthusiastically turns the cranks on please-touch mechanical models demonstrating flywheels, ball bearings and giant screws – and then peers inside a wooden octagon with mirrored interior walls, a device da Vinci designed so he could paint the human body from every angle.
But Jack's father, Air Force Capt. Michael Smith, is "more of a painting and sculpture guy," he admits.
While stationed in Italy, he "had the opportunity to see da Vincis," he notes, but "not in such detail or with all the explanations. Seeing his journals … it's fascinating."
He hoists Jack onto his shoulder so they can both study a side-by-side comparison between the "Mona Lisa," as she looks today, and what she looked like when da Vinci painted her in the early 16th century.
"I like that one," Jack tells his father, pointing to the vibrant hues of the painting's "Image of Genuine Colour ."
Smith "knew there were some cultural things happening" in Las Vegas before he was stationed at Nellis Air Force Base, he says, "but not to this level."
Unlike the Monet exhibit, which Tiberti says attracts far more tourists than locals (except for school groups), area residents make up about 40 percent of the audience at "Da Vinci – The Genius," according to Zaller.
Like Monet, however, da Vinci "has a broad enough appeal" to attract both tourists and locals, he notes.
"It's not too intellectual or sophisticated or art-focused," Zaller says. "The masses know the name da Vinci."
As for Monet and his fellow Impressionists, they're "very accessible to the public," Tiberti says. Gallery visitors "don't feel intimidated – they understand the subject matter."
And even those with limited time have enough time to appreciate the gallery, she adds.
"We almost promote ourselves as a nice getaway," Tiberti says. "People pop in and say, 'We're on our way to the airport – how much time does it take?' "
Not all that much time. Assuming, of course, you make it to the gallery before the exhibit closes for good.
Contact reporter Carol Cling at ccling@
reviewjournal.com or 702-383-0272.
Preview
"Claude Monet: Impressions of Light"
10 a.m.-8 p.m. daily
Bellagio Gallery of Fine Art, 3600 Las Vegas Blvd. South
$11-$16; 12 and younger free; Locals Night 5-8 p.m. Wednesdays, $8 with ID (693-7871, www.bellagio.com)
"Da Vinci – The Genius"
10 a.m.-8 p.m.daily
Imagine Exhibitions Gallery at The Venetian, 3355 Las Vegas Blvd. South
$17-$25; 12 and younger free with paying adult (414-1000)