Tony-winning 'An American in Paris,' in Las Vegas, is a delight
April 13, 2017 - 11:10 am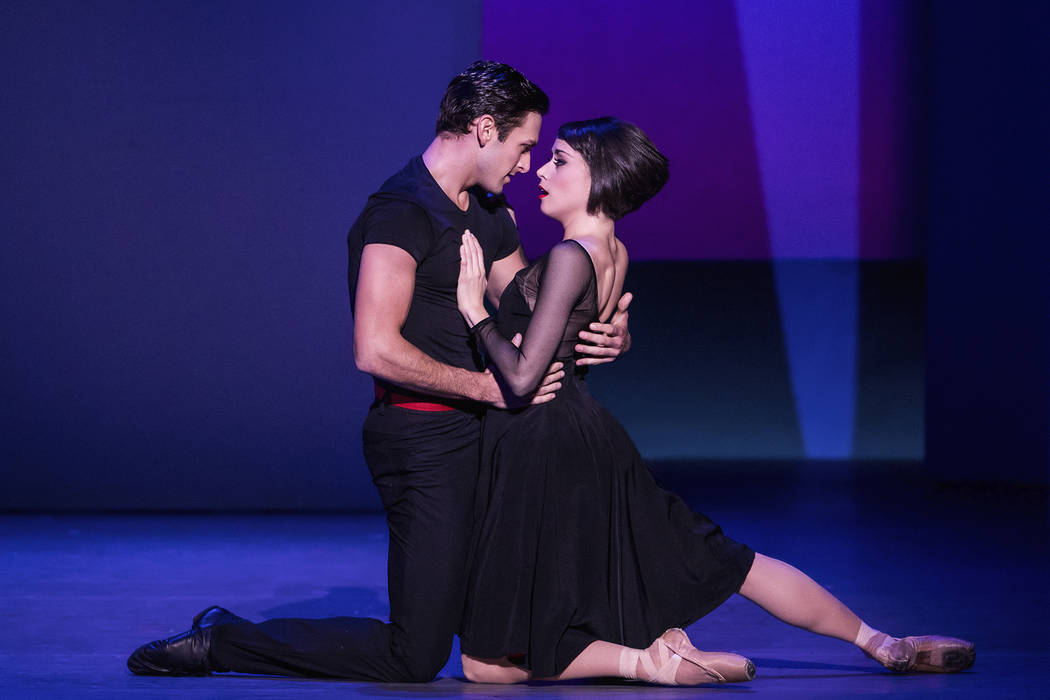 Glorious George Gershwin music … with all that you can expect in a perfect musical comedy.
Those words come directly from a poster touting the 1927 Broadway musical "Funny Face."
But the vintage hoopla applies equally well to "An American in Paris," which continues at The Smith Center's Reynolds Hall through Sunday.
A welcome antidote to most screen-to-stage transfers, this "American in Paris" stands alone, preserving the plot of its Oscar-winning 1951 inspiration while deepening it — and the characters who populate it.
It also feels free to play fast and loose with the movie's score by adding songs, reassigning others — and importing several from other silver-screen Gershwin showcases, some classic (1937's Fred Astaire-Ginger Rogers romp "Shall We Dance") and some not quite (Betty Grable's 1947 "The Shocking Miss Pilgrim").
Most significantly, director-choreographer Christopher Wheeldon — coming from the ballet world to make a Tony-winning Broadway debut — puts dance at the center of the production, not on the sidelines.
Wheeldon uses movement to tell much of the story and convey even more of the emotion.
As a result, this "American in Paris" has its own sensibility — fancy-free and breezy, yet with surprising depth and resonance.
And it's all delivered to the accompaniment of that glorious George Gershwin music, which has never sounded more 'swonderful, to borrow one of brother Ira's equally timeless, witty lyrics.
One change Wheeldon and writer Craig Lucas make that's key to all the others: moving the setting to 1945, at World War II's end.
Paris emerges from the shadow of the Nazi occupation to begin the long process of rediscovering its City-of-Light identity.
Tony-winning sets, lighting and projections play a major role in this transition, as black-and-white doom and gloom give way to glowing, sunlit colors straight out of an Impressionist painting, all to the stirring strains of Gershwin's Concerto in F.
In the process, we meet the show's major characters: brash ex-GI Jerry Mulligan (buoyant Garen Scribner), an aspiring artist captivated not only by Paris but by one of its denizens, a ballerina (lissome, lyrical Sara Esty) haunted by her own wartime experiences.
Classically trained dancers, Scribner and Esty prove surprisingly effective, and affecting, singers.
But it's Jerry's buddies — budding composer Adam Hochberg (sardonic yet poignant Etai Benson) and rich kid Henri Baurel, who dreams of being a song-and-dance man (the charmingly staid Nick Spangler) — who bring the most vocal nuance to such knockout numbers as "They Can't Take That Away From Me" and "I'll Build a Stairway to Paradise," respectively.
Yet singling out individual aspects of "American in Paris" misses the point of the show, which — like all great musicals — illustrates the magical principle of synergy, proving far greater than the sum of its impressive parts.
Contact Carol Cling at ccling@reviewjournal.com or 702-383-0272. Follow @CarolSCling on Twitter.