Toy Drive Shepherd puts passion for helping others on display each December
December 11, 2016 - 10:42 am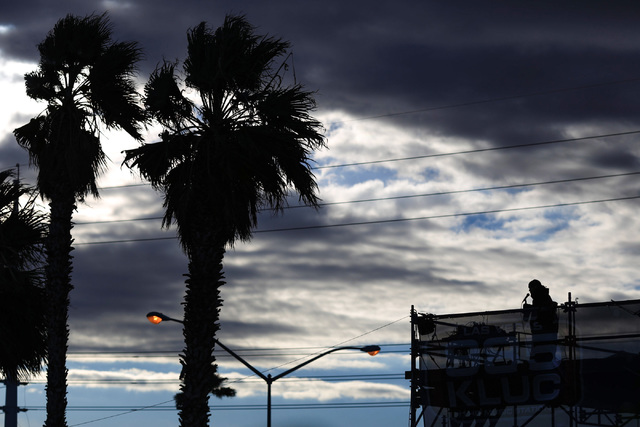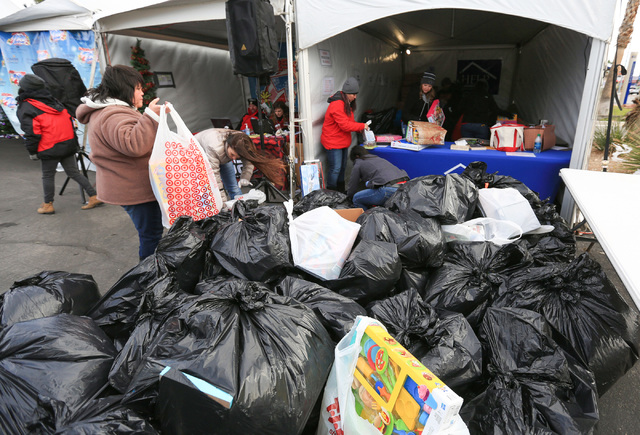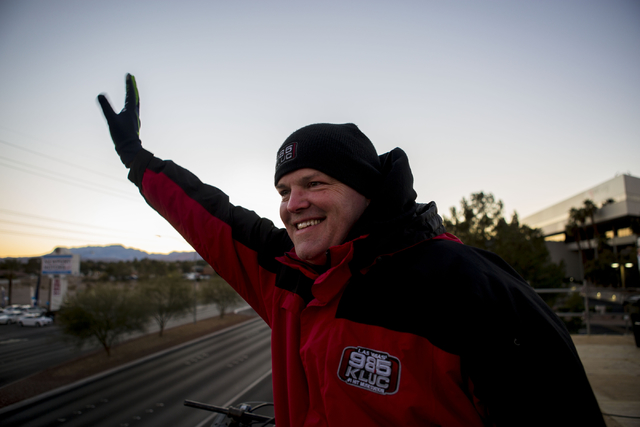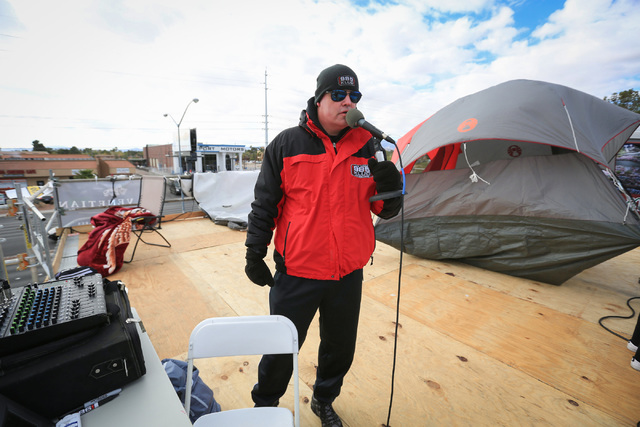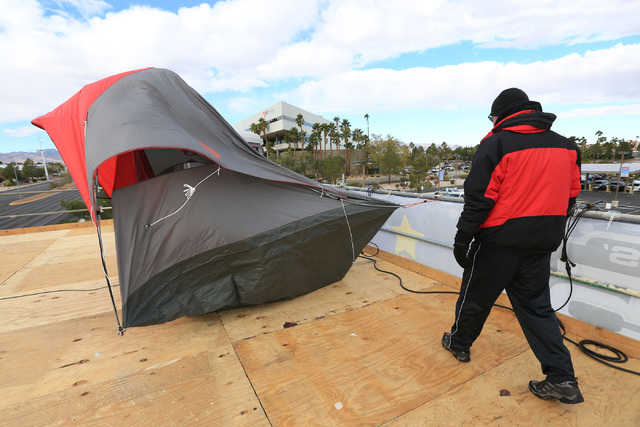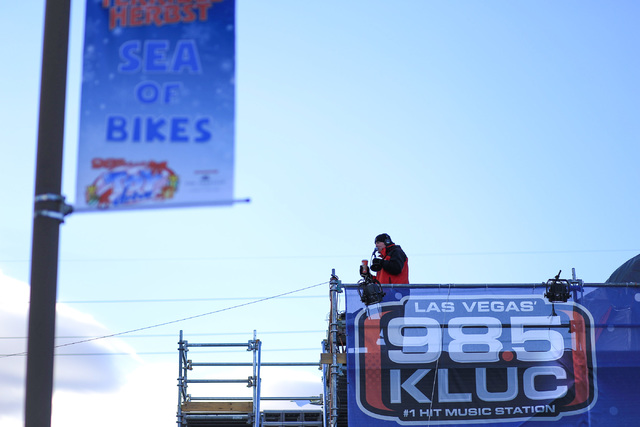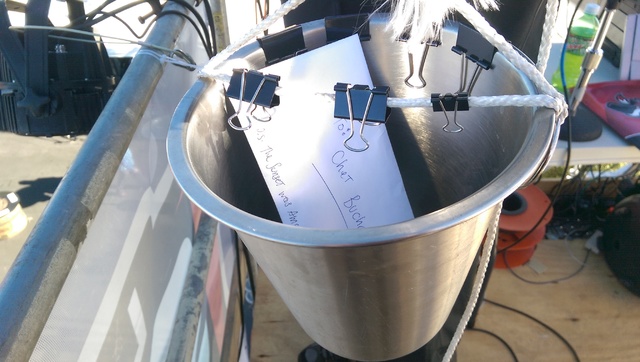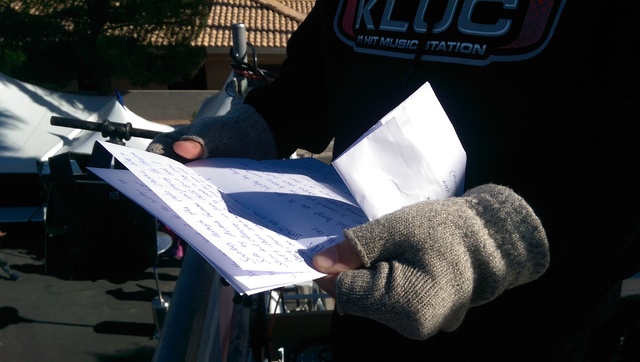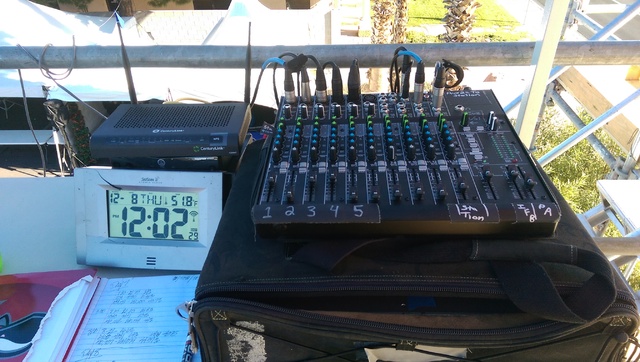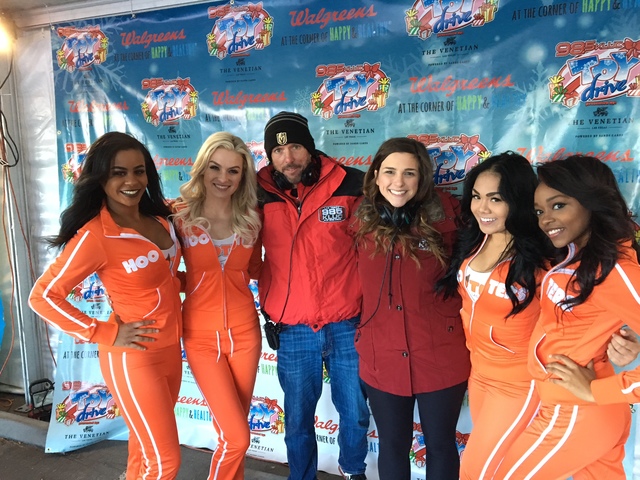 As a boy growing up in Seattle, Chet Buchanan had a philanthropic vision.
"There's this big open area in Seattle Center, by the International Fountain," Buchanan recalls. "It's bizarre, but I envisioned this thing, and living on top of this thing. It was made out of wood, and I would live on top of it until I raised $10,000."
Buchanan, now host of Las Vegas' KLUC 98.5 "Morning Zoo" radio show and cheerleader of its annual Toy Drive, has far surpassed that boyhood dream, collecting hundreds of thousands of dollars in donated toys and cash that have helped tens of thousands of families during almost 20 years in the Las Vegas Valley.
Every December, Buchanan's presence powers the Toy Drive from atop the scaffold in the NV Energy parking lot at West Sahara Avenue and Jones Boulevard, the central drop-off point for bikes, toys, gift cards and cash. Last year, 3,300 families including 13,000 children received Christmas presents from the Toy Drive.
He spends the entire 12-day fundraising event on the 37-foot-by-24-foot platform — working, eating and sleeping. "I'm not trying to win any sort of endurance contest. It's not Bear Grylls, I'm not killing an animal and eating it," Buchanan insists. "It's inconvenient at best. … The real thing is I have a job to do up here. Life goes on."
All bikes, toys and money collected go to HELP of Southern Nevada, which, through a network of other nonprofits in town, distributes everything collected to families in need.
This is the 18th year of the event, which has grown significantly from its early days. "The first time we got a bike, we were like, 'Can we take this?' " Buchanan reminisces. "It was just toys. You didn't accept cash, and gift cards didn't exist. It was so Wild West."
Besides Toy Drive, Buchanan hosts about 40 charity events each year as an auctioneer. The Shannon West Homeless Youth Center at HELP of Southern Nevada and the Candlelighters Childhood Cancer Foundation of Nevada are dear to his heart. Ask him what it means to be helping people in need in the valley, he says, "It will snap you into place in two seconds. You'll turn around and go, 'I gotta do better, I gotta be better.' "
So how does Buchanan spend 12 days on that 20-foot-tall scaffold? The Review-Journal spent 16 hours with him on the second day of this year's Toy Drive to find out.
5:15 a.m. It's dark when Buchanan emerges from his cylindrical, ADA-sized port-a-potty to do an interview update with a videographer from Fox 5. He's outfitted in Merrell hiking shoes, sweatpants, a knit hat, thick gloves and a heavy winter jacket. It's a windy morning, with gusts up to 40 mph rattling the tent where he sleeps. "Have I told you how much I hate the wind?" he shouts over the chilly blasts. His thermometer reads 42.8 degrees, but with wind chill, it's certainly colder than that.
5:40 a.m. "I'm coming into this emotionally raw," Buchanan says as he pauses after a video interview. He worries his father, who lives in Seattle and is in poor health, might not survive through Toy Drive. His best friend's father died two days ago, and Buchanan will be unable to make it to his funeral the next Saturday. "There's an element of, 'Thank God for Toy Drive!' Because I'm focused here."
6 a.m. Buchanan's program, "Chet Buchanan and the Morning Zoo," runs from 6 to 10 a.m. on weekdays, and he maintains regular duties even as he's up on the scaffolding. He operates from a fold-up table, equipped with a soundboard, microphone and his tablet. Kayla, a "Morning Zoo" co-host, climbs the 26 steps up the scaffolding to deliver the latest numbers to Buchanan. She gives him a hug before climbing back down to begin the show.
7:30 a.m. An orange Cadillac Escalade pulls into the parking lot. It's the Hooters Casino general manager, who has brought four women in orange tracksuits to help him deliver wings to the volunteers and stuffed owls for the toy drive. It's "Morning Zoo" co-host Spence's birthday, and the women perform a birthday cheer for him. Soon after, a gentleman from Vegas Indoor Skydiving comes by and donates $1,000 in gift cards.
8:13 a.m. The sun has been up for a while, though clouds still dot the sky. Some men come to roll up the enormous Toy Drive sign that flutters over the edge of the scaffold. After gusting winds nearly lift his tent up and over the edge of the scaffold onto Sahara, Buchanan improvises by tethering it to the railing with bungee cords. He's dubbed it "Angry Tent," and records video of the tent being lifted by the wind. He loudly personifies "Angry Tent" with a deep, roaring voice.
10:30 a.m. Buchanan has been off the air for a bit, and he reads a few applicant letters from HELP of Southern Nevada. Several are from single mothers who have lost jobs during the past year or who are in financial hardship because of taking time off to give birth. They all want to provide the best Christmas they can for their families, Buchanan says.
11:30 a.m. A man wanders by on the sidewalk, and Buchanan asks for his name. Rodrick says he knows the name Chet Buchanan, but he's never heard of Toy Drive. Buchanan jokes and laughs with him for a bit.
12:46 p.m. "I don't want to leave here. I wish I had one more day," Buchanan says, frustrated. Every year, he feels pressure as he strives to beat the amount of money raised and number of toys and bicycles donated from the previous year. It's not just about the numbers though. Buchanan has seen the families and children who receive the gifts, and he knows that, every year, some will be turned away because there are not enough.
3:30 p.m. Buchanan's wife, Amy Burhen, ascends the scaffolding to visit him. Today, she's brought a huge package of cleansing wipes for Buchanan. They smell like citrus, and he uses them in lieu of showers. She comes every day during Toy Drive, usually after she gets off work at Caesars Palace where she's a pastry chef. "I just miss him when he's gone," Burhen says. "Your whole routine changes, but knowing what he does, it's more than worth any little disruption in my life."
5:55 p.m. It's 44 degrees. New York Pizza & Pasta, less than a block away on Jones, will deliver to the scaffold, and when they hear it's for Chet Buchanan, they say the pizza will be on the house. "We appreciate what he does," the man on the phone says.
6 p.m. Buchanan turns on his tablet to watch the Washington Huskies take on the Colorado Buffaloes for the Pac-12 title. As a native Washingtonian, he's rooting for the Huskies and they don't disappoint him.
6:15 p.m. Buchanan talks to visitors who have brought toys for the drive. He tries to light the propane heater, but the wind blows it out. "Closer" by the Chainsmokers plays on KLUC for what must be about the 15th time, though Buchanan is dubious.
6:30 p.m. The pizza arrives. It's a monstrous Sicilian thick-crust cheese pizza with sausage. "Oh my God!" says Buchanan, before nibbling away at a slice.
7:21 p.m. Three women come by bearing gifts. One of them listens to Buchanan's show every day on her hourlong drive to work. "We better be funny, then," Buchanan quips. A mother and her young red-haired daughter stop by, too. The woman used to listen to Buchanan back when he was on the air in Seattle.
7:45 p.m. The wind has died down enough for Buchanan to fire up his propane heater. As open flames lick the night air, Buchanan talks about spirituality and the universe. "I believe in God," he says, a belief that seems to fuel his idea that his good deeds will ripple out into the world.
9:12 p.m. Buchanan is getting ready to go to bed soon. Since it's a weekend, he might get to sleep in until 7:30 a.m., if the sounds of the busy street don't wake him first.
Inside Chet's World: For 12 days, Buchanan's tangible universe is contained within a 37-foot-by-24-foot platform. It took a class at the Southwest Carpenters Training Fund, under the direction of Ron Warde, seven hours to build it. Besides a semi-reclining chair and an pop-tent for sunny days, Buchanan doesn't have much else on the platform. Though people have suggested various innovations and comforts over the years, Buchanan's list of necessities has grown smaller. "That's been important over the years, continually consolidating the operation," he says.
Port-a-potty: The restroom doubles as a supply closet. He's got a printer with extra paper and duffel bags full of clothing, underwear, gloves and socks. He has a grill cover to protect his equipment, and bags full of snacks like Planters peanuts, V8 Energy drinks and Smucker's Uncrustables. And in previous years, the potty has provided shelter from 60 mph winds.
Coleman WeatherTec Tent: Buchanan only spends time in here while he is asleep. His bed is a new item this year: "I just Googled 'electric mattress pad' And, oh my God! They had one right down the street from my house," Buchanan says. "Twenty minutes later, I had an electric heated mattress pad and my life has never been the same." Usually, he tries to get some shut-eye between 11 p.m. and 5 a.m., but he can sleep in on the weekends when he doesn't have to wake up early to host the Morning Zoo.
Table: A fold-up table holds Buchanan's sound board, microphone, headphones, tablet laptop, notebook, internet router and thermometer.
Propane tank and heater: As Buchanan likes to say, "Wind is the natural enemy of Toy Drive." And wind also makes its next to impossible to use the propane heater on chilly nights.
Bucket: Buchanan calls it the "greatest innovation of Toy Drive." A metal pail dangles over the edge of the railing onto the ground, where volunteers can transport notes, letters or other items to Buchanan. "Now people don't have to run up and down the stairs!"