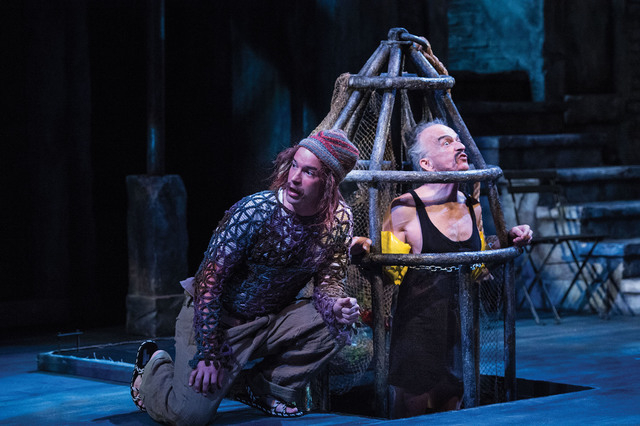 Full disclosure: "Twelfth Night" is my favorite, my most beloved Shakespeare comedy.
I've seen it at Britain's Royal Shakespeare Company. I've seen it at Canada's Stratford Festival and at San Diego's Old Globe (to cite but a few), with productions set everywhere from the Riviera to the Caribbean.
It's never less than a delight. But the Utah Shakespeare Festival's current production is so much more.
Of course, it helps that "Twelfth Night" (which Shakespeare wrote about the same time as "Hamlet") contains some of the Bard's most glorious language, some of his most uproarious comedy, some of his most memorable characters.
All of which makes it tough to mess up. But it also makes it tough to strike just the right balance between humor and heart, as the characters strive to fool others — only to discover they're fooling themselves.
"Twelfth Night's" romantic roundelay gets underway after a disastrous shipwreck that finds Viola (the sturdily yearning Nell Geisslinger) washed up in Illyria — and her twin brother presumed drowned. (More shipwreck survivors, and more twins, turn up in "The Comedy of Errors," but that's like saying a Big Mac and Chateaubriand are both made of beef.)
What's a girl to do? Why, masquerade as a male, Cesario, so (s)he can become the most trusted servant of Duke Orsino (Grant Goodman, serenely lovelorn), who's pining for the love of the lovely countess Olivia (wistful Melinda Pfundstein), who's in (seemingly perpetual) mourning for her dead brother. That is, until Orsino sends Cesario to Olivia to plead his suit — and Olivia is instantly, inevitably, entranced by the messenger, if not the message.
But the sometimes merry, sometimes melancholy mix-ups hardly end there.
Olivia's drunken cousin, the aptly named Sir Toby Belch (a dynamic, blustery Roderick Peeples), conspires with his peacock pal Sir Andrew Aguecheek (Quinn Mattfeld, striking comic gold — or should that be fool's gold?) and Olivia's gentlewoman Maria (saucy Maryann Towne) to bring Olivia's puritanical steward Malvolio (the pricelessly pompous David Pichette) down a peg — or three.
Observing all the foolishness: the jester Feste (lithe, blithe Aaron Galligan-Stierle), whose musical interludes convey not only amusement but bemusement as "Twelfth Night" unfolds.
Director David Ivers maintains and extends the play's tender balance between the hilarious and the heartfelt with rare clarity and grace, venturing far beyond the search for the happy ending to explore the search for self — your true self, your best self.
And because it gets to the heart of the matter so splendidly, this "Twelfth Night" will get to you — whether you're seeing it for the first time, or the twelfth.
Contact reporter Carol Cling at ccling@reviewjournal.com or 702-383-0272.
Review
"Twelfth Night"
In repertory through Oct. 17
Utah Shakespeare Festival, Cedar City
Grade: A
ALL THE REVIEWS:
Deep in 'Woods' lies tale of human truths (witch warts and all)
It takes game of thrones to get young prince to find his way
You said it, sisters: Finding right romance requires keeping wits
With Gold Rush-era 'Comedy of Errors,' there's droll in them thar hills
'Measure' of human struggle, marked by moral knots, fistfuls of foibles