UNLV festival, in its 30th year, loves celebrating Las Vegas' diversity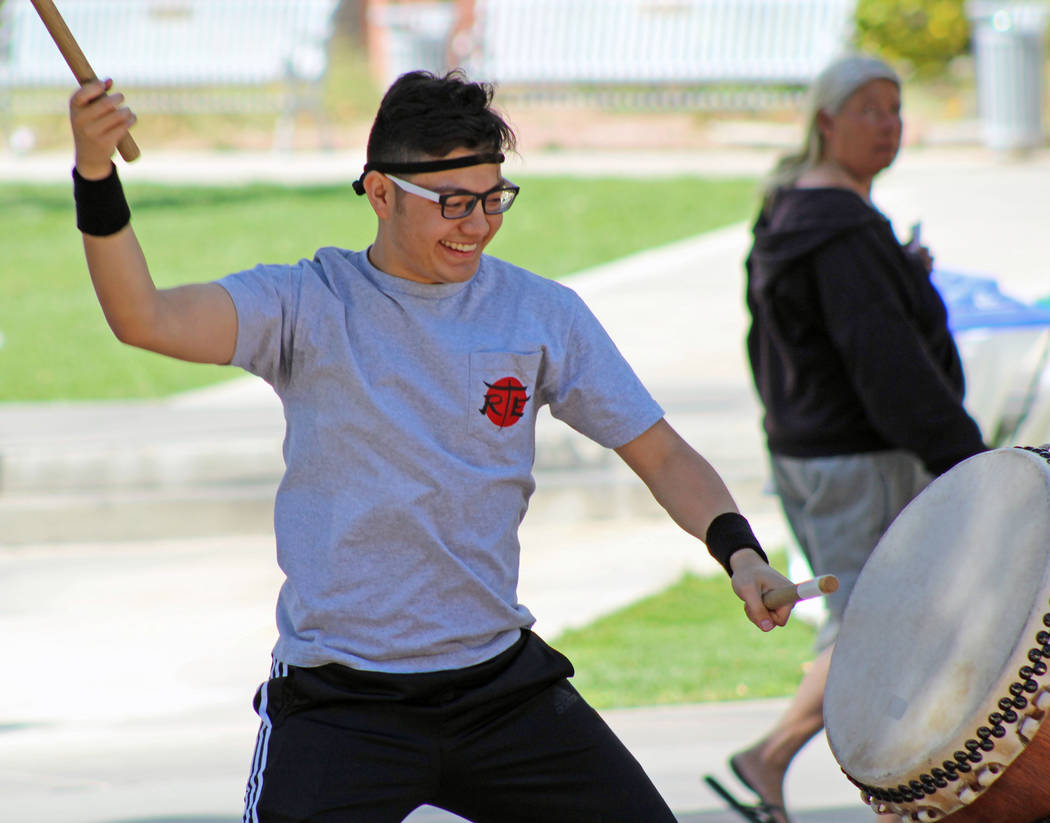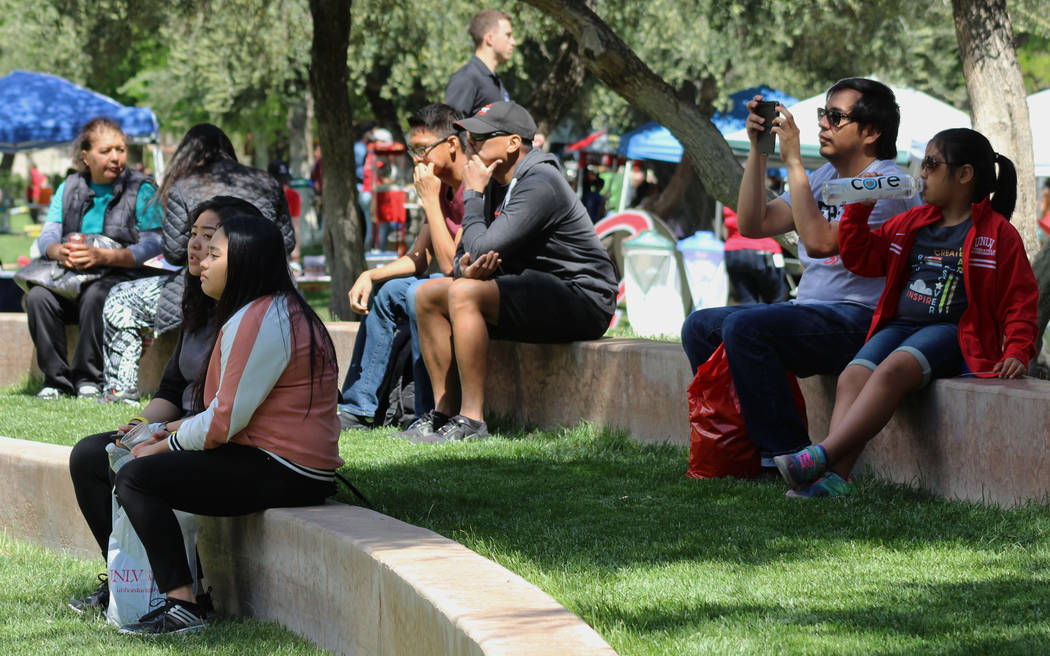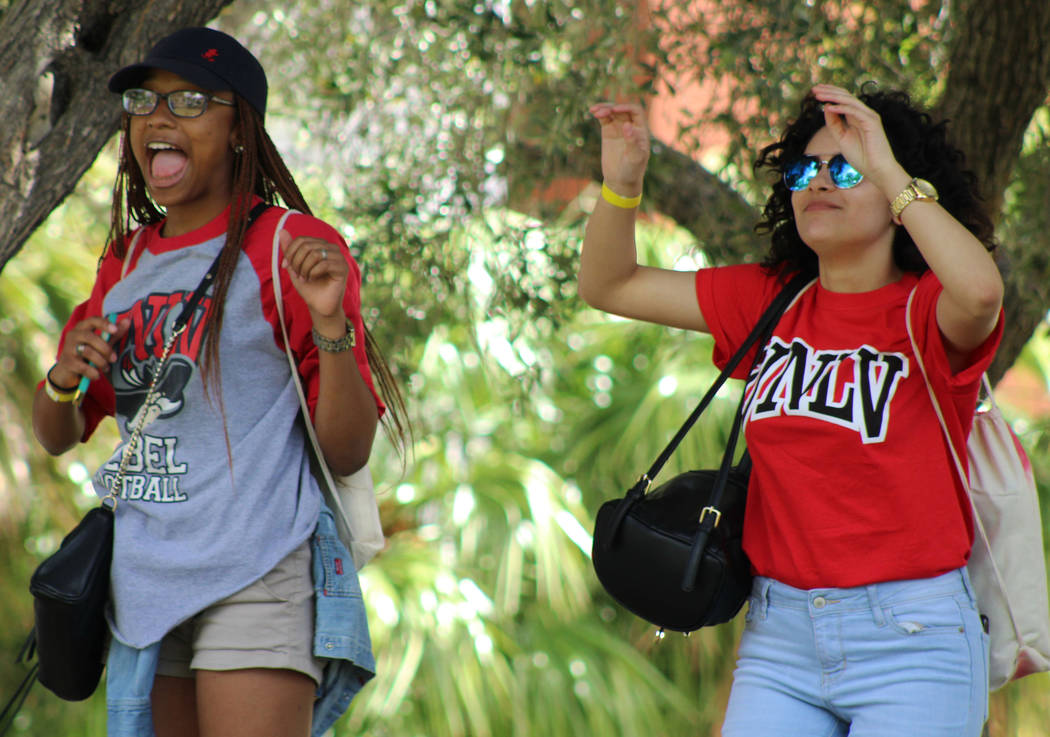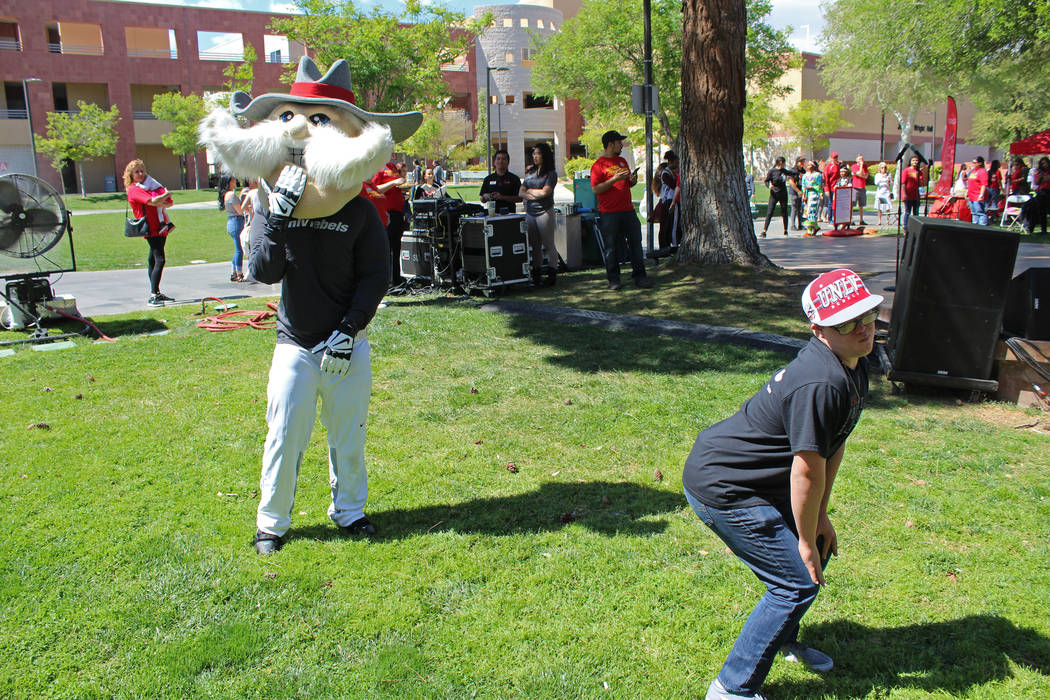 Locals needed neither a plane ticket nor a passport to travel the world through the sights and smells of different cultures Saturday at UNLV.
The 30th anniversary of the annual Festival of Communities was held on the Academic Mall to showcase the melting pot that is Las Vegas. People from all walks of life — from yogis to light saber performers — attended the festival, which was held in conjunction with Rebel Preview Day to let high school students and their families experience UNLV's diversity.
More than 50 arts-and-crafts booths and student organizations displayed information, food and wares. Event organizers estimated the festival attracted about 4,000 people. Some attendees were children, who bounded in bounce houses, met animals in the petting zoo and had their faces painted.
"This is a real chance to celebrate the diversity of UNLV and the Las Vegas Valley," program coordinator Zainub Cementwala said. "So many people participating today represent different parts of the world. This is a chance to really celebrate that difference."
Nadia Omar-Czesky, an assistant director for intercultural programs at UNLV, said, "This festival also highlights a report by the U.S. News & World (Report), which said that UNLV is still the second most diverse campus (nationally). We also identify as a minority-serving institution. A large percentage of our student population is non-white Caucasian."
The festival celebrated the world's cultures and the planet's preservation. An ecozone focused on having a zero-waste policy and there was also a special grease disposal site. Event organizers made sure every booth featured compostable plates and utensils. To reduce plastic waste, water stations throughout the festival grounds let attendees refill their bottles.
Omar-Czesky said the festival started in 1987 as Unity Fest, to let campus cultural groups raise money. Eventually, organizers started allowing local community vendors to participate and sell their crafts.
Continuing with tradition, student organizations were the only ones allowed to sell food.
"Food is an easy and natural way to connect with others and I think a lot of people explore other cultures through food," Omar-Czesky said. "Food is often the bridge to other cultures and traditions. This festival is set up to represent foods from all around the world."
Nepalese Student Association member Sayan Sakhakarmi, 28, was selling chicken momos with tomato sauce – otherwise known as dumplings — to raise money for future Nepalese cultural programs and performances. He said he hoped to win the event's food contest, which gives winners $250 to $500 to use toward upcoming events for their groups.
Other food items include Ethiopian pasties, sambusa, fried lumpia and taro milk tea with boba.
"This is my first time at the festival and it's so great to see different cultures coming together," said UNLV student Beatrice Debele, 20. "The food is also amazing. It's the best part of this festival."
With taste covered, some festivalgoers delivered other sensory stimuli. Kevin Baculi, 22, played taiko drums hoping to encourage people to promote world peace through the Soka Gakkai International Buddhists.
"This festival is great because we all love meeting new people and letting them know that there are no judgments here," Baculi said.
Meanwhile, UNLV student and Bhakti yogi Tim Rafalski, 44, taught onlookers the art of yoga with a focus on controlling the mind.
"The idea behind Bhakti yoga is simple," Rafalski said. "It's all about simple living and high thinking. I'm not trying to push this belief onto anyone. I'm just here to tell people about it."
Sarah Adams, a 17-year-old vendor, has attended the festival for the last four years. She sold handmade bows to raise money for summer camp and Comic-Con.
"Those events are expensive," Adams said, "and my mom makes me work for it."
Contact Sandy Lopez at slopez@reviewjournal.com or 702-383-4686. Follow @JournalismSandy on Twitter.
WINNERS OF THE 2017 FESTIVAL OF COMMUNITIES
Best Plate: Alpha Psi Rho
Best Bite: The Expressor
Best Dessert: Chinese Students & Scholars Association
Best Decoration: Rebel Taiko Experiment
Best Interaction: Society of Lightsaber Duelists
People's Choice: UNLV Student Affiliates in School Psychology