Utah Shakespeare Festival isn't the only place to play in Cedar City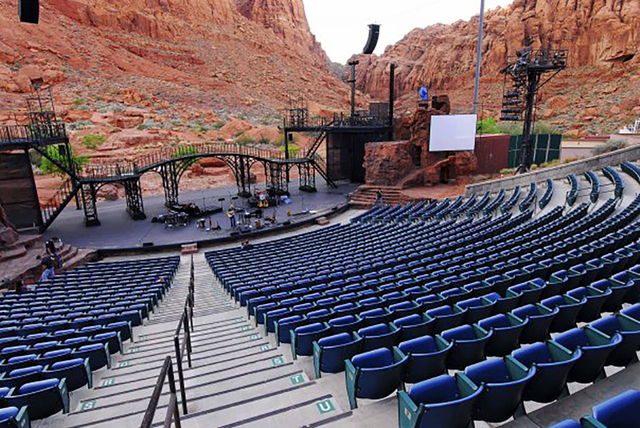 Despite its dominance, the Tony-winning Utah Shakespeare Festival isn't the only theater around — or even in town.
The 14th annual Neil Simon Festival opens Monday and continues through Aug. 13 at downtown's Heritage Center Theatre, featuring Simon's semi-autobiographical "Brighton Beach Memoirs" and the third of his comedic-complications-in-a-hotel-suite plays, "London Suite."
The musical biography "Hank Williams: Lost Highway" and the comedy-drama "On Golden Pond" (the latter featuring former "Walker: Texas Ranger" star — and UNLV theater professor — Clarence Gilyard) round out the Simon festival's season, along with a July 29 reading of the festival's new play competition winner. (More information: www.simonfest.org.)
And just outside nearby St. George — closer to Las Vegas in distance and temperature — Tuacahn Amphitheatre (www.tuacahn.org) continues its tradition of family-friendly musicals with a trio of productions.
Disney's "Tarzan" and "Peter Pan" already are up and running (through Oct. 12 and 14, respectively).
Another Disney animated feature inspires the third Tuacahn musical: "The Hunchback of Notre Dame" (July 29-Oct. 15), based on Victor Hugo's tale of 15th-century Paris, featuring songs from the 1996 movie's score plus new songs by the Oscar-winning "Pocahontas" team of Alan Menken and Stephen Schwartz.
Tuacahn's dramatic red-rock setting enables audiences to sightsee and catch a theatrical performance at the same time.
But if you'd like to concentrate on natural scenery, Southern Utah has more than its share of must-sees.
A short drive east of — and up from — Cedar City, Cedar Breaks National Monument offers spectacular views (and great short hikes) thanks to its huge natural amphitheater eroded from colorful cliffs.
Graduating from national monuments to national parks, two of Utah's "Big Five" — the dramatic, awe-inspiring Zion and Bryce Canyon's fanciful rock formations — are within easy driving distance of Cedar City.
Cedar City even has its own state park — the Frontier Homestead State Park Museum on Main Street, where you can explore frontier life and the area's tourist-mecca past before returning to its tourist-mecca present.