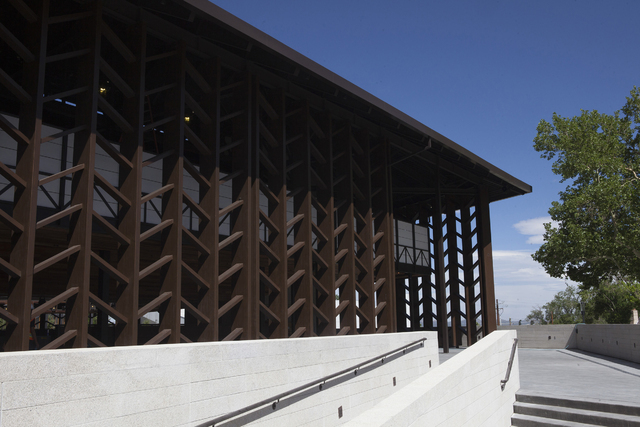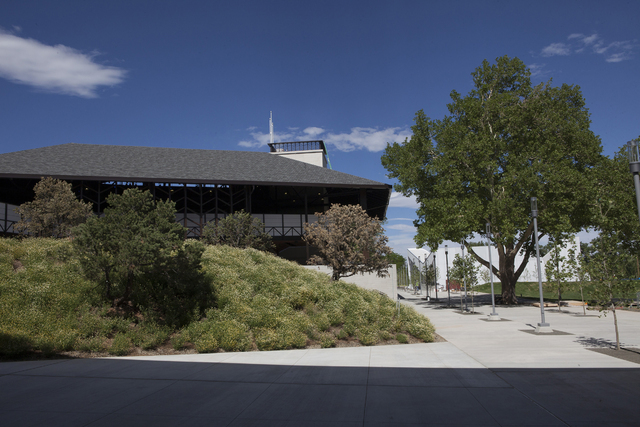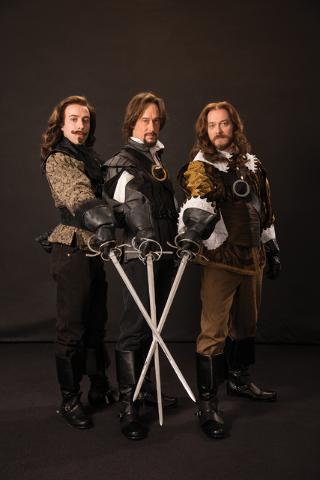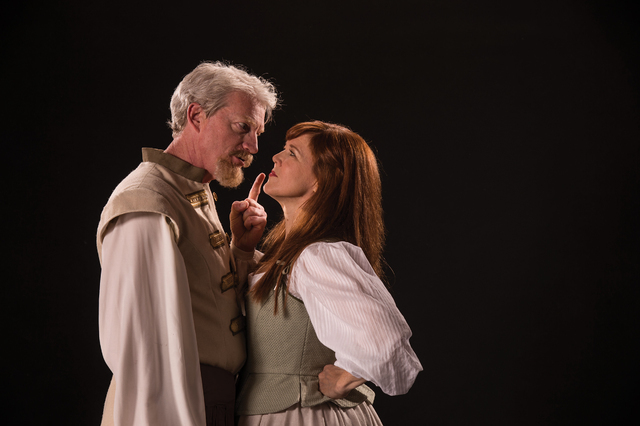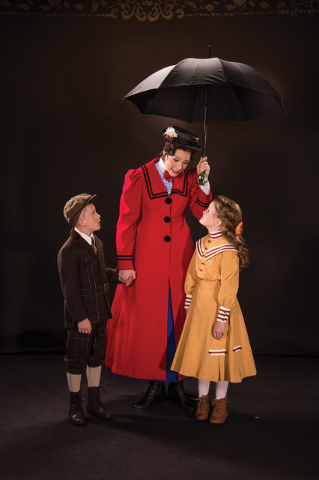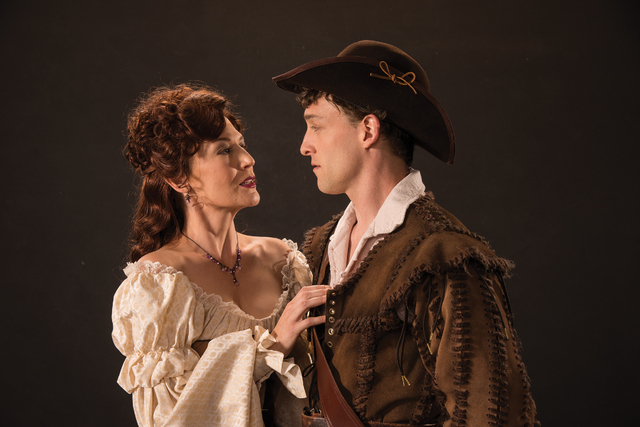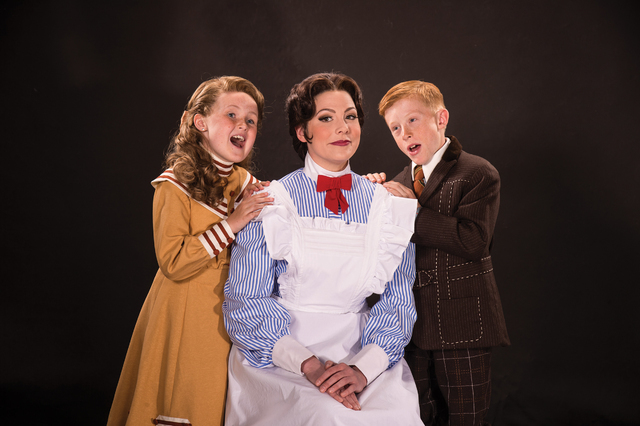 Once upon a time, when Utah Shakespeare Festival founder Fred Adams would describe his vision for a Shakespeare Center in Cedar City — the festival's home since the first performances, on an outdoor platform, in 1962 — people smiled.
Or joked, affectionately, about Adams' plans for "Willy World."
But Adams knows his Shakespeare.
Perhaps he thought of Romeo's "go wisely and go slowly. Those who rush stumble and fall." Or Julius Caesar reasoning that "It is not in the stars to hold our destiny but in ourselves."
Or the title "All's Well That Ends Well" — because that's exactly what's happening at the Utah Shakespeare Festival, except that this particular end marks another beginning.
When the first preview of "Much Ado About Nothing" launches USF's 55th annual season next week, it also will mark the debut of the new Engelstad Shakespeare Theatre, named for the Las Vegas-based Engelstad Family Foundation, which donated $5 million (the largest gift in USF history) to the Tony-winning festival.
The Engelstad playhouse is part of Southern Utah University's $38.6 million Beverley Taylor Sorenson Center for the Arts, which also includes a 200-seat studio theater (debuting in late July) and administrative and production facilities, including a rehearsal hall and costume shop.
Sharing the Beverley space: SUU's Southern Utah Museum of Art.
And, of course, the festival's Randall L. Jones Theatre, which opened in 1989 and anchors one corner of the Beverley center, which stretches for two blocks and features a central square, sculpture gardens and a new commons for the festival's free nightly greenshows.
It's not quite the Willy World Adams once envisioned with his late wife, Barbara, who helped him start the festival in 1961. But it'll do.
"We had an old English village" in mind, Adams — director of the festival's capital campaign — says in a telephone interview. But "we had to sacrifice that for the museum."
Finally realizing the dream of expanding USF's facilities — and replacing the 1970s-vintage Adams Memorial Shakespearean Theatre, named for a pioneer Utah family — more than compensates, he acknowledges.
Like the Adams playhouse, the Engelstad is an open-air "Wooden O" reminiscent of Shakespeare's own Globe.
As Shakespeare wrote in the rousing "Henry V" — one of five USF productions opening next week — the new "Wooden O" will provide "a kingdom for a stage, princes to act, and monarchs to behold the swelling scene!"
In the new facility, "you still have that wonderful stage where you can reach out and touch the audience," according to Adams — who'll be on that stage this summer playing "Much Ado's" doddering Verges, a local (and decidedly minor) official. "Much Ado's" director, USF's co-artistic director David Ivers, "sees Verges as a man deep in senility," says Adams, 85, who told him, " 'David, I play that 24/7.' ")
Overall, the Engelstad "does feel like home," Adams says. "Only with the amenities and safety factors." (Chief among those amenities: direct restroom access, which will be a definite relief for audiences who in previous years had to go into a separate building, and then downstairs, to reach the toilets.)
A lot of technical improvements "that I think are very exciting" also will "enhance the performances" at the Engelstad, notes R. Scott Phillips, the festival's executive director.
But this summer's audiences will be more aware than ever that they're in an outdoor theater, Phillips acknowledges.
Unlike the previous Shakespeare stage, "we don't have those huge pine trees" surrounding the theater, so "seeing that streak of sunset come through" may be disconcerting, he cautions. "There are about 80 trees planted" at the new center, "which will be gorgeous in a few years — but, unfortunately, they've got to grow."
Speaking of growing, USF's schedule has grown along with its lineup of theaters.
Five plays open next week.
In the Engelstad, "Henry V" continues the festival's history cycle, marking the return of actor Sam Ashdown (who graduates from "Henry IV's" Prince Hal to King Henry) and Larry Bull (who previously portrayed Henry IV and this season plays "Henry V's" Chorus).
There's plenty of swordplay in "Henry V" — and in playwright Ken Ludwig's take on Alexandre Dumas' swashbuckling "The Three Musketeers." (To say nothing of "Much Ado's" verbal sparring between fated-to-be-mated Beatrice and Benedick.)
Ludwig's "Musketeers" explores "great iconic characters who have taken on a mythological status," the playwright explains in a telephone interview. (It's Ludwig's second USF production; the first was the 2007 premiere of "Lend Me a Tenor: The Musical," based on Ludwig's Tony-winning Broadway comedy.)
"We grow up knowing it — and we don't even know how we know it," Ludwig says of "Musketeers." And though "there are moments of real danger," his adaptation offers "lots of comedy," he adds, likening it to the mix of action and laughter in the Indiana Jones movies.
"That's why I was so excited to write it," he notes. "I think that's something we've missed in the theater."
At the Randall, the festival opens not one but two musicals: "Mary Poppins," a stage version of the Oscar-winning 1964 Disney classic; and "The Cocoanuts," based on the Marx Brothers' 1925 Broadway hit that, four years later, became their first Hollywood hit.
"Cocoanuts" director Melissa Rain Anderson, making her USF debut, describes the play as "great vaudeville-sketches-meets-musical-comedy," with the zany Groucho, Harpo and Chico (or, more precisely, their onstage alter egos) involved in the Florida land boom.
In late July, the festival's second new theater welcomes audiences as the musical whodunit "Murder for Two" and Shakespeare's "Julius Caesar" inaugurate the Eileen and Allen Anes Studio Theatre.
Right now, "the risers and seats are all in," Phillips notes, but crews are still "doing a lot of sound and theatrical construction."
The Anes will "provide a place where America's Shakespeare could write his 'Hamlet,' " Adams explains. "We might find a play that will resound and soar — but it's not going to happen if we don't have the space for it."
Adding those new spaces — and the plays they'll showcase — has added at least $750,000 to the festival's annual budget, which is now $7.8 million, according to Phillips.
USF now is "responsible for the operation and maintenance of the facilities" — a task formerly handled by SUU," Phillips explains. "There's a lot more physical acreage up here" — along with "a larger sense of movement and freedom."
With the new theaters — and a new logo to match — "everyone feels very excited, as if they're sort of rebranding," Anderson says of "one of the last working repertory companies," where actors appear, in vastly different roles, in two or three productions. "It's sort of a dying breed."
But the new theaters bring new life to the festival, representing "a realization" of "what Barbara and I had dreamed of," Adams says.
"I go and walk around it and I listen to the sounds," he says, and "it's permanent. Nobody's going to take it down. My grandchildren and great-grandchildren will be sitting in these seats."
Read more from Carol Cling at reviewjournal.com. Contact her at ccling@reviewjournal.com and follow @CarolSCling on Twitter.
Preview
What: 55th annual Utah Shakespeare Festival
When: "The Cocoanuts" (July 1-Oct. 15), "Henry V" (Tuesday-Sept. 10)," "Mary Poppins" (July 2-Oct. 3), "Much Ado About Nothing" (Monday-Sept. 8) and "The Three Musketeers" (Tuesday-Sept. 9) in repertory
Where: Beverley Taylor Sorenson Center for the Arts, University Boulevard and 300 West Street, Cedar City, Utah (about three hours north of Las Vegas on Interstate 15)
Tickets: $20-$77 (800-752-9849, www.bard.org)
RELATED
Cedar City's Sorenson Center also home to new art museum