Valentine Vox, quartet to perform Dylan Thomas' timeless holiday tale
December 16, 2010 - 12:00 am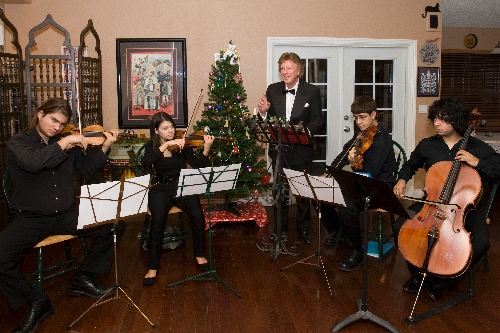 Ventriloquist Valentine Vox will leave his dummies behind during a performance of Dylan Thomas' "A Child's Christmas in Wales" at the Winchester Cultural Center theater on Saturday.
Instead, he will read the story while the Appleton Quartet accompanies him with traditional Christmas music. Vox first performed the story in 1973 when he worked for BBC Radio.
"We wanted to do a Christmas piece," says Vox, who performed his ventriloquist act for seven years on the Strip. "I came up with the idea to do the story with a flautist and singer and it worked really well. I expanded it."
Over the years, he has performed the story solo, with a bell ringer, a choir, an orchestra and now a quartet. Vox says he probably was inspired to put Thomas' story to music by the radio shows he listened to as a youngster growing up in England during the '40s and '50s. The style was commonly used for radio performances before television came along and may not be familiar to younger audiences.
Still, it's a compelling holiday story by a literary master, Vox says. Thomas was a Welsh poet/writer famous for the poem "Do Not Go Gentle Into That Good Night." He died in 1953 at the age of 39.
"A Child's Christmas in Wales" is based on Thomas' childhood.
"People invariably come up to me after the show and say it's nice to hear the spoken word," Vox says.
Contact reporter Sonya Padgett at spadgett@reviewjournal.com or 702-380-4564.
Preview
What: Valentine Vox and the Appleton Quartet present "A Child's Christmas in Wales"
When: 2 p.m. Saturday
Where: Winchester Cultural Center theater, 3130 S. McLeod Drive
Tickets: $7-$10 (455-7340)