Valley artist's work requires active viewing for different perspective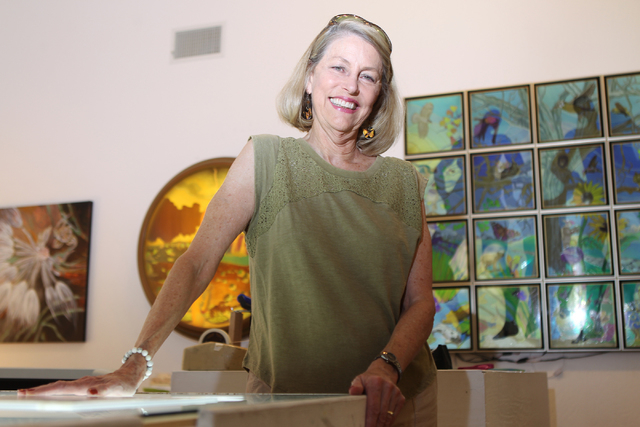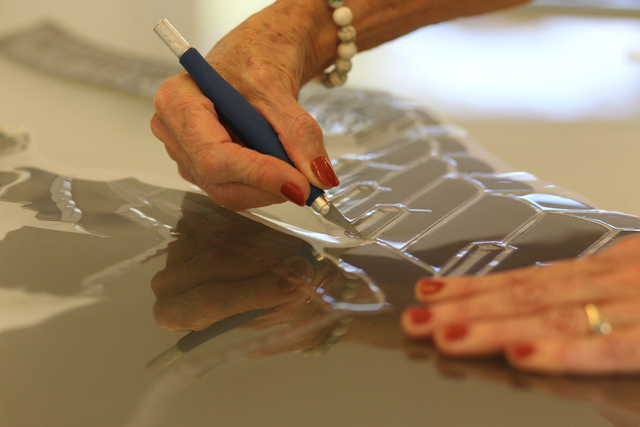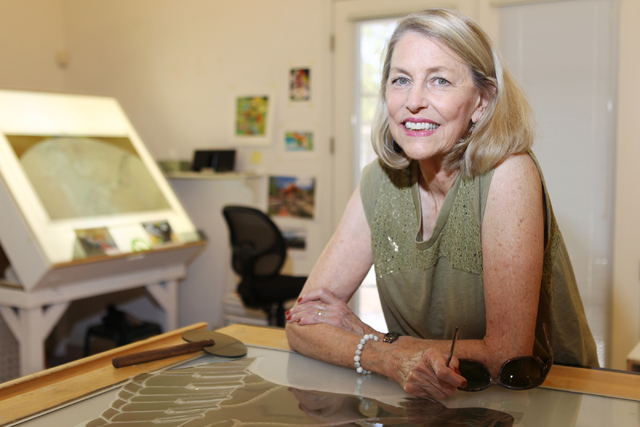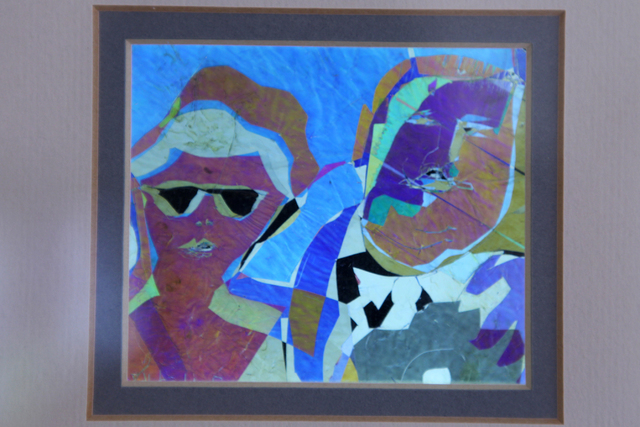 Inside the recently opened Spring Mountains Visitor Gateway Center is a frosty white mural that holds hidden secrets to the naked eye. It's only when seen with a polarized viewer that a new colorful world greets the eyes.
It is the latest work of Henderson-area resident Austine Wood Comarow, who has devoted her life to a new medium called Polarized Light Art.
"When I first started developing my work in the late '70s and early '80s, it was very much about light coming through things and the movement of the light," Comarow said. "That was sort of influenced by living near the Strip and seeing all of its lights. Even though my subject matter was always of nature, I did feel a connection to the energy of this place."
It took Comarow more than two years to bring her latest mural to life. She studied the native plants and animals of the area and began by outlining the peaks of the mountain.
Her daughter, artist Cara Wood Ginder, helped her cut the thousands of tiny pieces of clear cellulose that make up the images.
"What's lovely about her mural is that it doesn't reveal itself too soon," said Deborah Bergin, project manager and architect at Lucchesi Galati Architects. "People love it. They say it's beautiful and thoughtful because all of the images she used are reflective of the actual birds and plants in the mountain."
Comarow grew up in post-war Europe, where her father directed the United Nations High Commission for Refugees, which won the Nobel Peace Prize under his leadership.
Having lived abroad for many years, she speaks five languages fluently.
She obtained a bachelor's degree in Russian language and literature at Indiana University and later earned a master of fine arts in illustration from Syracuse University.
"I've been drawing since I was a kid. My mother was an art teacher," Comarow said. "The main thing I got from my mother is that you don't have to use art supplies from an art store. You can make art out of anything. So I was always looking for different kinds of materials to make art out of."
At a vital point in her creative development, she discovered that certain transparent materials produce colors when they are illuminated with polarized light and are viewed through polarizing filters.
"I started experimenting with this right after college because I took a lot of painting in college, and in those days (back in the '60s), they were just teaching abstract expressionism, and people were saying that representational art was so passe," Comarow said. "I decided to use a completely different medium because I wasn't that happy with the abstract expressionism we were supposed to be doing."
As she was experimenting with clear cellophane, her ex-husband, who was an astronomer and physicist, taught her about the physics of light.
"He knew if you took two polarizers and put them on either side of that material, you get color," Comarow said. "It was an instant revelation for me."
She calls the artistic medium Polage art.
The first piece she made was 2 by 3 inches and made out of candy wrapper, a clear cigarette package and scotch tape.
Most of her work since 1967 has been devoted to controlling this phenomenon and creating a new artistic medium.
The process starts with a drawing. She then follows the drawing cutting various thicknesses of clear colorless cellulose in the form of cellophane into hundreds of tiny pieces at different angles, which are laminated onto a polarizing filter.
The colors become visible only when viewed through a second polarizing filter. In some cases, that would be polarizing sunglasses, which she wears as she works in order to see the colors she is creating.
Comarow creates editions of her work by recording details of what she did and referring to the notes to make another piece using the same drawing.
"What I liked about it was that I was able to use clean material to work with," Comarow said. "At the time, I had two toddlers, and it was nice to not have to stink up the place."
Polage art may be interactive, kinetic, or passively viewed like stained glass, she said.
Comarow prefers to work in all three modes because each "image is conceived to convey a particular idea or feeling."
She said she did not receive much recognition until she was living in Santiago, Chile, in the early '70s. There, she had a show at the Museo Nacional de Bellas Artes.
She then moved to Boulder City and opened her first art gallery downtown in 1976 with her husband, Dave Comarow, who has been her informal collaborator since they met more than 40 years ago.
"He was instantly fascinated with the scientific aspects of the art I was doing and has participated in the research and development of all aspects of it, from finding the best archival glues to designing the motorized light boxes," Comarow said.
Interestingly, her biggest employer has been Maui Jim, an Illinois-based manufacturer of sunglasses, which feature patented polarized lens technology that allows people to view her artwork.
Her work can also be seen at the Boston Museum of Science, New Mexico Museum of Natural History, la Cite des Sciences et de l'Industrie in Paris and the Southern Nevada Heritage Museum in Henderson.
"I wanted the (Spring Mountains Visitor Gateway Center) piece to be a metaphor for the act of discovering nature," Comarow said. "As you go up the mountain, it looks very empty. It looks like there are rocks and maybe some trees. You don't realize that there's so much life there. That's the purpose of the art — to excite people about what there is to discover around that area."
Visit austine.com or call 702-260-1600 or 888-882-8784.
To reach North View reporter Sandy Lopez, email slopez@viewnews.com or call 702-383-4686. Find her on Twitter: @JournalismSandy.