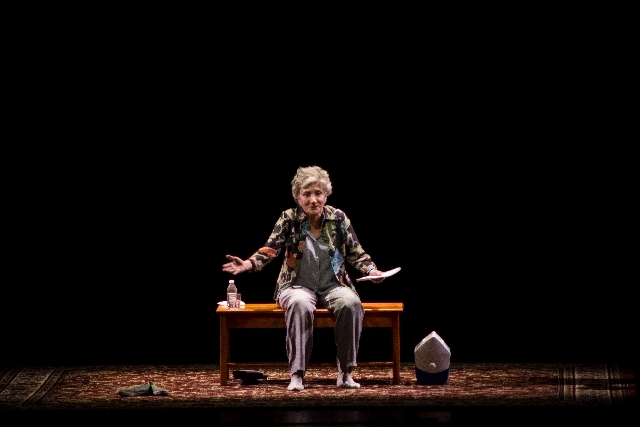 Olympia Dukakis has been playing "Rose" since 2000.
Thirteen years later, the character — and the play — are "more relevant than when it started," Dukakis says.
Las Vegas audiences will have the chance to determine that for themselves Tuesday when the veteran actress — an Oscar-winner for playing another Rose, in 1987's "Moonstruck" — brings this "Rose" to The Smith Center's Reynolds Hall.
The solo concert reading focuses on the title character, a Holocaust survivor whose journey takes her from a tiny Russian village to the Warsaw ghetto, a ship called Exodus and, ultimately, to the U.S.
Echoing the title character's journey, "Rose" has taken Dukakis all over the world, from Israel to Canada to "two separate islands in the Mediterranean."
She's never counted the times she's played Rose (although it's "not a bad idea," she muses in a telephone interview), but Dukakis knows exactly where the journey began: in London.
When she first saw the script (by "Bent" playwright Martin Sherman), it was "74 pages, top to bottom," Dukakis recalls. "Just learning it, I almost quit three times."
But there was something about the piece that "affected me deeply," she says.
For one thing, "I'd never done anything where I spoke directly to the audience," says Dukakis, who turns 82 next month.
As for Rose, "the need she has to talk to the audience" sparks not only the character but the drama.
That's because Rose "has a very compelling dilemma," Dukakis says. The character's sitting shiva, the Jewish mourning ritual, "for a Palestinian girl," which forces Rose to consider "her dilemma with Israel," and what happened to "the dreams and hopes and aspirations" of the Jewish state.
"What it does, it gives a human face to the dilemma that's now happening to Israelis," Dukakis says.
"I keep thinking, it's such a sliver of a land," she says. "Why can't it be left to exist? And why can't Israel and Jordan both give land and make a Palestinian state?"
In Israel's seemingly endless fight for existence, the country "has become something that Jews never thought of themselves before," Dukakis says.
And in the U.S., "we feel that way about ourselves," she adds. "The enemy wants to destroy us — and we're sending drones and bombs. You look at the dilemma, and yet you understand why it's happening."
During the time Dukakis has played Rose, the play is about a half-hour shorter, and she performs the 90-minute show without an intermission.
She's in full costume, with a set and lights, but also with script in hand.
That's the form of a concert reading, Dukakis says. "It's only at the beginning that the audience notices."
And the script is there because "I can go months" without performing it, she adds.
During the show's London premiere, when she was playing the role from memory, "I was terrified — are you kidding?"
And at one performance, she forgot her lines — and ended up walking offstage, where the stage manager told her to " 'Sit down and go on.' "
The moment Dukakis returned to the stage, "the audience burst into applause," she recalls. "They were so understanding and sympathetic, I started to cry. I was blubbering. It was really something. Fortunately, that never happened again."
But the audience's presence — and reaction — plays a key role in every performance, she says.
"I feel the audience is very much there," Dukakis says. "It's a big thing — to let an audience in, let them affect and move you."
It's also a big thing for audience members to "see ourselves living, in the quick of life," she says, "in community and not alone, so we can feel safe to let ourselves feel things that are too painful, too frightening" otherwise.
"When we're able to go to the theater," she says, "we're able to take a look at life."
It reminds Dukakis of a poem by Spain's Federico Garcia Lorca, which she begins to recite, likening the arts to "water drawn from the well of mankind," which "must be returned to him in a cup of beauty, so in drinking, they know themselves."
In the theater, "we know ourselves in a safe way," Dukakis says.
Sometimes, audiences react differently to the show, she notes, "where one group laughs and another part of the audience is not laughing at all."
But whatever the reaction, "you try to make the moments that are happening onstage absolutely true," Dukakis says.
And for all the sobering moments, "I have a good time with it — considering the issues that it deals with."
Even so, "it's very funny," she says. "There's a lot of humor" amid "the controversy."
Tuesday's performance also marks Dukakis' first time performing in Las Vegas.
"I'm really looking forward to it," she says.
And from Las Vegas, Dukakis will head to Southern California — to receive a star on the Hollywood Walk of Fame.
Although she says most people recognize her for her big-screen performances in "Moonstruck" and 1989's "Steel Magnolias," she's being honored with a star for live performance. (Las Vegas' own Penn & Teller are 2013's other "live performance" honorees on the Hollywood Walk of Fame.)
But Dukakis chalks it up to something else: longevity.
"I don't know," she says, "you get old enough and your hair gets white and somebody notices and they give you a star."
Contact reporter Carol Cling at ccling@
reviewjournal.com or 702-383-0272.
Preview
Olympia Dukakis in "Rose"
7:30 p.m. May 21
Reynolds Hall, The Smith Center for the Performing Arts, 361 Symphony Park Ave.
$26-$79 (702-749-2000, www.thesmithcenter.com)