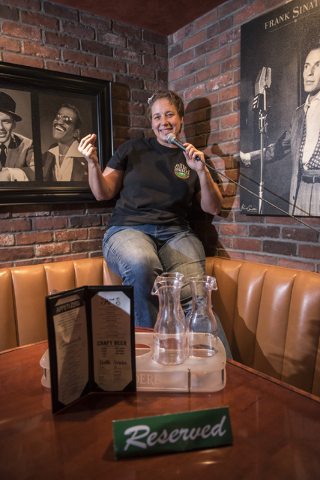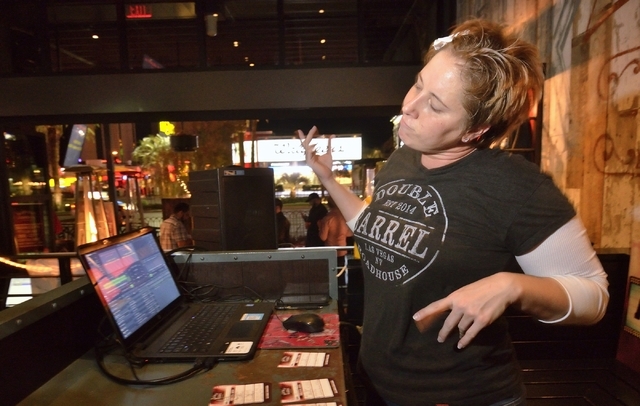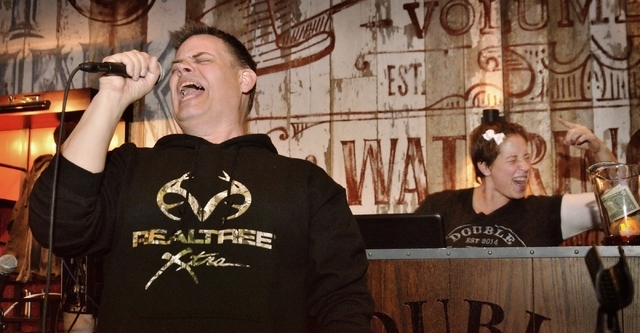 Erin Evans went to Iraq as a military police officer, and after years of playing her favorite music in the "sandbox," she came home as "KJ Vegas Babe."
Six months after graduating with Valley High School's class of 1997, Evans joined Nevada Army National Guard's 72nd military police company.
"I was the poor kid, I joined the Army to travel the world and get experiences. I never thought I'd get to do all that sort of stuff."
More than two-thirds of her 12-year military career was spent on active duty.
"I was a scared straight drill sergeant here, I did the D.A.R.E. officer drug programs here, I was a trainee instructor," she said.
She also served in Iraq two times.
"I'm kinda like the bad-ass, without putting that down," she said, laughing as she recalled her journey from the military to music in a VIP booth at Ellis Island Casino, a popular hot spot for karaoke.
From 2007 to 2008, Evans, 36, was deployed to Camp Bucca, Iraq to work in detainee operations.
"We had all these compounds, and we were watching all these Iraqi detainees, and we would transport them and do the Conair missions also."
The work was challenging but rewarding.
"We never knew when we were leaving. It wasn't, like, a set time. We'd all be on-call with all our gear," Evans recalled. "You know, you work seven days a week, 12-hour shifts. But, you're in the best shape of your life."
Becoming a military police officer changed Evans' life, she said. But it was not her first career choice.
"Even in high school I played on the boys' team," she said, remembering the moment she joined the military. "What do you mean I can't play on the boys' team?"
Evans was told she was ineligible for several jobs because, at the time, many infantry positions were not open to women.
"OK, well, then I want to be a tank driver," she said, after being turned down. "No, you can't do that either. Girls aren't allowed to be tank drivers."
She was furious.
"So, you mean to tell me this puny little runt right here, he can do all this? I could throw him across this room," she said of her reaction.
Evans eventually accepted her fate and found a job in the military that suited her.
"Military police was as close as I could come to front lines, you know, active duty, hard-core representing."
After her first tour in Iraq, Evans came back to the United States to work in Texas. From 2008 to 2009, she trained war-bound soldiers.
In April 2010, she got out of the military, but she didn't get out of going to war.
"I'm back in Iraq by July 2010 as a contractor."
Her second job in the Middle East was as different from her first as Las Vegas is from Baghdad.
"I thought I'd be standing at a post with a gate. I'm not."
Instead, American contractors are hired to manage Third World country nationals, she said.
"I had 40 boys from Fiji working for me. They're big island boys, as long as you feed them, they're happy. There's no drama whatsoever, I'm loving my life."
It was important to Evans that the people around her were loving their lives, too.
So, she encouraged fellow contractors and soldiers to participate in events put on by the Morale, Welfare and Recreation program, such as movie and karaoke nights.
"This is my family out here, so I'm going to make sure they're taken care of."
When Evans learned the MWR karaoke DJ was called to another mission, she did just that.
"I said, well, don't take karaoke. Wait a minute, hold on. Show me what I need to do, give me your system, and I'll keep it going for you."
For about a year, Evans rocked out to "Don't Stop Believing" and "Killing Me Softly" to cheer up those stationed with her.
"Anything to get your mind off the fact that you're in the middle of a war zone," she said of her weekly routine.
"It was like my own little mini-show I set up on Tuesday nights in the middle of Iraq, and that's where I kinda learned how to do all this."
This, karaoke jockeying, translated from a remote desert gig to a residency at one of the most popular bars in Las Vegas.
At the end of 2011, Evans transitioned into her first civilian job at Gilley's inside Treasure Island as a security officer. While working there, Nevada Job Connect helped secure her a part-time KJ job at Ellis Island.
Once every-other Saturday, she would put part of what she learned in a war zone to use, entertaining crowds three times the size of those in Iraq.
"I did a hostile takeover the second I walked in the door, and it became my bar very quickly."
Now, she works five nights a week. It does not feel like work, though, Evans said, because music and singing have always been her passion.
"I've been singing since first grade, you know, all through schools right here in Vegas."
Music is a great stress reliever, she said.
"Especially in the war environment and things like that, you put on your iPod, you get on the gym, and you just, you zone out."
Evans has no need to zone out at her current job.
"I'm, like, living this dream, 'KJ Vegas Babe.' I made that up," she said and laughed.
Being from a low-income family, being shut out of male-only military positions and losing the person in charge of running karaoke night in Iraq were all a part of destiny, Evans said.
"Everything happens for a reason. I truly believe that."
Contact Kimberly De La Cruz at kdelacruz@reviewjournal.com or 702-387-5244. Find her on Twitter: @KimberlyinLV