VR lets Springs Preserve visitors 'Paint on Air'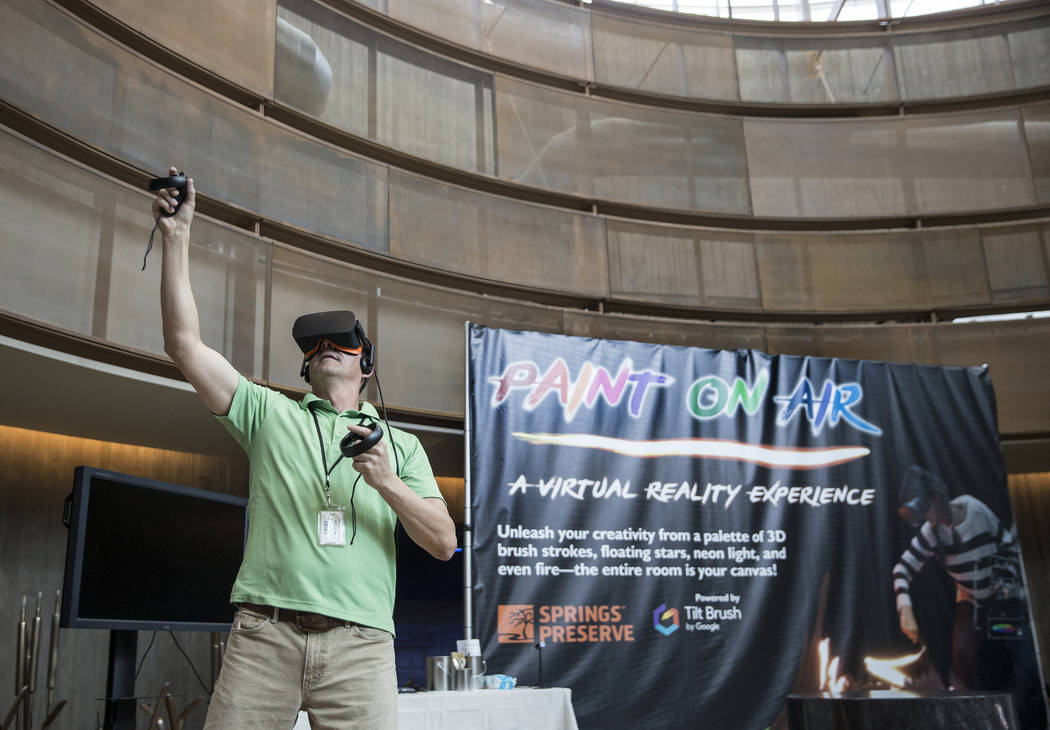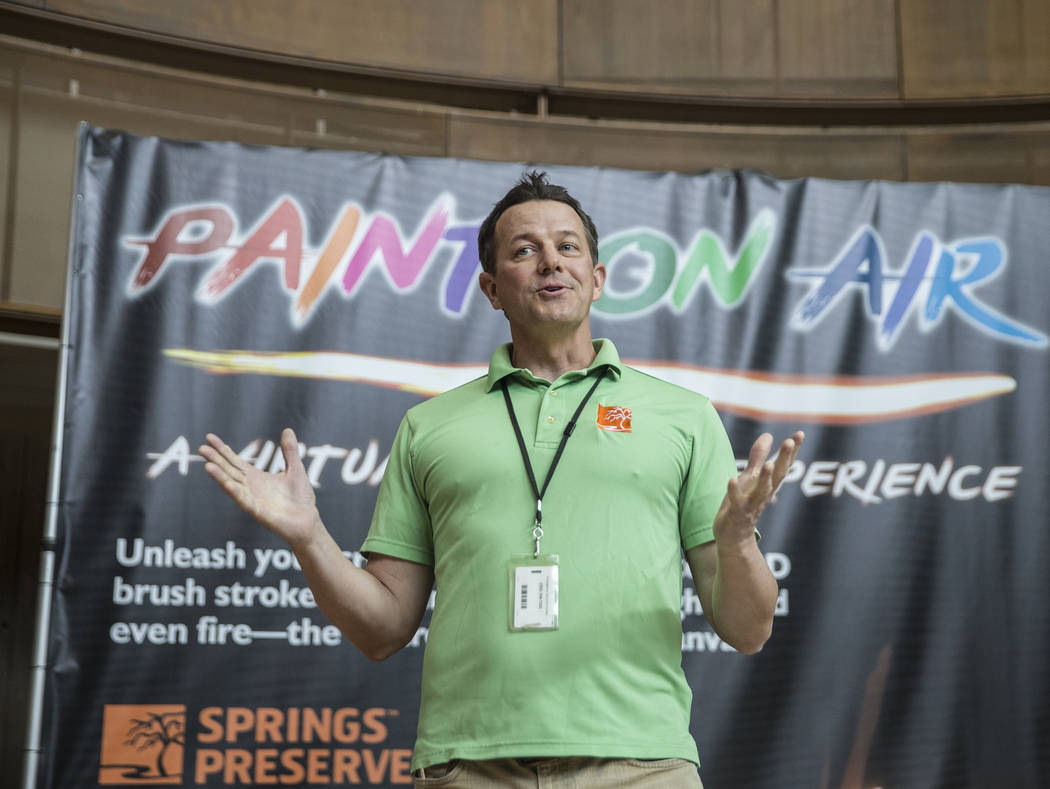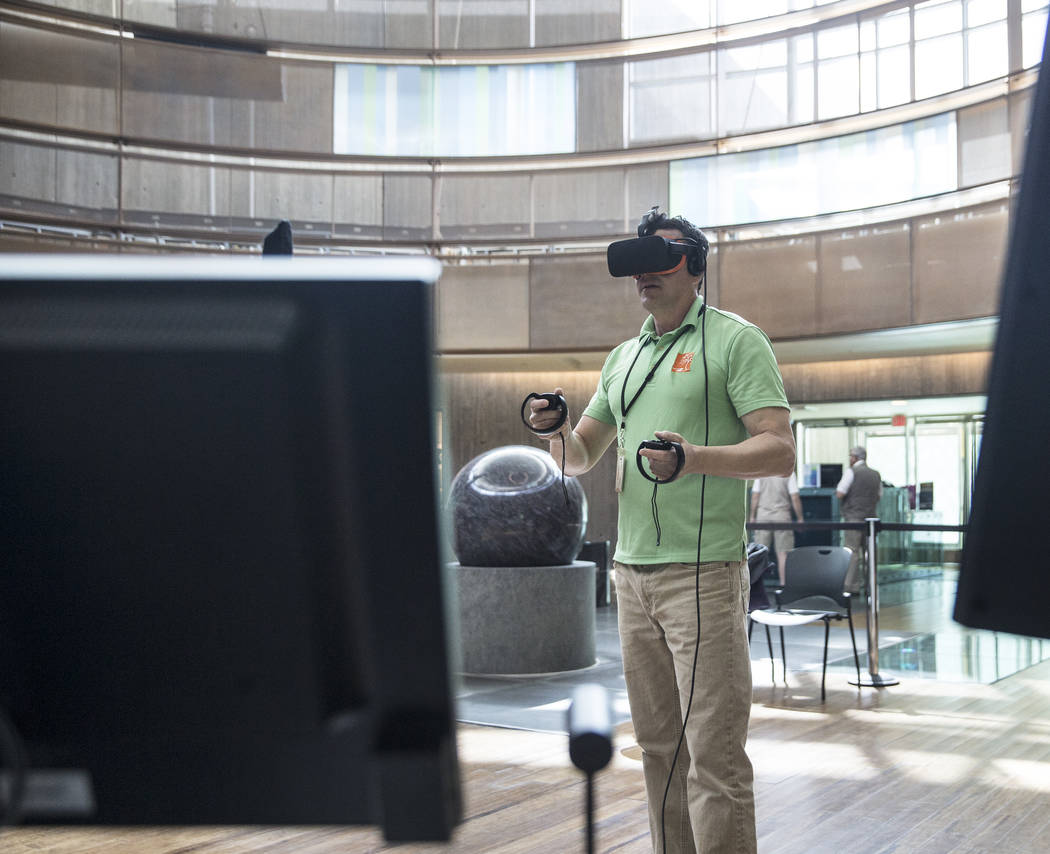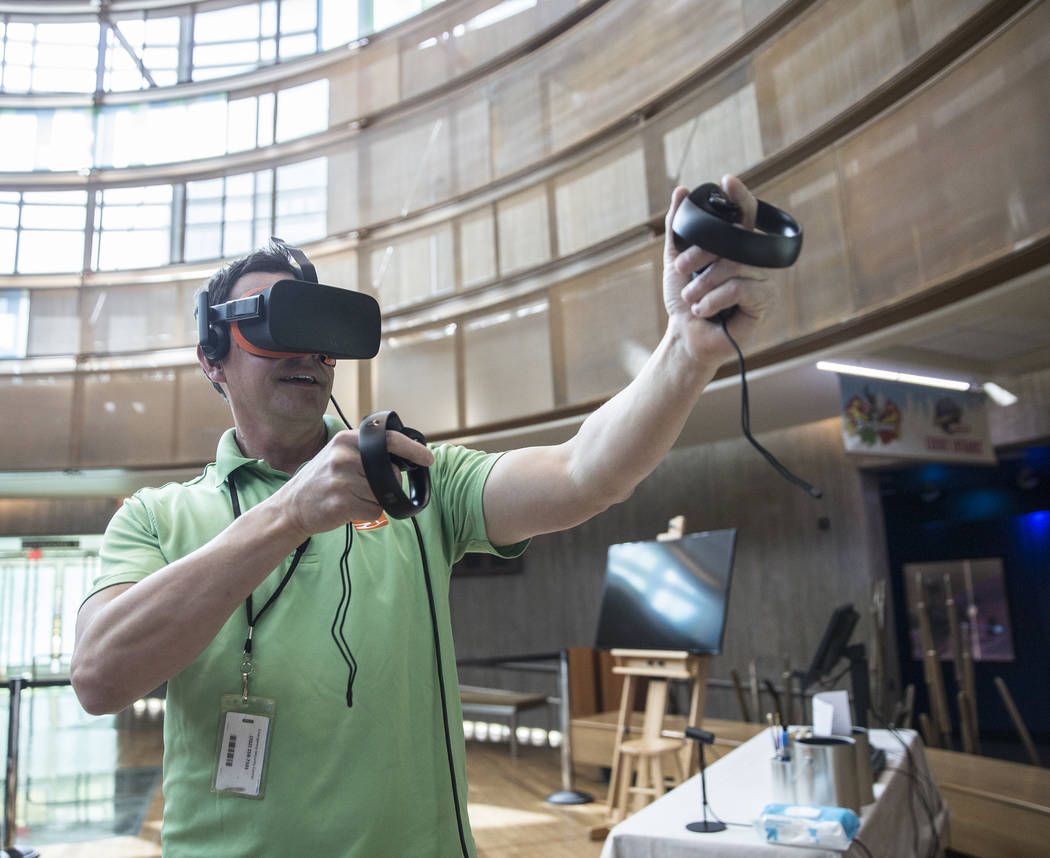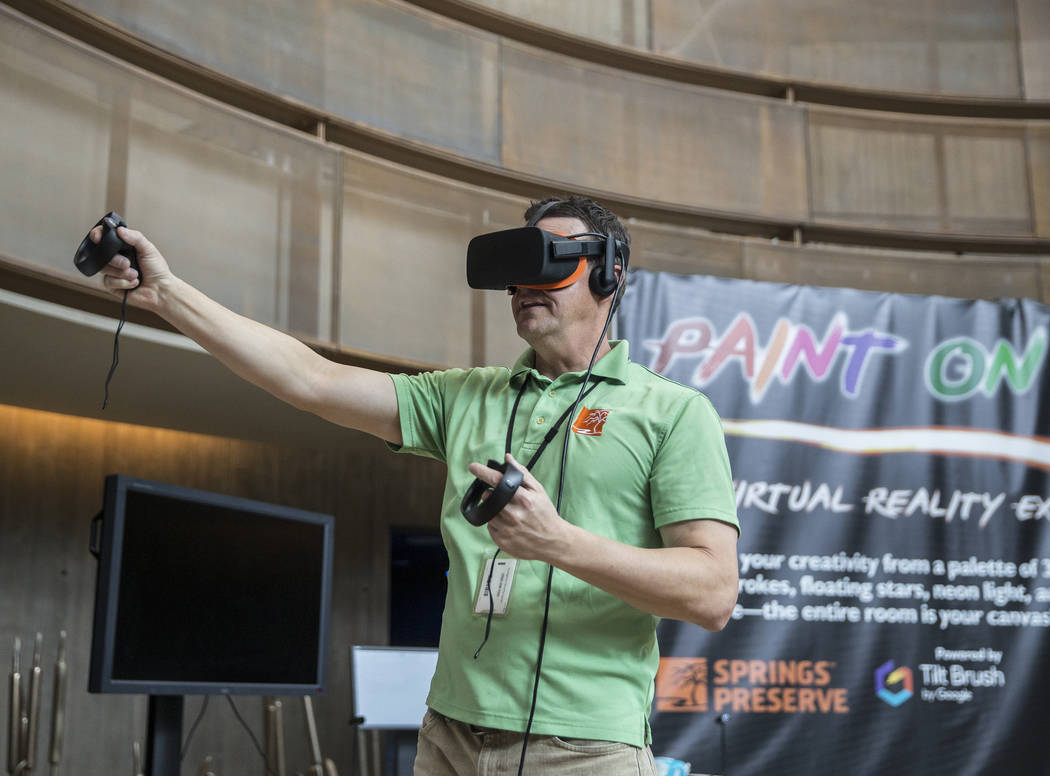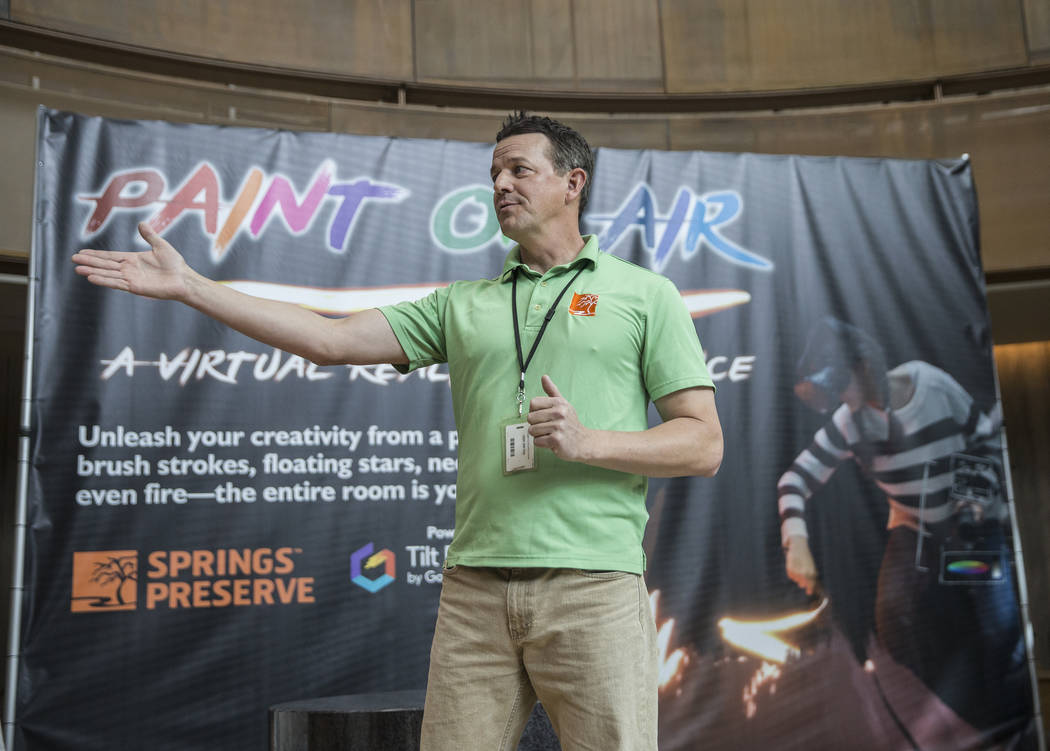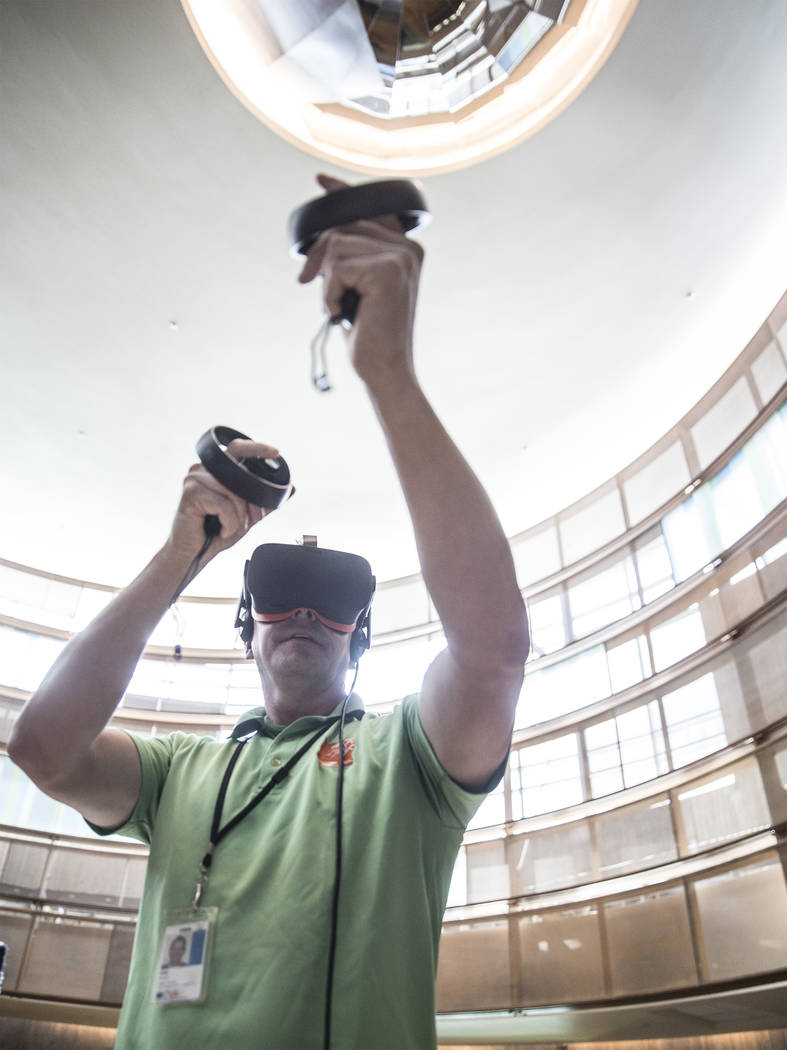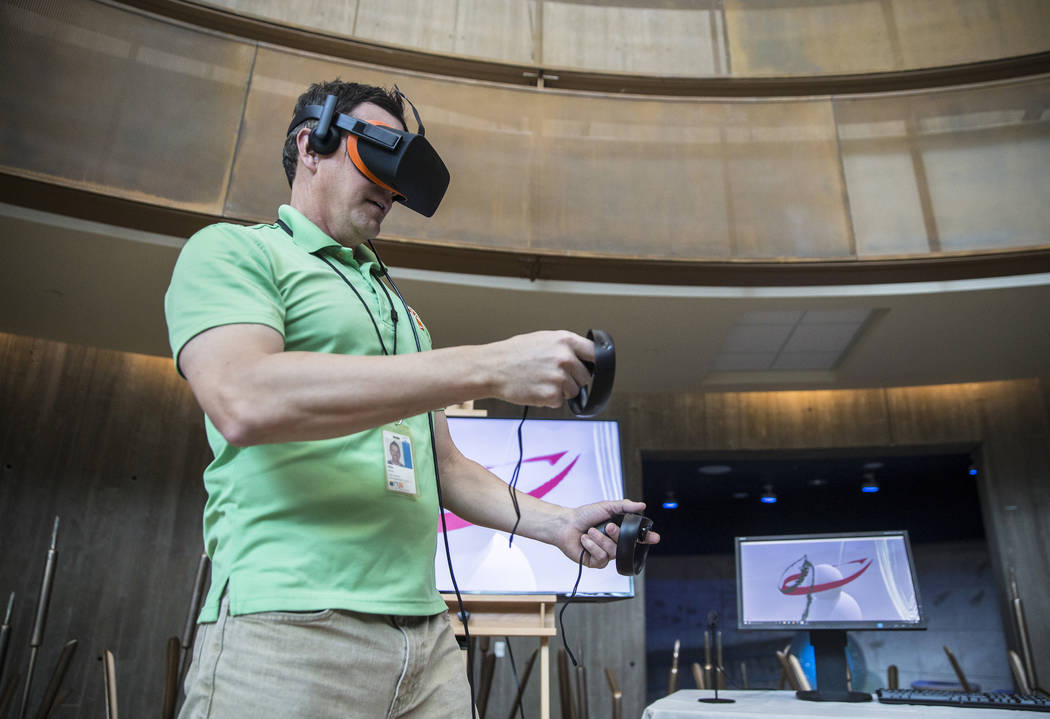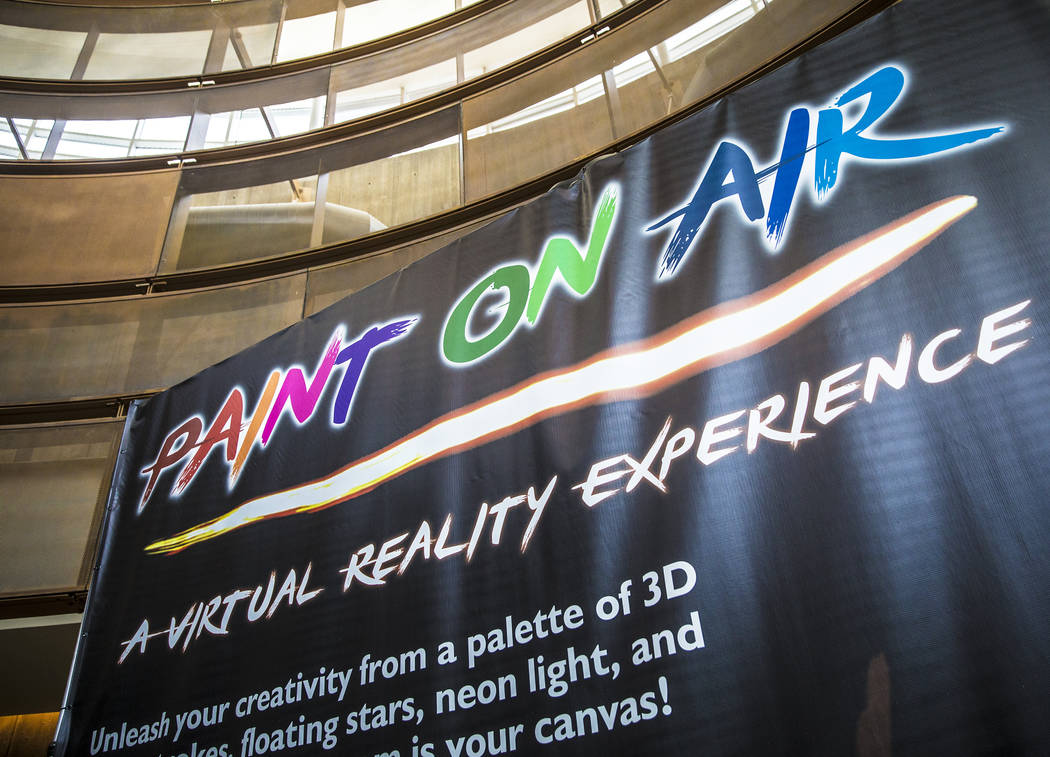 In reality, it's the lobby of the Springs Preserve's Origen Museum.
In virtual reality, however, it can be whatever — and wherever — you want it to be, from Vincent Van Gogh's "Starry Night" to Wonder Woman's World War I battleground.
Provided, of course, you've got the right equipment to "Paint on Air."
With special headsets and handsets, the preserve's latest virtual reality experience enables visitors to "paint" in 3-D, splashing shapes and colors in the space around them.
The overall effect? Like being in the middle of a painting coming to life in front of your eyes. Just as long as you keep your headset on, that is.
The Springs Preserve introduced its initial virtual reality experience last year: a virtual spacewalk presented in conjunction with its touring "Astronaut" exhibit.
"That was our beta test to see how it would work," according to project coordinator Mike Weintz. Not surprisingly, it proved "very popular."
Which got Weintz to thinking about other ways to use virtual reality to augment the preserve's educational programs.
"I have a friend who started a virtual reality business," he explains. "Spending time with him led me to think, 'Hey, I work at this amazing museum … ' "
For the "Paint on Air" exhibit, officials purchased four Oculus Rift headsets (owned by Facebook, according to Weintz) and Google Tilt Brush controller packages, then hooked them up to computers and monitors, creating four stations.
It's state-of-the-art. Almost.
Up until January's Consumer Electronics Show, "this was" as advanced as you could get, Weintz acknowledges. But "it's still one of the best systems you can have." Besides, "not everyone can afford the whole setup."
Once you're in the middle of your own imaginary world, however, it's not the state-of-the-art that matters but the art itself.
With a quick tutorial from Weintz, even a techno-dunce (Exhibit A: your humble correspondent) can explore painting on air.
There may be multiple buttons on each handset, but "you only need to worry about two," he advises. Your left hand controls the artist's palette, which includes choosing not only colors but brushes and effects.
Want to paint with fire, stars, a moving wave? Let your imagination roam free. (You'll never know what it's like being surrounded by a flurry of green snowflakes until you try.)
In your right hand: the controller that puts those choices into action.
"Just hold it down and paint," Weintz instructs."It's about a one-minute learning curve."
After testing the range of effects on a preloaded scene featuring Wonder Woman on a World War I battlefield, it's time to do your own thing. (Mine, marked by undulating, color-shifting patterns, reminded me a bit of writing my name in the air with a glittering Fourth of July sparkler.)
"You see people waving their arms" at times during the act of virtual painting, Weintz notes, while some patrons try every brush in their quest for virtual artistic achievement. Monitors make it easy for those awaiting their turns to see other virtual painters' efforts.
"I like the fact you can draw objects in 3-D" and "walk around your creation," Weintz says, noting that a grid pattern makes it easier to experience that multidimensional feeling. (It also helps you keep your balance while you're inside the system's virtual canvas; so does a built-in horizon line.)
Currently, the experience is included with Springs Preserve admission. Officials hope a corporate sponsor will step in to provide future upgrades as more visitors explore the fun of painting on air.
A refined palette
"Your room is your canvas. Your palette is your imagination. The possibilities are endless."
That's how Google describes its Tilt Brush technology, which powers the Springs Preserve's "Paint on Air" virtual reality experience.
The system features a variety of 3-D brush strokes, including:
■ Ink or pencil-width lines
■ Thick, paintbrush-style lines
■ Stars
■ Fire
■ Snowflakes
■ Undulating waves
■ Splatter
■ Smoke
■ Rainbow
The intuitive interface can generate several figures and backdrops to start your 3-D painting project, including:
■ Snowman
■ Starry sky
■ Space
■ Pedestal
There's even a mirror mode, which duplicates your moves — and, of course, an "undo" button for those times when your inner virtual reality artist is dissatisfied with your latest creation.
Preview
■ What: "Paint on Air: A Virtual Reality Experience"
■ When: 9 a.m.-5 p.m. weekends (open daily during spring break, March 26-30)
■ Where: Springs Preserve, 333 S. Valley View Blvd.
■ Admission: Included with general admission, $4.95-$9.95 Nevada residents, $8.95-$18.95 nonresidents (springspreserve.org)
Contact Carol Cling at ccling@reviewjournal.com or 702-383-0272. Follow @CarolSCling on Twitter.