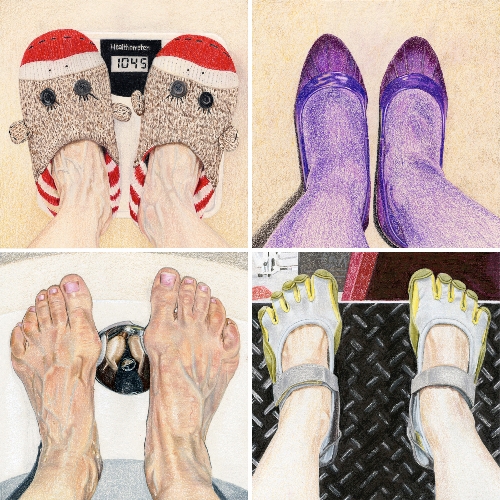 The Bridge Gallery opened in 2003 to make a long, empty corridor in City Hall more interesting.
Mission accomplished.
In addition, the gallery gave "local artists public exhibit opportunities while exploring our cultural diversity," according to Jeanne Voltura, gallery program coordinator for the Las Vegas office of cultural affairs.
"Walk On the Wild Side" will be the final exhibit in the space because City Hall will move to a new building in February.
"This building is going to be taken over by Zappos when we move and, since Zappos got its start selling shoes, we wanted to do something to welcome Zappos into the space. So, we decided on a shoe-themed show," Voltura says.
The pieces in the exhibit were created by artists who work for the city of Las Vegas as well as other artists from the community.
Among the works is "Dad's Shoes" by Noelle Garcia and her mother, Rosanna Herrera-Garcia. Born to American Indian parents, Garcia seeks to enrich her knowledge about her heritage and to honor her father through her work. She is a graduate of the School of the Art Institute of Chicago.
Her father, an alcoholic who was largely estranged from his family, died when she was 13. She's been seeking to know him ever since, she says. "A lot of my work has to do with knowing how to make traditional things the way my ancestors did. I found myself wanting to know my father and this is one way."
A year ago, she had a one-woman multimedia show called "What You Left Me" in the Winchester Cultural Center. With the topic of the Bridge Gallery show being shoes, her work was a natural fit.
"Sewing and knitting are traditional feminine work," she says, "and they're part of my art. I researched a lot and found interesting things, like a vest with beer bottle caps that jingle when the person wearing it moves. I work with fiber and fabric a lot."
"Dad's Shoes" are golden-yellow buckskin lined with rabbit fur. They look very soft and comfortable, but the viewer is a bit frustrated because they're enclosed in a case and, thus, cannot be touched.
Stewart Freshwater, who used to work as a graphic illustrator for the city, has a painting in the show. It is called "Prey On Foot" and depicts a big cat chasing its prey, a deer. But, as this is a show about shoes, the cat is part of a man's sneaker and the deer is part of a woman's spiked heel. When the viewer looks quickly at the charcoal and pencil drawing, it is at first glance just two shoes in motion. Of course, a closer look reveals the animals and it begins to draw the viewer in, becoming more interesting the more it is looked at.
Freshwater is a multimedia artist, working in photography and running a weekly life drawing class. He also does "a lot of nature photography," with Red Rock Canyon National Conservation Area being a favorite spot.
"I draw a lot of inspiration from dance," Freshwater says. "When you watch dance you see movement and you see creativity."
The city of Las Vegas has, Freshwater says, "been so good with art and artists. It is very supportive and believes in art." He points to the galleries and classes sponsored by the city and public art, such as the banner display on Las Vegas Boulevard put up in 2009.
He notes that if someone wants to buy a work seen in a city gallery "they refer the buyer to the artist and do not take a commission."
"Walk On the Wild Side" will be at the Bridge Gallery through Jan. 26. Parking is in the City Hall parking garage on the southeast corner of Stewart Avenue and Fourth Street. Best access is via the bridge on the second floor of the garage .
Preview
"Walk On the Wild Side"
7 a.m.-5:30 p.m. Mondays through Thursdays, excluding holidays, through Jan. 26
Bridge Gallery at City Hall, 400 Stewart Ave.
Free