We went to Burning Man this year — PHOTOS
September 2, 2016 - 3:45 pm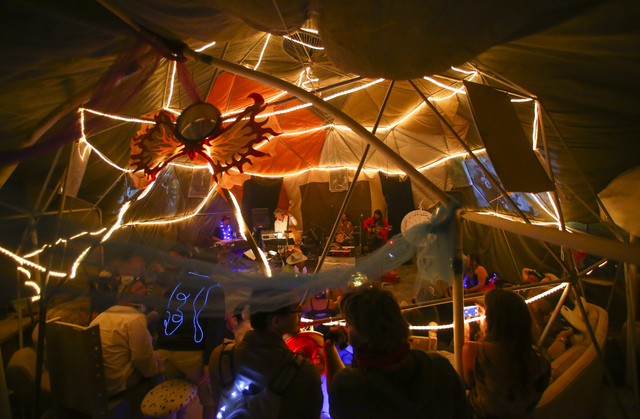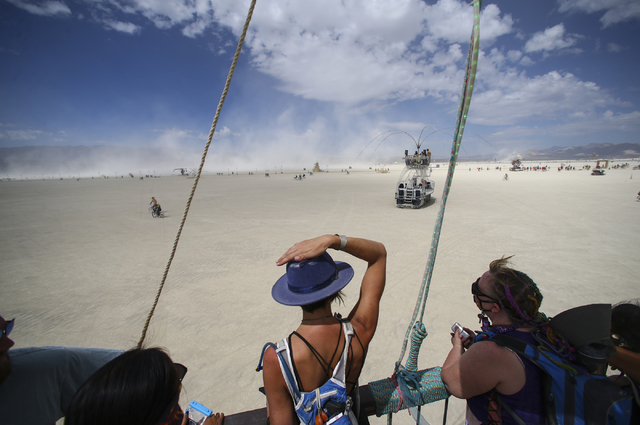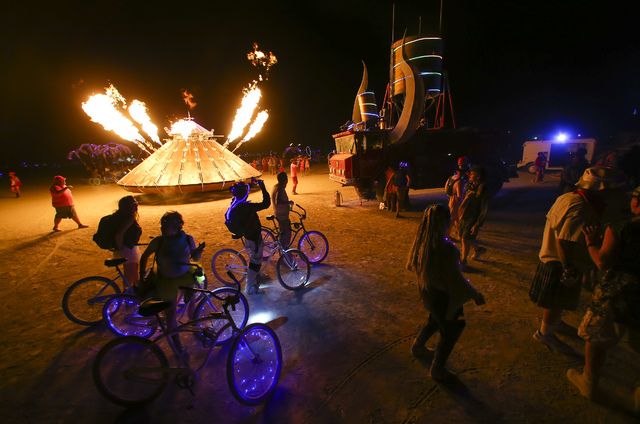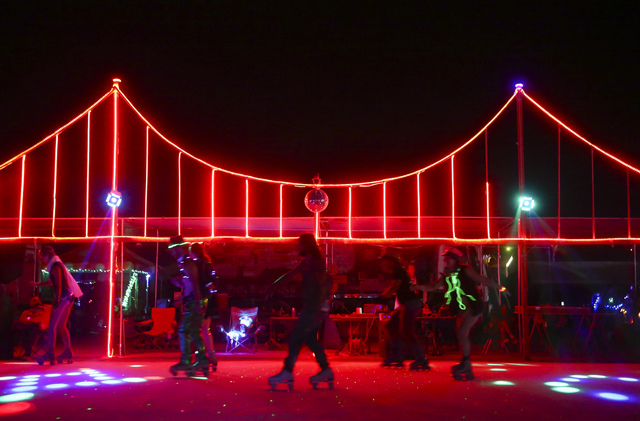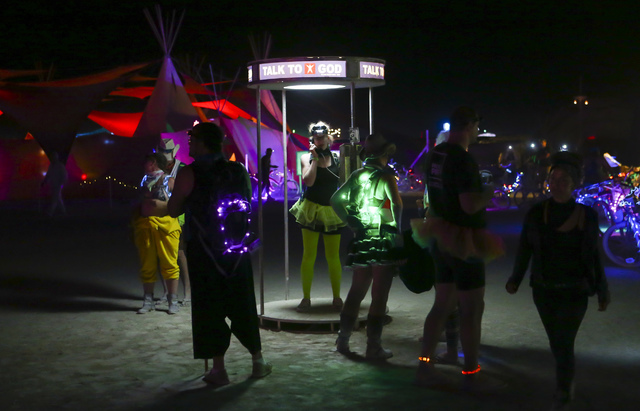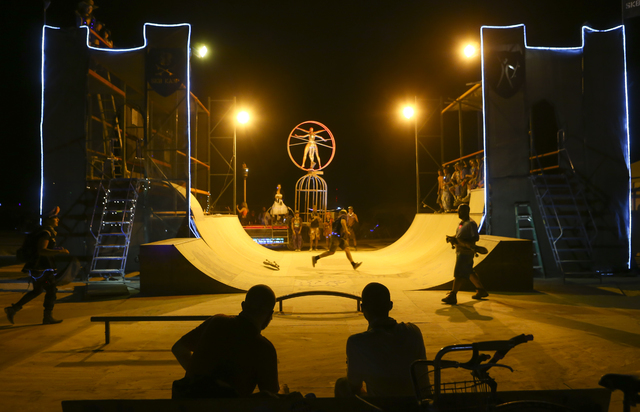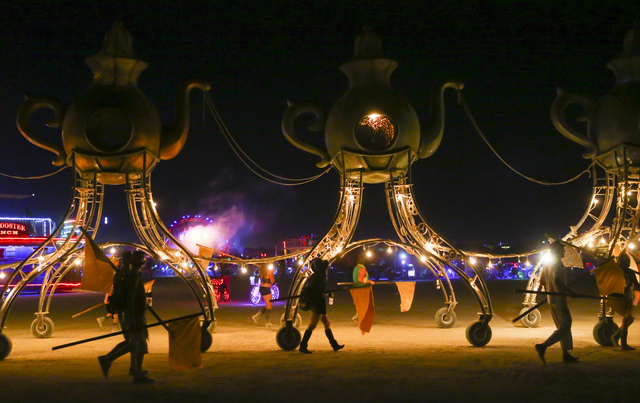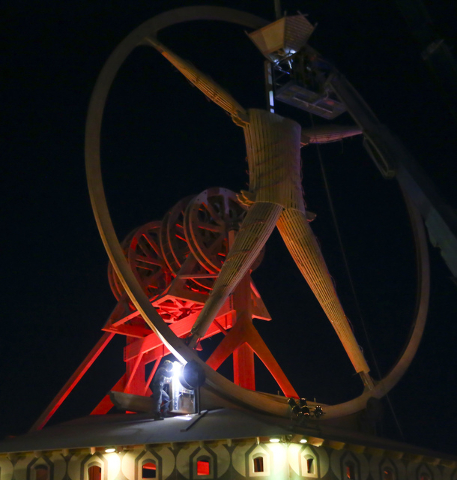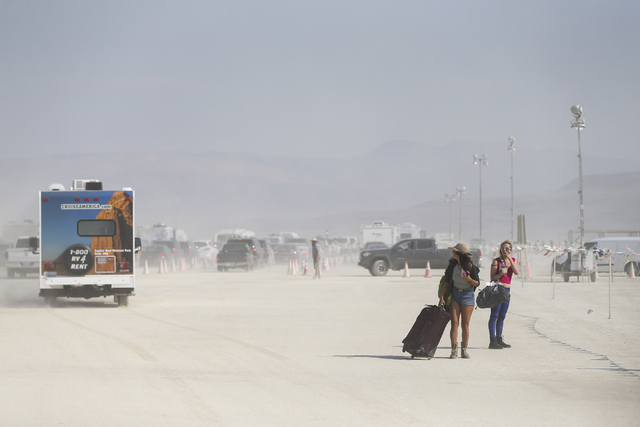 BLACK ROCK DESERT — As the sun rises over Black Rock City in Northern Nevada, the sky turns from coral to hot pink behind the array of art installations spread out across the desert. Those who are awake to see it watch from the top of a trailer and from scaffolding at their camps. Others zigzag across the open playa on bikes.
At Center Camp Cafe, one of the only places at Burning Man where money can be exchanged, early risers grab a drink and settle in on one of the many blue benches.
"You just do with less sleep here," says Darryl, a 56-year-old from Orange County, as he sits down facing the row of cashiers and espresso machines, red-and-white-striped socks peeking out from his pant leg.
By late morning, the line for drinks snakes through the covered oasis, where Burners lounge on the ground or on couches and people perform on stages at either end of the building.
So begins another day at Burning Man, though in truth the days never end. Events are ongoing, be it a noon lecture on "Guns, Germs and Steel" or a late night dance party at one of the sound camps. And if all else fails, the Center Cafe is open 24/7 for those odd-hour cravings for espresso, lemonade, chai or yerba mate.
Five days into this year's Burning Man festival, an eight-day ode to human ingenuity and self-expression, the dust has yet to really settle, literally or figuratively. Builders are still constructing massive art installations on the playa, while others are changing form daily as people interact with them. The first of the structures is set to burn Thursday.
Dusty afternoon at #BurningMan, but it's not too bad pic.twitter.com/aBuxlccJL6

— Chase Stevens (@CSStevensphoto) August 31, 2016
Attendees will continue to arrive through Saturday, when the wooden, 43-foot-tall human-shaped effigy — The Man — burns. By noon Wednesday, 61,262 people had entered the gates and made camp at the horseshoe-shaped city.
"A lot of people are calling this the great year of Burning Man," Burning Man founder Larry Harvey says. "It's going really well."
Transitioning from the "default" world to the society within the festival grounds begins long before anyone arrives on the playa, with attendees spending months gathering supplies, creating costumes and building elaborate art and other structures. But there's still considerable work to be done once people arrive on-site, which facilitates the change to a new way of living and functioning.
"When you come here, you have so much work to do (setting up camp)," Darryl says, "that you hardly have time to notice the wildly different environment you've come to inhabit." A 21-year Burning Man veteran, he is part of the "Come Play with Ken and Barbie" camp, which has two wooden photo booths, shaped like a Barbie doll box, for people to pose in.
For repeat Burners, these and other familiar Burning Man customs signal that they're entering someplace special.
"Just one way — this culture can be measured many ways — is dress," Yeshua Adonai, a 32-year-old from San Francisco says after wandering into Center Cafe after meditating on life at the festival's main temple.
Adonai wears a long suede jacket overr an embroidered vest, with large silver rings on his fingers. Around his neck is a mustard yellow scarf, a necessity when an unexpected dust storm arises.
As he meets and connects with more of his fellow Burners, Adonai said, he'll continue "diving into feeling like that's home."
Read more from Sarah Corsa at reviewjournal.com. Contact her at scorsa@reviewjournal.com and follow @sarahcorsa on Twitter.
RELATED
What you missed at Burning Man 2015 — PHOTOS
Burning Man celebrates a week of independence, creativity — and fire
Las Vegas 5-year-old gets grant to build Jedi temple for Burning Man
Online Burning Man tickets sell out within 30 minutes