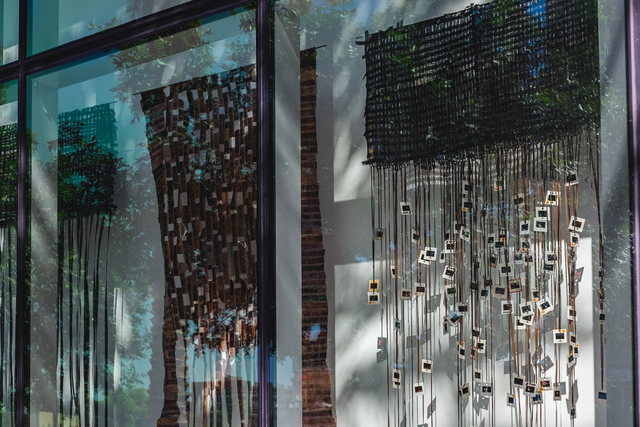 'Entertain'
Most galleries and museums may be closed for the holidays, but one's always open: Windows on First at Las Vegas City Hall, 495 S. Main St. Artist Cat Chiu Phillips' installation "Entertain" — created from discarded VHS and cassette tapes, 35 millimeter photo negatives and slides, many of them related to the Entertainment Capital of the World — continues through Jan. 13. For more information, call 702-229-1012.
'Impressionable Air'
Don't look now — or, more accurately, do look now, because artist Gail Gilbert's "Impressionable Air," at the Winchester Culture Center's gallery, is almost gone with the wind. You can catch Gilbert's fabric sculptures, which seem to be caught in gusts of air, from 10 a.m. to 8 p.m. Friday and Tuesday through Thursday at the center, 3130 S. McLeod Drive. For more details on the free exhibit, call 702-455-7340.
Nature walks
If your idea of welcoming the new year involves the great outdoors, Clark County Wetlands Park, 7050 Wetlands Park Lane, has you covered with two free New Year's Eve nature walks. An introductory Welcome Walk is at 10 a.m. Saturday, while a guided Sunset Walk (of more than two miles) begins at 3:30 at the Nature Center kiosk. Advance sign-up is required for the latter at www.clarkcountynv.gov/wetlandspark.
Scenic Railroad Artists
Make tracks to the Springs Preserve, where the annual juried show of the American Society of Scenic Railway Artists — depicting trains and their impact on America — continues through next weekend from 9 a.m. to 5 p.m. daily in the Origen Museum's Big Springs Gallery. General admission to the preserve, 333 S. Valley View Blvd., is $4.95-$9.95 for Nevada residents, $8.95-$18.95 for visitors; call 702-822-7700 or visit www.springspreserve.org.
Daily Discovery
The kids may be too little to stay up 'til midnight, but Discovery Children's Museum, 360 Promenade Place, has plenty of ways to celebrate the new year from 10 a.m. to 5 p.m. Friday and Saturday and from 9 a.m. to 4 p.m. Monday, including puppet shows, art activities and science experiments. Admission is $14.50; call 702-382-5437 or visit www.discoverykidslv.org.