Women tap feelings, find creativity during 'Muse' retreat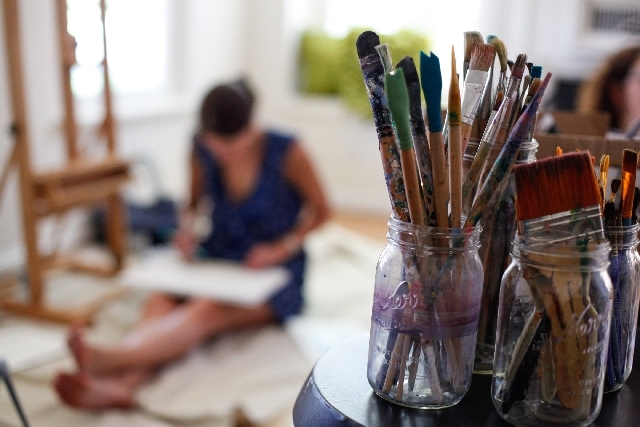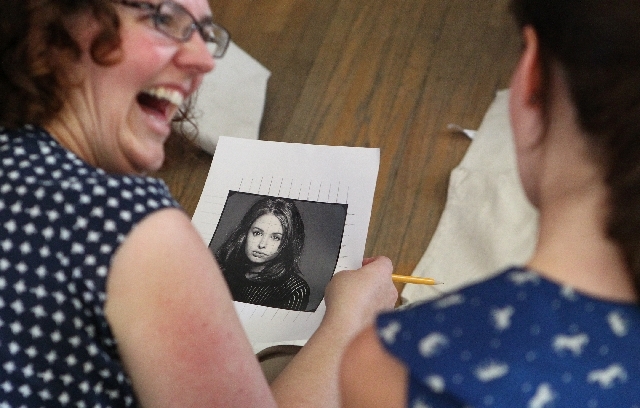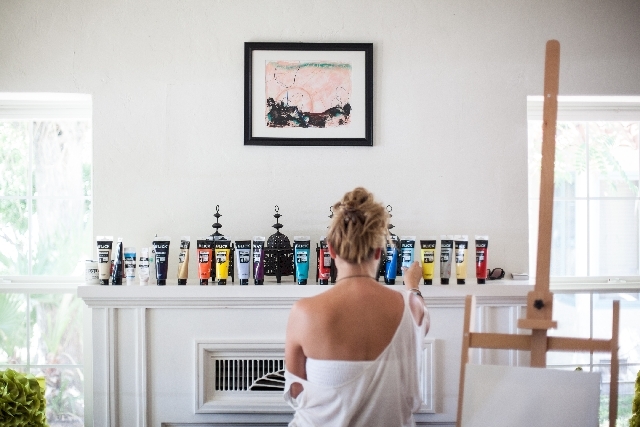 The journaling exercise asked each participant to write about an event that shaped her life.
One woman detailed giving a child up for adoption as a single, 26-year-old Mormon. Another described her choice to marry a pilot and the dreams its transient nature would stunt. One told of a relationship she had at 18 with a much older man, the perversions she couldn't see then but are clear now.
The retreat is called "You Are Your Own Muse." It's held at Selah, an art salon downtown dedicated to helping people find their own creativity. Today's event will last all day. Participants will get in touch with the stuff they normally tuck away deep inside those mental corners not intended for an audience. But it has already started to emerge today and will ultimately produce art. They'll end the day with a watercolor self-portrait.
Although nothing about the retreat indicates it's exclusive to women, men never sign up. After the journaling session, it's clear why.
None of the six women attending the retreat could read her entry aloud without pausing for tears. On that hot summer day, the only thing that blasted with more force than the air conditioner was the estrogen in the room.
There was Adrianne Jensen Tawa, the 47-year-old high school choir director; Kelly McCabe, a 33-year-old stay-at-home mom; Trisha Maier, a 34-year-old photographer; Lisa Friedli, a 38-year-old bar owner; Connie Atkinson, a 62-year-old retired hairstylist; and 36-year-old Sabrina Cofield, who co-owns Selah with Daria Riley.
Each of them signed up for different reasons. For instance, Friedli thought of it as "something totally different that I would never do." Kind of like buying a bar. It was a rare opportunity that, a year ago her doctorate in molecular entomology may not have even let her consider. But postdivorce, the mother of two went her own way personally, moving to the Northwest, and now she's doing it professionally, too.
Just before breaking for lunch, instructor Sarah Greenman asked the class to complete the following thought. "I once believed (blank). I now believe (blank)."
Answers ranged from "in others' opinions, in my own opinion" to "men rule the world, I rule the world."
Creativity builds self-esteem. It also takes self-esteem to find and express it.
According to Greenman, who works as an artist, freelance writer, photographer and actor, it's much easier for little kids to pick up a paintbrush and get busy than it is for an adult. Why?
"Because they don't think they suck," Greenman says. "It doesn't occur to a 4-year-old to question his worth unless told otherwise."
It's not a matter of the time an art project will consume or the mess it will create. It's about courage.
As soon as the watercolors come out at today's retreat, that becomes obvious. The time it takes each participant to lay brush to canvas is significant.
Everyone brought a picture of herself to use as a guide. They've drawn a grid across the photo, which will give them an idea of the space with which they're working.
Three women sit on the floor in front of their easels. The other three sit in chairs. All are barefoot.
Loud chatter proceeded the artwork. Now it's silent, with occasional commentary.
"My hands are sweating," McCabe says.
"My eyes don't look proportioned at all," Cofield says.
Once the courage comes, there are still barriers.
"Most people I work with have one of two issues in terms of their creative life," Greenman says. "Either they can't allow themselves to have a creative moment. It's trapped or stifled. Or, they have a million ideas through the course of the day."
She addresses both the same way, asking poignant questions, which she calls "priming the pump for inspiration."
"It encourages them to use their own stories," she says.
When the portraits are finished, everyone is pleasantly surprised with their paintings, except Maier. Hers is more abstract, less a duplicate of the original photo. The rest of the class finds beauty in that.
Tawa's work looks impressively close to the original. "I don't hate it," she says. "I'm shocked. I thought I would be painting a stick figure."
As class ends, the women give long hugs. Before today they knew nothing of each other and now have read some of the most private pages from their journals.
"Just keep trying, keep creating," Greenman tells them, as they collect their purses. "The point is to take time for yourself and take that internal temperature, 'Where am I now?' "
Before leaving, they pose for a group picture, proudly holding their paintings. The photographer doesn't need to tell anyone to smile.
Retreats range from $20 to $165. Selah is at 509 S. Seventh St. (www.selahlv.com; 702-612-0929)
Contact Xazmin Garza at xgarza@reviewjournal.com or 702-383-0477. Follow her on Twitter @startswithanx.