Works of former UNLV artists-in-residence on display in 'Five'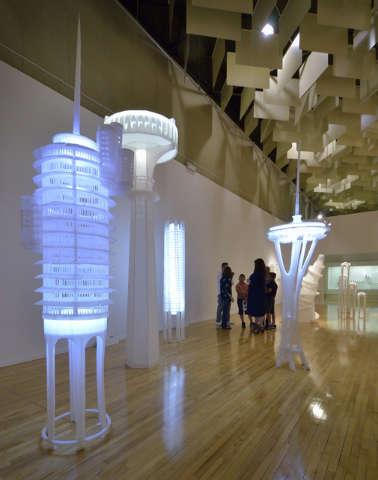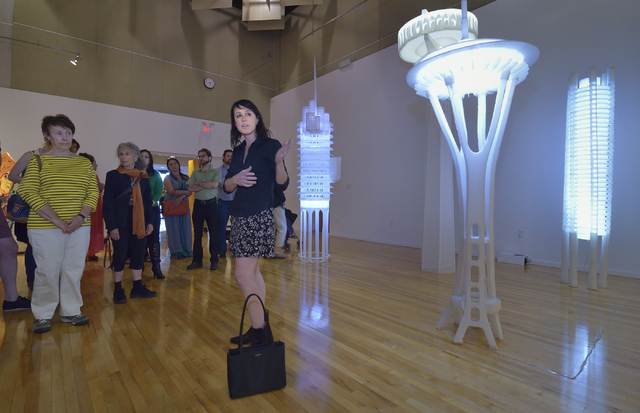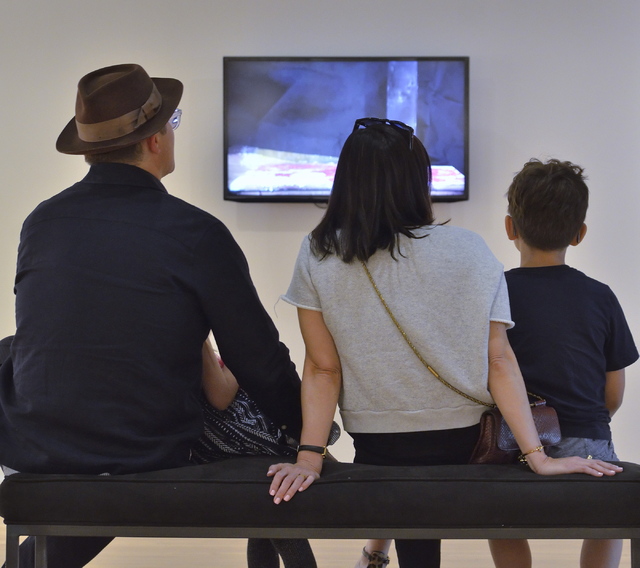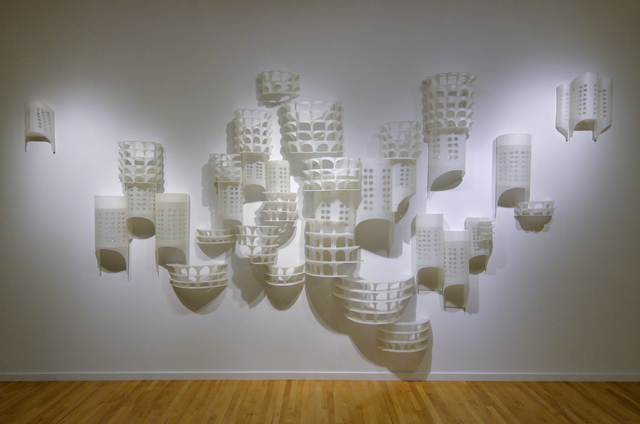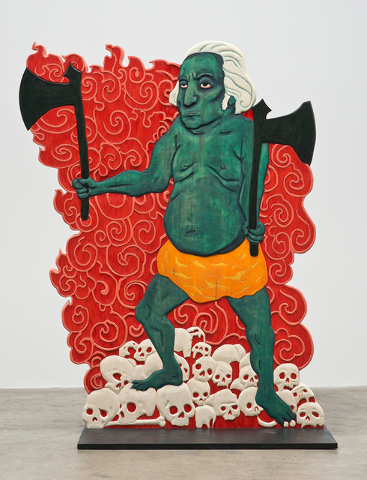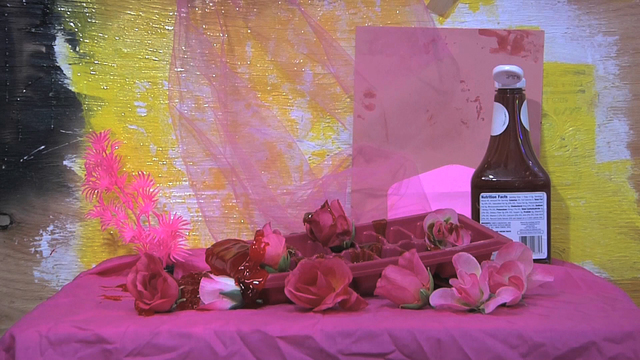 They're no longer artists-in-residence at UNLV.
But their artworks are in residence at UNLV's Barrick Museum, at least through Sept. 10, in "Five."
The group exhibition unites works by (you guessed it) five former UNLV artists-in-residence.
Their residencies — stretching from 2013 to 2016's just-completed spring semester — may be the only thing linking the paintings, sculptures, videos, installations and photographs they've created.
Consider Erin Cosgrove's "Urfather" series, which presents America's Founding Fathers as you've never seen them: brightly colored, goggle-eyed bas-relief figures, influenced by Japanese woodblock prints, colonial crafts, medieval art and more.
And did we mention that they're all stomping various indigenous figures — or standing atop piles of skulls?
"I'm not terribly subtle," Cosgrove (who was at UNLV in 2013) says of her satirical portraits of George Washington, John Adams, Thomas Jefferson, Benjamin Franklin — and their successor in the presidential pantheon, Abraham Lincoln.
Beyond Cosgrove's "Urfathers," arrayed at one end of the gallery, a series of sculptures by Deborah Aschheim (a 2015 artist-in-residence) spread out like a forest of ghostly totems.
Made of white corrugated plastic, they recall familiar architectural structures — Seattle's Space Needle, for example, or Hollywood's Capitol Records tower — but there's something slightly off-kilter.
That's because they're "based on my memory of utopian mid-century buildings," Aschheim explains. (Mid-20th century, that is.) As a result, "you're walking through a world that only exists in my head."
By contrast, paintings and sculptures by Lucky DeBellevue, who just completed his spring 2016 residency, use unusual materials — from cork board to pistachio shells — for the geometric-patterned works.
Photographer David Gilbert (2015) arranges objects — or, more precisely, fragments of objects — in his studio, then photographs them, creating canvases by turns abstract and surreal.
"Breakfast in America," a five-minute video from Ash Ferlito (2014), echoes that technique, as items representing various stops on the color wheel materialize in still-life formation, then make way for new arrangements.
Other Ferlito works isolate individual elements — felt-appliqued eyes, hands holding a glass of wine and a cigarette (with drifting smoke in the shape of a question mark).
And "The Propaganda of Individuality," an assemblage of embroidered patches — some of them from Las Vegas — explores Ferlito's curiosity regarding "the way people put these things on their clothes, advertising and identifying the need to tell people what your interests are."
The five former UNLV artists-in-residence represent "a great direct connection to New York and L.A.," notes Alisha Kerlin, the museum's collection manager.
Kerlin and museum director Aurore Giguet worked together to identify possible participants, then asked them to submit work for consideration, Giguet notes. ("Five" marks Giguet's Barrick farewell; after two decades, she departs in mid-June for Pennsylvania, her husband's home state, where she'll be executive director of the Everhart Museum of Natural History, Science and Art in Scranton.)
DeBellevue's UNLV stay inspired him to add cork to his array of materials, he notes.
"When perusing the bookstore on the campus one day, I came upon the cork panels, so I decided to run with this ready-made material," he writes.
Wood scraps from UNLV's campus wood shop also turn up in his "Five" works. "I like the character and lived-in quality of something found, so it was great to have this resource," he writes. "It's much harder to find good scrap wood in New York."
Barrick visitors will have a chance to try their hand at DeBellevue's techniques from 4 to 7 p.m. June 16 during a "Visitor-Made" program where they can create postcard prints inspired by his "Five" installation.
And throughout "Five's" run, 1 and 3 p.m. Saturday screenings will spotlight video works by DeBellevue and Cosgrove.
DeBellevue's "Sahara/March 2016" is an 81-minute "accidental pocket video" he shot while "I was exploring a new area while staying in Las Vegas," he explains. "I like to embrace the accident that can bring one somewhere new, so this fits in with the way I work."
Cosgrove's two videos — 2102's "The March of History" and "In Defense of Ghosts" — presaged the "Urfathers" sculptures, which were inspired by "the rise of the tea party" and "how the Founding Fathers are men of the Enlightenment, not gun-waving, Bible-thumping" extremists, she adds.
Varying "Urfather" inspirations not only reflect "the melting pot, but a way of trying to bring out a sort of foreignness" in figures so familiar "we don't even really see them anymore," Cosgrove says. "I wanted to de-nature them a little bit — like these old strange gods."
In creating his photographs, Gilbert "went to thrift stores" in Las Vegas to round up objects — and found "real visual stimulation" by "going inside of casinos."
And for Ferlito's students, "whether they knew it or not, growing up in Vegas, they had a natural understanding of spectacle and artifice," she says.
And while Gilbert says "it was nice to be back and nice to be celebrated" in the exhibit, Ferlito will still be represented at UNLV even after "Five" closes, thanks to a time capsule — displayed at the entrance to the Barrick gallery — she created with her undergraduate students during her 2014 residency.
"Because of that, there's like a little piece of me that's always there," Ferlito says. "It's something I think about a lot."
Read more from Carol Cling at reviewjournal.com. Contact her at ccling@reviewjournal.com and follow @CarolSCling on Twitter.
Preview
What: "Five"
When: 9 a.m. to 5 p.m. weekdays, noon to 5 p.m. Saturdays (screenings at 1 and 3 p.m. Saturdays), through Sept. 10
Where: Barrick Museum, UNLV, 4505 S. Maryland Parkway
Admission: Free; suggested donation $5 adults, $2 children and seniors (702-895-3381, barrick.museum@unlv.edu)