Yes, you've gotta have art …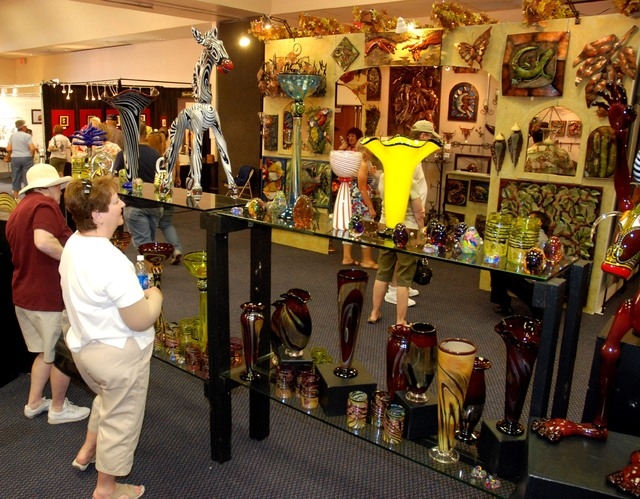 Art festivals usually are about viewing the work of actual artists and, then, maybe dropping a few dollars to purchase one of their pieces to display in your own home.
And, certainly, that always has been the case at the Art Festival of Henderson, which kicks off this year's two-day run Saturday at the Henderson Events Plaza.
But visitors to this weekend's event also will have the chance to take their artistic leanings one step further by putting their own, perhaps heretofore undiscovered, artistic talent to work by painting a piece that they can take home and hang on their own walls.
And just in time for Mother's Day, too.
The Art Festival of Henderson runs from 9 a.m. to 5 p.m. Saturday and from 9 a.m. to 4 p.m. Sunday at the events plaza, 200 S. Water St. Admission is free, and the schedule includes a variety of family-oriented arts, crafts and entertainment.
For more information, visit www.HendersonLive.com or call 702-267-2171.
The festival has been a Mother's Day tradition for many years, says Henderson spokeswoman Nicole Johnson, adding that last year's event attracted about 22,000 guests.
This year's event is scheduled to include more than 80 artists and craftspeople who will demonstrate and sell pieces they have created, Johnson says, and last year's roster of exhibitors included "people who came in from California, Utah and Arizona and, obviously, local artists as well."
The artists, and the pieces they have created, span a diverse spectrum of art and media. "We've got everything from glass work to watercolors and metal art, so it's a wide variety of people to choose from to pick up a gift for Mom." Johnson says. "There's stuff for Mom and Dad and the kids."
This year's attractions again will include the popular chalk art area, Johnson says.
"(And) we'll have what we call the Imagination Station," she says. "It's totally geared towards kids. There will be kids' crafts and vendors."
Entertainment will feature kid-themed acts, musicians and other performers on two stages.
New this year is "what we're calling Escape to Artscape Avenue," Johnson says. "That is artists demonstrating their art. So we'll have an artist who's throwing pottery and creating stuff out of clay, and we'll have a glass blower … and we've got someone who's weaving wool."
"The other thing we've got going on is a painting class," Johnson says, where guests can learn from artist/teachers the ins and outs of "painting their own masterpieces."
Wine and Canvas Studio in Henderson will provide teachers and supplies for the latter. Owner Kristina Pelly says the Henderson studio is the local franchise of an Indianapolis-based company that offers fun, group-based painting lessons for corporate events and social gatherings.
"Wine and Canvas is a painting class with cocktails," she says.
Locally, the company has organized and led learn-to-paint sessions at bars, restaurants and casinos around the city and at its studio.
In that sense, Wine and Canvas is a perfect fit for Art Festival of Henderson. During six sessions — at 10 and 11:30 a.m. and 1 p.m. on both Saturday and Sunday — aspiring, or just curious, artists-to-be will join 10 to 15 other beginners for a free lesson in creating a painting, step-by-step and from start to finish that they'll then be able to take home. Seats will be allotted on a first-come, first-served basis.
No experience is required. Nor, really, is any obvious artistic talent.
"It's very much step by step," Pelly says. "We use a method where (painters) measure with our fingers or the paintbrush — 'Put a dot at three fingers from the left top corner.' Then we kind of sketch around it with paint. But they have a blank canvas. We're not doing it for them."
It might sound intimidating, particularly to someone who is convinced he or she has no artistic talent to speak of. But, Pelly jokes, "honestly, that's why we have liquid courage at our events. That's why we always say wine goes well with painting, especially if you've never painted before."
But even without beverages, students probably will be surprised to see how good their paintings look. Pelly says she often hears comments from students along the lines of "I've never picked up a paintbrush" and "I didn't think I had any talent."
"Even if you can't draw a stick figure, you can still do it," she says. "I have customers who tell me all the time, 'Thank you so much. This changed my life. I never knew I could paint and now I have a new hobby.' "
"It's just basically show up and grab a canvas," Pelly says.
Contact reporter John Przybys at jprzybys@reviewjournal.com or 702-383-0280
What: Art Festival of Henderson
When: 9 a.m. to 5 p.m. Saturday May 10, 9 a.m. to 4 p.m. Sunday May 11
Where: Henderson vents Plaza, 200 S. Water St., Henderson
Admission: Free (www.HendersonLive.com or 702-267-2171)