You said it, sisters: Finding right romance requires keeping wits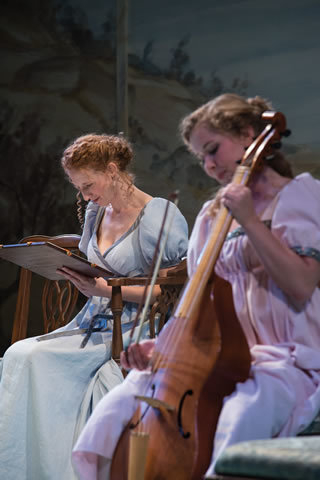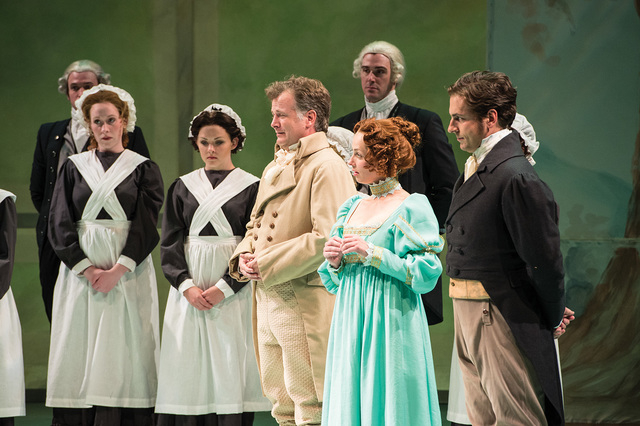 It is a truth universally acknowledged that the book is always better than the play (or movie) based upon it.
Yet Jane Austen's literary classics remain so beguiling — and insightful — that people keep right on trying to adapt them, despite the many impediments.
The Utah Shakespeare Festival succumbs to this impulse with a world premiere production of "Sense and Sensibility" that's a consistent pleasure — and a frequent delight.
Much of this may be attributed to Austen's mordantly witty tale of impoverished sisters who deal with their romantic problems in opposite fashion.
On the "Sense" side, there's Elinor Dashwood (the poignantly restrained Cassandra Bissell), the sort of practical, generous, invariably understanding type everyone else turns to in time of crisis.
Especially when the crisis involves Ms. "Sensibility," alias Elinor's perpetually overwrought younger sister Marianne (a nicely self-dramatizing Eva Balistrieri).
On the face of it, neither sister should have any romantic prospects at all, given their family's near-destitution. But Eleanor recognizes a kindred spirit in the quietly endearing Edward Ferrars (Quinn Mattfeld, deftly dialing down his customary comic effervescence), who's resigned to leading the very public, very ostentatious life his highfalutin family expects, despite his longing for the exact opposite.
Marianne, meanwhile, attracts the attention of the worthy — and wealthy — retired Col. Brandon (the dignified yet intense Grant Goodman), but dismisses him as dull and doddering. Instead, she falls, literally and figuratively, for the more obviously dashing John Willoughby (Sam Ashdown, working the golden-boy charm with throwaway ease).
The road to true love, as elusive as it seems in Austen's Regency-era England, may not run smooth, but the bumps, ruts and roadblocks provide decided diversion throughout.
In adapting the novel, Joseph Hanreddy and J.R. Sullivan have, of necessity, streamlined and reshaped the original — jettisoning characters and inventing sequences referred to, but not depicted, in the book.
Yet they not only preserve the essential narrative, they manage to capture Austen's sassy attitude and memorable characters — the most outlandish of whom, to the credit of both writers and performers, emerge as far more than mere cartoons. (Exhibits A and B: Kathleen Brady as the ever-meddlesome Mrs. Jennings and Bri Sudia as her desperately eager daughter.)
Moreover, Hanreddy's fluid direction (ably aided by Hugh Landwehr's shifting-screens scenic design) gives this "Sense and Sensibility" an almost cinematic feel — and a genteel, leisurely pace that prolongs the pleasure of a most welcome sojourn to Austen country.
Contact reporter Carol Cling at ccling@reviewjournal.com or 702-383-0272.
Review
"Sense and Sensibility"
In repertory through Aug. 29
Utah Shakespeare Festival, Cedar City
Grade: B
ALL THE REVIEWS:
'Twelfth' finds its best, true self with balance of heart and humor
Deep in 'Woods' lies tale of human truths (witch warts and all)
It takes game of thrones to get young prince to find his way
With Gold Rush-era 'Comedy of Errors,' there's droll in them thar hills
'Measure' of human struggle, marked by moral knots, fistfuls of foibles