Your 5 best bets for arts and culture in the week ahead
February 5, 2016 - 1:51 pm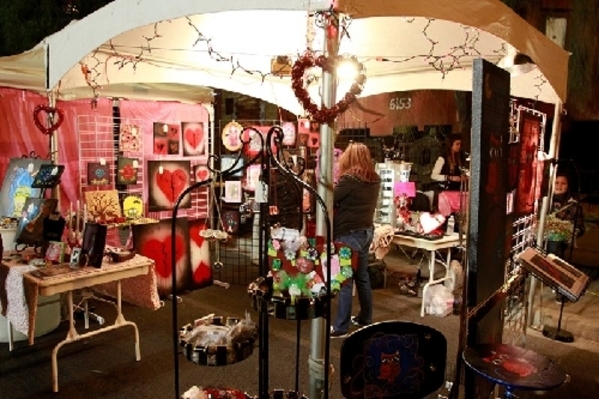 'Back to Our Future'
First Friday, the downtown arts district's monthly arts and culture festival, emerges after three months of near-hibernation from 5 to 11 p.m. Friday, with an Art Walk centered near Charleston and Casino Center boulevards and new locations for the KidZone (5 to 9 p.m. at Boulder Plaza, Boulder Avenue and First Street) the Dance DepARTment (Coolidge Avenue and First). For details, click on ffflv.org.
Good times roll
With Mardi Gras approaching, it's time to, as they say in New Orleans, "laissez les bon temps rouler" with day and night Saturday bashes. From noon to 6 p.m., the Springs Preserve serves up food and fun, from a character parade to kids' crafts to festive food. Admission is $6 (free for kids 2 and younger); call 702-822-7700 or visit www.springspreserve.org for more information. And at 7 p.m. at the Charleston Heights Arts Center, 800 S. Brush St., the Mudbugs will perform toe-tapping, foot-stomping Cajun and zydeco tunes. Tickets are $10 in advance, $15 at the door; call 702-229-6383 or visit www.artslasvegas.org for details.
Fancy 'Delancey'
Perhaps you saw the charming movie; now's your chance to catch the original stage version of "Crossing Delancey," about a young New Yorker who's reluctant to consider the "good catch" her feisty grandmother has found her. Theatre in the Valley presents Susan Sandler's romantic comedy at 8 p.m. Fridays and Saturdays and 2 p.m. Sundays through Feb. 21 at 10 W. Pacific Ave., Henderson; call 702-558-7275 or click on www.theatreinthevalley.org for tickets ($10-$15).
Music of the (hemi)spheres
It's a musical match made in heaven — or the Western Hemisphere — as Paraguayan harpist Mariano Gonzalez, who's expanded his instrument's boundaries from folk to jazz, teams up with pan pipe flutist Flavio Martinez, who in addition to indigenous flutes also plays guitar and charango. Catch their collective act at 2 p.m. Saturday at the Winchester Cultural Center, 3130 S. McLeod Drive; for tickets ($10 in advance, $12 concert day), call 702-455-7340.
Reflections on art
"Connected Future" (in the Clark County Government Center's Rotunda Gallery through March 4) invites viewers to (literally) reflect on seven triangular, reflective 7-foot towers. But artist Audrey Barcio, whose work explores architecture's lasting impact on our culture, will reflect on "Connected Future" at a free reception and artist talk from 6 to 8 p.m. Friday at the government center, 500 S. Grand Central Parkway.
— Carol Cling