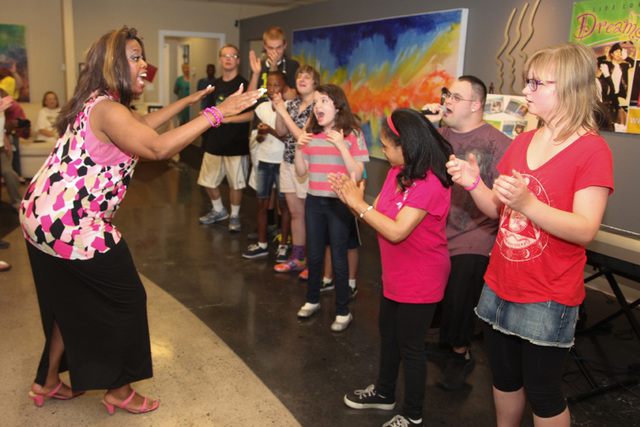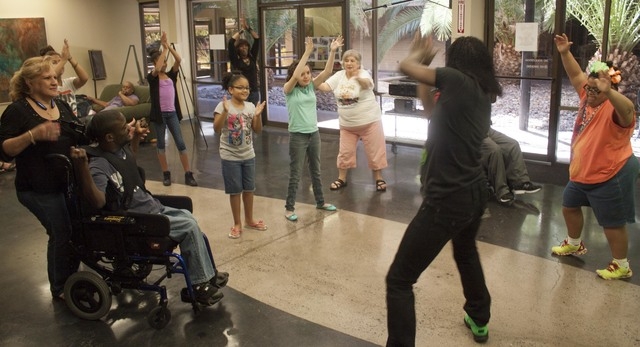 When Genevieve Dew and Danny Titus met then-15-year-old Michael Villas, he was anti-social and would cling to his mother, Teresa, every time they went to classes at Life Long Dreams.
The organization, which helps children with special needs access performance and visual arts, gave Michael — whom they refer to as Mikey — a chance to discover his dream.
Things changed for him the day they put a video camera in his hand.
"And now he thinks he is a professional filmmaker," Teresa Villas says. "I wish I would have found Life Long Dreams sooner. I think if I would have, Mikey would have blossomed."
To fund programs at the nonprofit, the organization is putting on a fundraiser called "Our Chest of Dreams" at 2 p.m. Saturday at Sam's Town, 5111 Boulder Highway.
During the show, students will sing, dance and even paint, showing their passions for the arts and the purpose of Life Long Dreams.
Students will perform their favorite songs and some even with impersonators of their favorite performers such as Elvis and Lady Gaga.
The event also will include a silent auction.
Along with being the organization's main fundraiser each year, it gives the students a chance to showcase their talents to the community.
"We are taking kids who usually aren't in the spotlight and giving them their own show," says Dew, a local singer who works with the organization. "Instead of just being in the background, they are the stars. They will even have a red carpet."
Titus, the president of Life Long Dreams, says the nonprofit has put on the fundraiser for several years.
Each year, he says, the performance put on by the students always has an impact on the audience.
"You can't leave the show with a dry eye," Titus says.
Dew says they hope to raise $50,000 to help with programming.
Life Long Dreams started seven years ago by Cathy Warriner whose son Zach had Down syndrome.
"Every time they played music, he would light up," Dew says.
Warriner thought that if her son reacted this way to performance arts, maybe other children with special needs would be the same.
Since then, Life Long Dreams has helped people ages 10 to late 20s with various conditions such as autism, cerebral palsy and Down syndrome.
Dew says children with special needs are often subjected to many stereotypes.
"People think they are incoherent or don't understand you," she says. "They understand very well."
After Warriner left Las Vegas, Titus took over the organization.
The program started with music and performance arts.
"They went hand and hand together," Dew says.
The organization then added dance and art classes.
Titus, who is a photographer, hopes to expand the program to add video and photography courses for students, such as Mikey, who are interested in learning.
Prior to Life Long Dreams, Villas says Mikey had some bad experiences at school.
"Finding this program came at just the right time," she says.
At first, Mikey would cling to Villas and not want to partake in the classes.
"I would have to go sit in my car so he wouldn't cling to me and he would go participate," she says.
But he soon got better, especially when he realized how much he loved playing with the video camera.
Being in the program, Villas says, helps Mikey become more social in school.
She adds that he is planning to work with the junior varsity football team at his school to film some of their games.
"If we didn't have this program, he would probably be sitting in his room watching 'SpongeBob,' " Villas says. "It's great to see him interacting with others."
Each Saturday, students gather at the center to do what Mikey did, which was find the interest and art specific to them.
And for a few hours each week, they have the opportunity to be immersed in their talents.
Classes are currently taught by volunteers in the community. "But we could always use more volunteers," Titus says. "We can never have enough. I hope we can eventually add staff."
Along with classes, Titus says he organizes opportunities throughout the year for students to put on mini shows and get a look at what it's like to be a performer.
Because of available funds, the number of classes is limited. If they meet their fundraising goal, Titus says they should be able to add more class times.
Not only does he foresee expanding the regular offerings, he hopes to add in a summer program.
Dew says there are other visions for the future.
"I want to start a special abilities band," she says. "A lot of these students are very talented and could do it."
In the meantime, their students keep preparing for their debut onstage.
Though there have been many things to do to keep the organization going, Dew and Titus know it's worth it.
"Every time I see them light up, I know it's worth it," Dew says. "I am reminded why we do this."
Contact reporter Michael Lyle at mlyle@reviewjournal.com or 702-387-5201. Follow @mjlyle on Twitter.
Preview
What: Life Long Dreams Benefit Variety Show
When: 2 p.m. Saturday
Where: Sam's Town, 5111 Boulder Highway
Tickets: $20 general admission, $50 reserved seating (702-284-7777, www.samstownlv.com)