Zap! 4 planned in Paradise-area neighborhood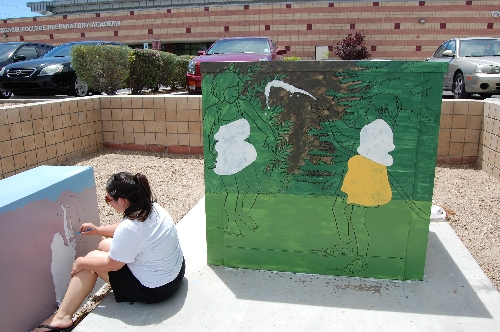 Art and utility boxes. Come fall in the Cambridge neighborhood, the two notions shall be married.
Seven artists have been selected to participate in the Clark County Parks and Recreation Department's Zap! 4, a community art project in which utility boxes are designed to reflect and enhance a local neighborhood.
The artists will paint 39 utility boxes in this year's neighborhood, which is bound by Swenson Street, Maryland Parkway and E ast Desert Inn and Flamingo roads.
The project is funded by grants obtained by Clark County and is presented by the Metro Arts Council.
The artists selected via jury are Gregory Allred, Catherine Cruse, Shan Michael Evans, Peter Mengert, Patrick Miyoshi, Zak Ostrowski and Jevijoe Vitug.
Two more artists may be added pending funding.
This is the fourth incarnation of the project. Previous projects were in the Winchester, Paradise Park and West Las Vegas neighborhoods, said Patrick Gaffey, cultural programs supervisor for the Clark County Parks and Recreation Department. He also is serving as a project consultant.
The purpose is to foster art and community and give a face-lift to the green or gray boxes, which house traffic signal controls and utilities' mechanical systems, he said. "This is a neighborhood that could use some art," Gaffey said. "I think it was an excellent choice."
The artists are paid $2,250 each and are to provide their own supplies. They are to spend time in the neighborhood to get a feel for its residents and general atmosphere, said Patty Dominguez, program director for the Metro Arts Council.
The artists were selected from 53 submissions, and Gaffey said the jury had a difficult task in making its selections.
"You want something that has some depth because it will be out there for years," Gaffey said.
The artists will showcase their designs at a community event planned for Aug. 3. The location is to be determined.
Community input is encouraged during the meeting. Utility box owners, which include the Clark County Water Reclamation District , also will get approval.
"We were looking for artists that are compatible but different enough to with interesting and intriguing works of art," Dominguez said.
Painting is slated to begin Sept. 19. The utility boxes are to be completed by Oct. 22.
"Zap has always been a great thing in the valley," Dominguez said. "We are so excited to be part of this next project. I've always been a fan, and I'm excited to be a part of it."
For more information, visit tinyurl.com/3ghrbg4.
Contact Centennial and Paradise View reporter Maggie Lillis at mlillis@viewnews.com or 477-3839.