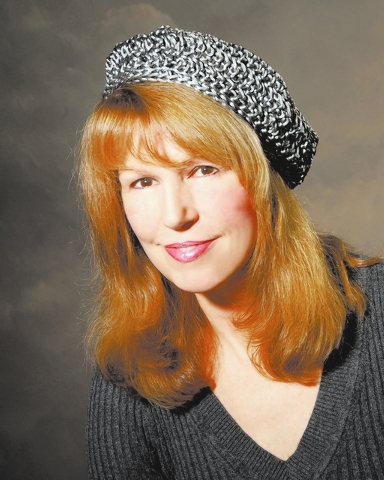 The Girl. The Dame. The Skirt.
The Moll.
You know her from detective novels, old movies and yellowed newspaper headlines. But what do you really know about the woman who, in fiction and in fact, accompanied, aided, abetted or just stood by her law-breaking man?
Not much, probably. But Ellen Poulsen is well-acquainted with women who run with criminals, and will discuss both the woman and the womanly archetype this weekend at the National Museum of Organized Crime and Law Enforcement, aka The Mob Museum, 300 E. Stewart Ave.
From 1 to 5 p.m. Friday, Poulsen will sign copies of her books, "Don't Call Us Molls: Women of the John Dillinger Gang" and "The Case Against Lucky Luciano: New York's Most Sensational Vice Trial" at the museum. Then, at 1 p.m. Saturday, Poulsen will present "The American Gun Moll: From Bonnie Parker to Virginia Hill" in the museum's historic courtroom. Saturday's presentation is free with museum admission. For more information, visit www.themobmuseum.org or call 702-229- 2734.
In pop culture, and in much of history, the moll often has been regarded as little more than a peripheral adjunct of her mobster, crook, desperado or criminal companion. But, Poulsen said, the female accomplices of law-breaking men are as varied as the bad guys with whom they associate.
The word itself is said to come from "Molly," an archaic colloquialism for a prostitute or harlot, although it's "not a word that's used now," Poulsen said during a phone conversation last week. "You don't see the word 'moll' in newspapers today."
But it was a word newspapers and magazines loved using during the heyday of the moll, a period that, Poulsen said, stretched from the Roaring Twenties into the '40s. It was short, punchy, evocative, fit easily into headlines and, Poulsen said, proved effective in inflaming readers' "moral outrage."
"A variation, 'gun moll,' was used quite a lot in more hard-line reporting, True Detective magazine and the type of magazines called 'men's magazines' years ago," Poulsen added.
Still, exactly what made a woman a "moll" tended to be fuzzy.
"It really was a generic term used to describe everything from a woman who blackmails her clients to prostitutes and even to wives and girlfriends," Poulsen said. "Everybody came under that word."
Whatever the parameters, did molls typically know what their men were up to? Were they clueless? Did they know and just play dumb? Or did they, perhaps, merely have fatally bad taste in men?
"It's an interesting question," Poulsen said, and, in the end, "it's really hard to say who was lying and who wasn't.
"I'm thinking of a gang almost nobody has ever heard of, the Brady Gang. Outside of a small pocket of the Midwest, nobody has ever heard of it, but they called themselves the 'New Dillingers,' and they were actually married to sisters, or maybe (had) common-law marriages to sisters. They had a whole arsenal in their basement behind a locked door, so when it got out they were going to be raided and they escaped, cops broke down the door, and these two sisters swore on a stack of Bibles they never knew anything."
Or, Poulsen said, consider the woman who was with John Dillinger when he was fatally shot by FBI agents outside Chicago's Biograph Theater on July 22, 1934. "She always claimed she thought he was a clerk for the Chicago Board of Trade," Poulsen said.
And the ones who do profess to be oblivious? "Maybe they wanted to be oblivious," Poulsen said, but "if you look at some of the stories and how long women were involved with these men, you can draw a conclusion."
When things were good, molls could enjoy the high life with their men, seeing and doing things they otherwise wouldn't, a particularly appealing prospect during the Depression. But, when things went bad for their guys, the afterlife of a moll wasn't sweet. Typically, Poulsen said, "the loss of a boyfriend left a woman completely disenfranchised."
There's a common notion that "when someone in organized crime goes away to prison, their wife is taken care of," Poulsen said. "But from what I've read, that seems to have taken place on the very highest echelon, like (Al) Capone's wife, who was supported through the years. But if you were the average, everyday man on the street — or, as they're called, Mafia soldiers — there wasn't anything for the woman, especially if she wasn't married to him, so they were completely left bereft."
The women also had to face the social stigma of having been a criminal's consort, and that could be difficult.
"There are so many examples of that," Poulsen said. "The only way some of these women could hope to live a normal life was to change their names. A lot of them remarried. They'd come out of prison and almost right away remarry. I guess that was easier than petitioning for a name change or something. But they had to change their name, they had to become anonymous. That's the only way they were able to live."
Why has the American public remained so fascinated with molls? Thanks, mostly, to a generation or two of movies, books and TV shows that glamorized molls, often depicting them as femmes fatale (such as Jean Harlow in 1931's "The Public Enemy" with James Cagney, or Faye Dunaway in 1967's "Bonnie and Clyde").
"If you look at reality and what some of these women looked like, they were not glamorous," Poulsen said. "What's interesting is, I'm looking at my slide show (for Saturday) and each one is homelier than the other."
Yet, "when you look at how they're portrayed in movies, starting with Jean Harlow in 'The Public Enemy,' they're going to be beautiful, like Ann Sheridan," Poulsen said. "So moving on up through the years, they have always been portrayed in such hauntingly beautiful ways and that, I think, has contributed a lot to our fascination."
"Don't Call Us Molls: Women of the John Dillinger Gang" examines the wives and girlfriends of the men who made up Dillinger's Depression-era gang, and on the book's website (http://www.dillingerswomen.com) Poulsen offers bios of those women. But, from a more general standpoint, what might today's average reader not know about molls?
Mostly that they weren't merely one-dimensional bit players in their men's lives, but real women with real lives of their own.
Some "had a unique sense of humor," Poulsen said, recalling one who, asked by the judge about her plans when she was released, answered, "Well, if I stay here I'll go crazy, that's one plan."
And, Poulsen said, molls "had families who loved them, and very often families that wrote them letters and took care of their children while they were on the run and while they were in hiding. Families who kept the fires burning for them and, when they came out, helped them out."
Some were educated, others "were street-smart," she said, but "the ones I've encountered were very brave in the sense of they were willing to flout convention."
They could be tough and savvy, knowing how to circumvent a police interrogation and determined to "not give any information to the police or FBI no matter what," Poulsen said.
Some, however, also had "an Achilles' heel and could be broken," she said. Beth Green from the Dillinger gang, for example.
"They told her, 'We're gonna put your son all over the newspapers, put his picture all over Page One.' She had him tucked away in school and she didn't want anyone to know about her notoriety," Poulsen said. "So that was her Achilles' heel."
Molls also could be loyal to one another. Poulsen noted that Georgette Winkeler, "whose husband is a suspect in the St. Valentine's Massacre, she attempted suicide. She turned on the gas jet, and she was saved by the wife of another St. Valentine's Massacre suspect, the wife of Fred 'Killer' Burke. She was saved by Bonnie Burke.
"So there you have the despair and suicidal tendencies, but you also have close female friendships. Now, there always was a lot of backstabbing and fighting, but there also was bonding that went on between them."
Poulsen said writing a book about the Dillinger gang's molls was prompted by a desire "to get away from all of those old tiresome female stereotypes. Like, if I read about (Dillinger gang moll) Jean Crompton one more time as a 'buxom blonde,' I'll scream. It's almost as if all of the other dimensions that writers such as myself try to imbue into these people — these historic people — more or less just gets glossed over."
Contact reporter John Przybys at jprzybys@reviewjournal.com or 702-383-0280.
PREVIEW
What: "The American Gun Moll: From From Bonnie Parker to Virginia Hill"
When: 1 p.m. Saturday (book signing 1 to 5 p.m. Friday)
Where: The National Museum of Organized Crime and Law Enforcement, 300 E. Stewart Ave.
Tickets: Free with museum admission ($19.95 ages 18 and over, $13.95 children 11 to 17, free for children 10 and under) (www.themobmuseum.org or 702-229-2734)