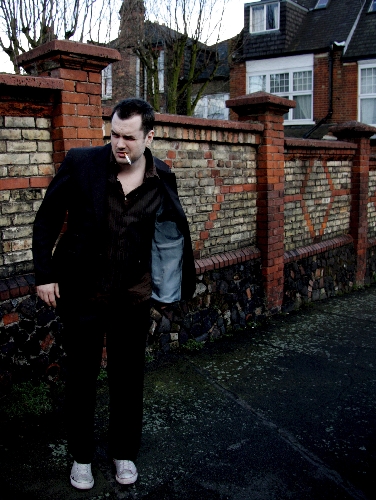 Here's a shocking observation from comedian Jim Jefferies.
"I'm the only Australian — as far as I know — to do stand-up comedy on (American) television, let alone an hour on an HBO special. I can't think of anyone who's even done five minutes on 'Letterman.' "
Is this correct? Is Jim Jefferies the most successful Aussie-in-America comedian, ever? (He is, by the way, my favorite "new" comedian since Mitch Hedberg died.)
Meanwhile, Australia's dramatic actors have been famously taking over Hollywood.
"Per capita, we've probably got more movie stars than anyone on Earth," Jefferies says.
"Sam Worthington now is the biggest star in the world, isn't he? And Hugh Jackman, Nicole Kidman, Russell Crowe, and that girl who played Alice in 'Alice in Wonderland' is an Australian."
"Alice" was Mia Wasikowska. And Jefferies is forgetting Naomi Watts.
What makes Australia an actor's paradise but a comedic dead zone?
"We have universities in Australia that are dedicated to acting. Whereas, here, you might have a department in university," Jefferies says. "Or you'll have something like Lee Strasberg's place, and you have to pay tens of thousands of dollars" to attend.
In fact, he points out, Worthington came out of the same performing arts school as Mel Gibson and Geoffrey Rush. Gibson and Rush were roomies.
Even Jefferies went to a performing arts university. That's where he learned to … sing opera?
"I had a couple of gigs," he says.
(He also skateboarded.)
It seems like a funny juxtaposition to think of Jefferies singing Mozart, because Jefferies' "c-word"-laden HBO act is not particularly a "high class" affair. But opera and dirty comedy do have crossover fans like me.
His dirty HBO special is a hilarious and raw collection of stories about how Jefferies "fakes" it with women who are terrible in bed and how he thinks religious followers are "wrong."
There is a joke about "little tiny" "Super Mario" Jesus on the cross.
"People say, 'Why don't you just sing a song at the end' " of that act, Jefferies says.
But, of course, that would be stupid.
Speaking of God …
I don't want to expound too much on Jefferies' atheistic jokes. Everyone else who writes about him already does. But I will say he and David Cross probably do atheism jokes better than any other comedians.
And here's the weird thing.
As adamant as he is against religiosity, Jefferies — whose dad wasn't religious but made him go to church for "moral fiber" — supports the idea of atheist parents lying to their children.
"If you can tell your kids there's an Easter bunny and Santa Claus, it's very easy to say, 'When Nana died, she went up to a place in the clouds and she's happy now, and she's with all of her friends' — even if you don't believe it.
"I probably will tell my young children there's a heaven, if it so happens a dog dies. That's what you do. You mention a fantasy place that makes their reality better.
"I find it a very acceptable thing to do to children. I find it very unreasonable adults carry it onto their normal lives."
Contact Doug Elfman at delfman@reviewjournal.com. He blogs at reviewjournal.com/elfman.
Preview
Jim Jefferies
10 p.m. today, 8 and 10 p.m. Saturday
The Lounge at the Palms,
4321 W. Flamingo Road
$39.99 (942-7777)
The Best of Jim Jefferies
Jim Jefferies is a storytelling comedian. Here are some of his finer jokes:
"Dwarves are the only socially acceptable form of a disability to put in a movie without anyone questioning what the (expletive) you are doing. … George Lucas can ring up a dwarf farm and go, 'I need 100 dwarves, put 'em in bear outfits, we'll call 'em Ewoks, let's make this movie happen.' Try doing that with cerebral palsy and see where it gets ya."
"Every single time a man sleeps with a lot of women, he's called a stud. But if a woman sleeps with a lot of men, she's called a slut. And people think this is unfair. No. It's completely fair, and I'll tell you why. It's (very) easy to be a slut. It's (very) hard to be a stud. To be a stud, you have to be witty, charming, well-dressed, have nice shoes and a fake job. To be a slut, you just have to be there."
"Religious people will forgive God for (expletive) anything. In their minds, he does good things: rainbows, children's laughter, (stuff) like that. When he does bad things — like hurricanes, AIDS, cancer, child molestation — then we just go, 'Oh well, 'God works in mysterious ways.' … If I ever date a religious girl, she's gonna come home, and I'm gonna be raping her Mum, and she's gonna look at me and go, 'What are you doing?' And I'm going to go, 'I'm mysterious!' "