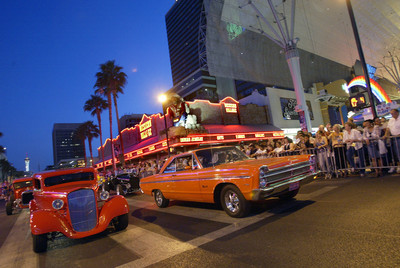 The road to Helldorado is paved with good inventions.
"We've got everything," says Esther Boyter, producer of the annual Helldorado Days parade that will march up Fourth Street on Saturday. "We've got five high school marching bands, we have 25 horses coming from the Long Beach Mounted Police, we have a huge contingency from the Asian-Filipino community, they've all formed one huge entry, very colorful. A lot of equestrian entries, floats, a great mix of everything."
The Helldorado hullabaloo — kick-started by the Shootout Charity Golf Tournament and trail ride earlier this month and barreling on with a Hold 'Em Poker Tournament at Binion's next weekend — celebrates Las Vegas' dusty birth in 1905. And because it honors our rugged roots, we pay homage with some pearls of Old West wisdom:
"Go west, young man, and grow up with the country." — John L. Soule
"This is not an outside-Las Vegas event, this is strictly for the residents of Las Vegas," Boyter says of Helldorado Days, hosted by the Las Vegas Elks and benefiting Big Brothers and Big Sisters of Southern Nevada.
"It's Las Vegas' birthday, we're 103 years old this year, and this is really the only local tradition that goes back so long. It started back in the 1930s and went until 1997, and we brought it back in 2005."
The nighttime parade, which will flow down Fourth Street from Hoover Avenue to Ogden Avenue, will climax with a fireworks display launched from the top of Neonopolis at around 9:15 p.m.
"Nothing does more for the inside of a man than the outside of a horse." — Will Rogers
"Back in our day, we used to watch 'The Lone Ranger' and dress up in a way kids nowadays don't, but we have to reach out to them somehow," says Duane LaDuke, executive director of Helldorado Days. "They have to know that they have their own town here, that it's not just the Strip that everybody's always talking about. They actually live in a town that has a lot of neat things going on, and Helldorado tells how it began."
"Out where the handclasp's a little stronger, out where the smile dwells a little longer, that's where the West begins." — Arthur Chapman
Among this year's eclectic, seemingly endless entries, prepare to eyeball the National Little Britches Rodeo, Las Vegas Cruisin' Association, Ballet Folklorico Cambeiro, Mexican Patriotic Committee, Miss Nevada Galaxy, Scottish American Military Society and … a pig-walker.
"There's a competition where a certain number of cowboys have been given wild mustangs and a hundred days to train them," Boyter says. "And we're having a competition where kids from kindergarten through fifth grade are naming a horse, and the winner and the horse will be in the parade."
"Out West, you lived a long time. Even horse thieves had to hang five minutes longer than anywhere else." — Anonymous
And for those with a fondness for the fur-faced crowd, the parade will be preceded at 4 p.m. by the annual Whiskerino Contest for the razor blade-challenged on the First Street Stage.
"That's a tradition that goes back tons of years," LaDuke says. "Everybody wore a beard in the old days. They had bragging rights back then, seeing who had the longest, the whitest, the blackest, the most unique beards. They used to come in 30 days before the contest and get clean-shaven, but we don't make them do that anymore. You should hear some of these guys' stories, going back to when their father and grandfathers were in the Whiskerino contest."
"The West, where a man can look farther and see less of anything but land and sky." — Will James
"Our Helldorado Rangers will be down there also," LaDuke adds. "They dress up in old 1900 Western gear and have guns and pistols. There's a lot of pride from the old-timers."
"The Old West is not a certain place in a certain time, it's a state of mind. It's whatever you want it to be." — Tom Mix
And for those going all in at next weekend's poker tournament, Belle Starr's sage tip might save you more than mere chips:
"A pair of six-shooters beats a pair of sixes."
As Helldorado Days march into the past to revisit our roots, we leave you with advice — attributed to anonymous sources — that could only be born of minds baked in the Western sun:
"Always drink upstream from the herd."
"Behind every successful rancher is a wife who works in town."
"If lawyers are disbarred and clergymen are defrocked, shouldn't it follow that cowboys would be deranged?"
"Don't squat with your spurs on."
Saddle up, Vegas.
Contact reporter Steve Bornfeld at sbornfeld@reviewjournal.com or 702-383-0256.
what: 2008 Helldorado Parade
when: 7 p.m. Saturday
where: Fourth Street from Hoover Avenue to Ogden Avenue
cost: Free (281-0687)