Band plans fun entry to new year
December 25, 2013 - 6:34 pm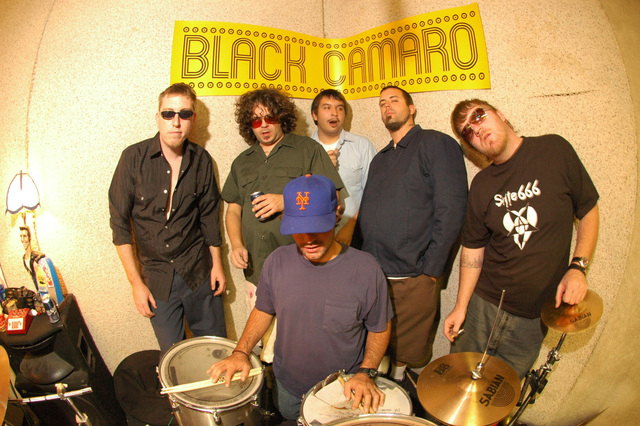 It's a bit past 5 p.m. at Hot Dog on a Stick, and the air is thick with ambition and the scent of deep-fried cheese.
At a silver metal table in a corner, one-half of Vegas indie rock Black Camaro is discussing their annual, ever-evolving New Year's Eve variety show at Backstage Bar &Billiards, along with stage manager Lazer Lavin and show host Ryan Pardey.
Pardey half-jokingly suggests they recruit a court reporter to document the proceedings from the side of the stage.
"That's ridiculous!" Black Camaro frontman Brian Garth laughs, his words seemingly intended more as a compliment than a dismissal.
"Nothing has to be practical," Garth notes afterward.
Sadly, there will be no court reporter at the show after all — maybe next next year — but there will be skits involving dudes with boxes on their heads playing UNO, a Navajo version of "Auld Lang Syne," some stand-up comedy that may or may not be deliberately unfunny and plenty more, along with a performance by Black Camaro and others.
Now in its third year, the show mirrors the anything-goes MO of the band itself, long one of the city's best.
"The aesthetic of the band is one in the same with the aesthetic of the show," Garth says. "All the weirdness of the show is definitely in the music."
This being said, there's little point in being weird just for the sake of being weird, and this bunch knows as much.
What makes Black Camaro such a consistently compelling band is that they ground their experimentation and creative impulsiveness in tightly constructed, meticulously produced songs.
They're taking a similar approach with their variety show: For all of its far-out flourishes, it's also scripted, with numerous writers working on it for weeks in advance, and will be well-rehearsed by New Year's Eve, though there will be room for improv.
"There's a certain energy that I think will come from the spontaneity," Pardey says.
"Oh yeah," Garth agrees, "and the booze."
The band is encouraging fans to bring cameras and film the show, which they are hoping to then compile into a video of some sort, using the soundboard mix as the audio source for what will be their most elaborate presentation yet.
"We kind of fancy ourselves as filmmakers who don't make films and writers who don't write," says guitarist Tom Miller.
At least not until now.
"Those are the things that intrigue us," Garth says, finishing Miller's thought. "So why not challenge ourselves to do them?"
Contact reporter Jason Bracelin at jbracelin@reviewjournal.com or 702-383-0476. Follow on Twitter @JasonBracelin.