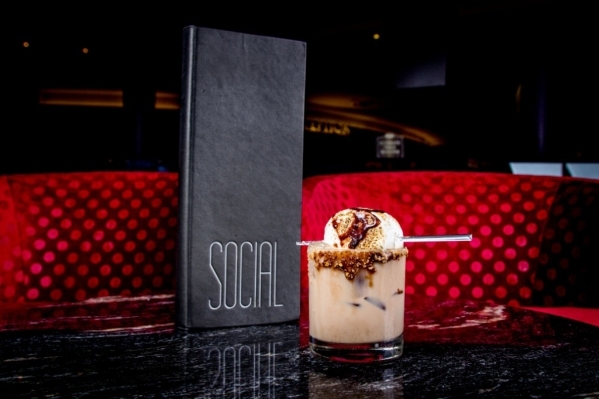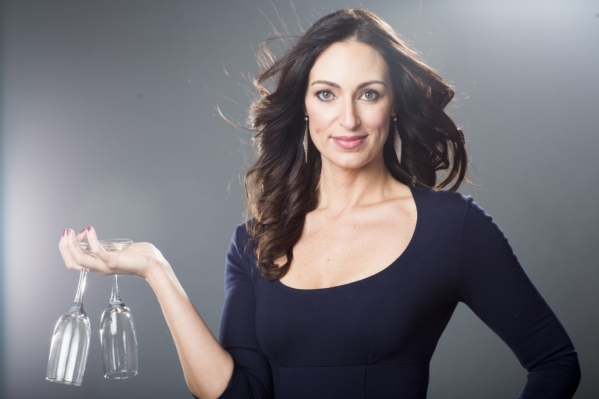 "I love an ice cold beer in a hot shower," Mia Mastroianni told me with a TV smile and posture (stiff back, legs crossed) on a Palms hotel couch.
Mastroianni is a feature of TV's "Bar Rescue" and Soho House in West Hollywood, where she's a mixologist (a bartender who raises cocktail construction to the level of a fetishized art form).
"Usually, I go home, I'm covered in simple syrup, I've got simple syrup in my hair," Mastroianni said, not trying to sound flirty or dirty, rather honest and amused.
"You just go home sticky," and that's why, "there's nothing better than an ice cold beer in a hot shower."
Mastroianni has been working with the Palms for months, revamping the hotel's center bar, called the Social bar. She's been devising $14 elaborate drinks; they're ready for their social media close-ups.
"The camera eats first," she said. "You can't go into a restaurant without taking a picture, Instagramming, Facebooking and tweeting about your food, your beverages, anything you're going to consume."
Just because a drink is photo app-worthy doesn't mean it isn't concurrently delicious and potent.
One of her concoctions at Social bar is the S'mores Mudslide Meme: 1 ounce Baileys; 1 ounce Kahlua; 1 ounce vodka; the rim wears chocolate lipstick encrusted in graham cracker crumbs; the bartender gives the drink its happy ending by butane-flambeing three marshmallows into caramelized garnishes, which enter the glass past its sumptuous lips.
Before Mastroianni arrived, Social was mired in a pigeonholed menu — half of a page of vodka drinks, half of a page of whiskey.
"Whiskey can be risky," she joked.
Mastroianni is an explorer of the senses. Consider her two favorite alcohol pairings.
"Guinness and pancakes," she said.
"And Guinness and Oreos."
Excusez-moi?
"I was at a friend's barbecue. There was Guinness. And there was Oreos," she said. "It was St. Patrick's Day.
"If you dip an Oreos cookie into a Guinness, I promise you it is magic. The chocolate in the Oreos brings out the chocolate notes in the stout beer, and it is a triumph."
I informed Mastroianni that Social bar is storied as the bar Charlie Sheen further acquainted himself with porn stars in front of a media frenzy, some years ago, when Sheen re-arose to stardom for being Sir Crazypants.
Mastroianni informed me she once served a martini to "a James Bond" star at Soho House, but confidentiality agreements prohibit her from divulging more than this:
"I made 'a James Bond' (actor) a stirred martini," instead of the shaken martini the Bond character demands in the films.
"He still drank it, loved it," she said. "Rave reviews."
Mastroianni is such a fetishist, she personally owns dozens of professional-grade silicone ice molds.
"I think I'm ordering Death Star ice cubes. I saw them online recently. I think I'd enjoy a Death Star ice cube."
She speaks a dialect I don't understand:
"There's so much happening in the arena of bitters," she said. "I never don't have my jigger on me."
She kindly answered questions about the differences between men and women bartenders:
"Girls are afraid of shaking, sometimes. Shaking — you need to get a good vigorous shake."
And she reports that in her 15 years of shaking, as drink culture has transmogrified from Cosmos to Old-Fashioneds to Instagram splendification, drinkers themselves remain the same.
"You're gonna have the guy hitting on the girls. You're gonna have the people dancing. You're gonna have the people making out. Behavior doesn't change," she said, and made me laugh about customers in 2015:
"Drunk people are drunk people. They're just dressed better."
NIGHTCLUB NOTE
I said the other day in this space that Hakkasan is no longer in control of Light nightclub and Daylight dayclub in the Mandalay Bay hotel, having acquired the two clubs just months ago, before subsequently fighting legally with elements including Cirque du Soleil and then getting out of both properties.
I neglected to mention the new management of Light and Daylight — PLAY Management, with Colin Comer and John Pettei as managing partners; they are hospitality veterans around town at places such as 1 Oak, Kumi and Light Group management.
Doug Elfman can be reached at delfman@reviewjournal.com. He blogs at reviewjournal.com/elfman. On Twitter: @VegasAnonymous
Like Neon Las Vegas on Facebook: