Barenaked Ladies singer plays a mean pinball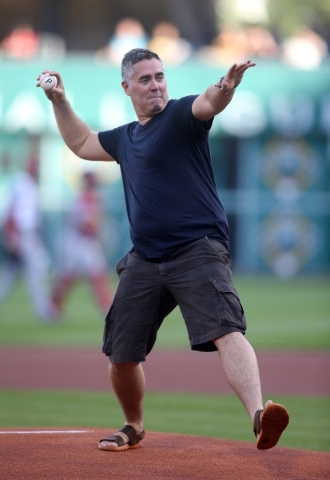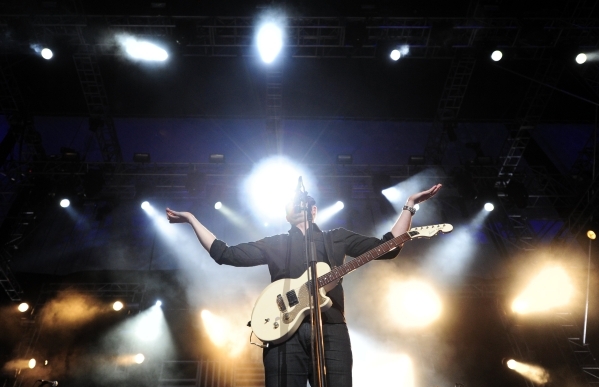 The last time Barenaked Ladies performed in Vegas, singer Ed Robertson spent six hours playing pinball at the "fantastic" Pinball Hall of Fame, he told me.
Robertson buys and restores pinball machines. He even stored a pinball machine under Barenaked's tour bus this year, briefly.
"I will seek out large pinball collections wherever I am," he said.
It's no wonder the title of Barenaked's new album is "Silverball." (His happy pop band plays a concert Saturday at the Cosmopolitan's excellent rooftop pool.)
As the Game Dork, I can tell a lot about a man by discovering how he plays a mean pinball.
Robertson is a tilter.
"I tilt more than most of my friends," he said. "But once I know where the limits of the machine are, I tend not to push it."
What's his all-time favorite?
"The Stern Metallica game," Robertson said. "I'm not a big Metallica fan at all, but the machine is amazing."
The Metallica pinball game is known for being a non-stop action bonanza, featuring multiple balls, lots of music and voice-overs, a pretend electrocution of a ball, and hand-drawn art.
"It's just a gorgeous machine, the rules are really cool, and you can play it a lot of different ways," he said, then offered up other favorites "Bride of Pinbot 2.0," "Bram Stoker's Dracula," "Lord of the Rings," and "AC/DC."
I confessed my love of the "Playboy" machine when I was a kid, for one reason: When you dropped in coin, the machine played a cool song.
"I always say to my pinhead friends, a pinball machine needs one really cool thing that hooks you," Robertson said. "'Metallica' has a hammer that smashes down on the ball. 'AC/DC' has the bell that samples 'Hell's Bells.'"
"Is this your yoga?" I asked.
"It's a big stress reliever for me," he said and answered my request for deep meaning in it all:
"You learn to manage your expectations. You learn to multitask. It's gotta be great for basic hand-eye coordination."
Barenaked Ladies ("One Week," "Call and Answer," the "Big Bang Theory" theme song) is bringing tour mates Colin Hay (singer from Men At Work) and the Violent Femmes. Tickets cost $50.
"Get there early," he said. "I think it's one of the most fun times I've ever had on tour. Colin Hay is an absolute pleasure two be around. And the Violent Femmes kick ass every single (expletive) time.
"That just sets the energy bar super high and makes us (Barenaked Ladies) work really hard when we get up there."
ALWAYS LISTENING, ALWAYS TALKING
I'm taking the podium on Sunday to talk and listen to the Humanists and Atheists of Las Vegas, as a result of my recent column interview with comedian Eddie Izzard, who will run for London mayor as an atheist.
It's open to the public, at 1:30 p.m. Sunday in the Partnership Room of Springs Preserve.
There will be a Q&A if you want to tell me I'm wrong. But I might be right.
You never know.
CHRIS PAUL DEFENDS PINGPONG TITLE
Well, table tennis is a thing in Las Vegas. (Is it still more "Trademarkally" known as Ping-Pong?)
Last week, the US Open Table Tennis Championships came to a pingpongy conclusion in Las Vegas.
This weekend, basketball hero Chris Paul will try to defend his title as a celebrity table tennis champ at the third annual TopSpin Charity Ping Pong Tournament at Lagasse'€™s Stadium restaurant in the Palazzo hotel.
NBA stars are lined up to help raise money for the Chris Paul Family Foundation, the Jump For Joy Foundation, and TopSpin.
That's Paul plus Al-Farouq Aminu, Alan Anderson, Trevor Ariza, Harrison Barnes, Julius "Dr. J" Erving, Langston Galloway, Eric Gordon, Willie Green, Bernard James, Orlando Johnson, Courtney Lee, Jordan Mickey, Nerlens Noel, Jerome Randle, Jerry Stackhouse, John Wallace, C.J. Watson, Hassan Whiteside, Jerome Williams, and Mike Woodson. The hosts are Paul, comic Chris Spencer and DJ E-Rock, and boxer Shawn Porter will be there.
If you want to rubberneck: Red carpet is 6:30 p.m. Saturday at Lagasse's Stadium. Tickets cost $75-$150.
Contact Doug Elfman at delfman@reviewjournal.com. He blogs at reviewjournal.com/elfman. Find him on Twitter: @VegasAnonymous