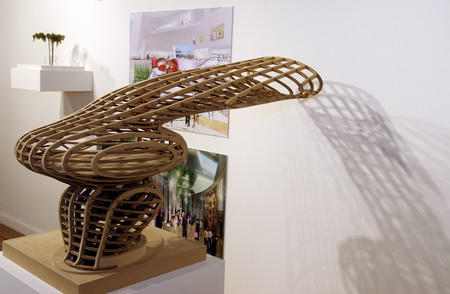 Consider CityCenter a classroom — a massive tutorial of artistry and architectural aesthetics.
Which makes Bellagio the cheat sheet.
"We wanted to show these artists and architects in a behind-the-scenes approach and the creative process behind them," says Tarissa Tiberti, director of the Bellagio Gallery of Fine Art, which is exhibiting "12+7: Artists and Architects of CityCenter" through early April. The show features miniatures of CityCenter artwork and representative pieces of the mega-project's dozen artists, as well as seven CityCenter architects.
"It's really looking at how an architect is an artist and how an artist is an architect, and all these things that once you're (at CityCenter) might get lost in all the grandeur of it and the steel and the glass you're kind of overwhelmed by."
Essentially: Get the small-scale perspective here. Get the large-scale eyeful there. An accompanying audio tour and detailed statements about the artists and architects provide context to the displays.
"I felt people could get a little deeper into it from the collection and give them more information," says Michele Quinn, curatorial adviser for the CityCenter fine art collection, as well as for MGM Mirage.
Particularly striking are the scrolling, cool-blue messages of Jenny Holzer's "Four Corner: Truisms," a quartet of stacked electronic LED signs carrying thoughtful phrases and life philosophies sure to work their way into the brain. Her artwork is displayed at CityCenter at the north valet of Aria.
"That is amazing, we love that piece," Tiberti says. "That piece hangs on the wall like that, those words almost a stream of consciousness. She's going to leave you with a thought as you drive home about the facts of life. You'll be thinking of it even though it's no longer in front of you."
Claes Oldenburg's artistic throwback to a precomputer era, titled "Typewriter Eraser," is a tabletop version of the piece gracing the pedestrian bridge near the Mandarin Oriental. "The artist does such a great job bringing everyday objects to life in such an interesting way," Tiberti says. "Even if you're not quite sure what it is, you'll look at it."
An impressive miniature sculpture of the sleek, winding "treehouse" for the interior of Crystals is the work of the Rockwell Group, whose other projects include set designs for Broadway's "Hairspray" and "Dirty Rotten Scoundrels," as well as the Kodak Theater in Los Angeles and restaurants including New York's Nobu Fifty Seven.
Architectural exhibits, featuring sketches and models, include that of the Mandarin Oriental by Kohn Pedersen Fox Associates, with its design as a gateway into CityCenter, but with a sense of seclusion and the feel of a minicity; Helmut Jahn's Veer Towers, its glass structures rising out of Crystals in opposite directions; the jewellike facade of the Harmon, including its corkscrew staircase by Foster + Partners; and the curvilinear towers of Aria, designed by Pelli Clarke Pelli Architects.
Elsewhere on the art side, Maya Lin's "Colorado River" snakes down the wall in a 7-foot, cast-silver sculpture, representative of a much larger "Silver River" piece for Aria's reception desk, while British sculptor Tony Cragg's creation, with its bronze curves swerving into each other and weathered as if filtered through a wind tunnel, offers a glimpse of his work, also for Aria.
Peter Wegner's startling twin pieces, the bold-red "The Sun As It Sets" and the moody-blue "The Moon As It Rises," are bursts of light in gradations of color.
"That's quite fantastic because it's all stacked paper," Tiberti says of the creations of Wegner, whose similar, much larger work, "Day for Night, Night for Day" is for Vdara's concierge lobby. "It's perfectly precisioned, this dye-cut paper. There's such intensity to it."
And Antony Gormley's "Bodies in Space VIII," a sculpture of forged steel balls forming the molecular makeup of a human body, is an intriguing rumination on mass and space, a peek at the Gormley style, also for Aria.
"It gives a limited snapshot because there's just so much you can do with the size of the show," Quinn says of the gallery exhibit, an explainer course for any connoisseur of CityCenter aesthetics. "But to put all this into perspective, the art and the architecture is such a phenomenal combination."
Contact reporter Steve Bornfeld at sbornfeld@review journal.com or 702-383-0256.
Preview
What: "12+7: Artists and Architects of CityCenter"
When: 10 a.m.-6 p.m. Sunday-Thursday, 10 a.m.-7 p.m. Friday-Saturday (last admissions sold 30 minutes before closing)
Where: Bellagio Gallery of Fine Art, 3600 Las Vegas Blvd. South
Tickets: $15 general admission; $12 for Nevada residents and seniors 65 and older; $10 for students, teachers and military personnel; free for children 12 and younger (693-7871; www.bellagio.com)
RELATED STORIES
• THE CRESCENDO: Newest, most expensive joint on the Strip opens with fireworks, fanfare
• First are foremost
• JANE ANN MORRISON: Wear comfortable shoes, stylish clothes to see all of CityCenter
• Everywhere You Look
• Moving to the Big City