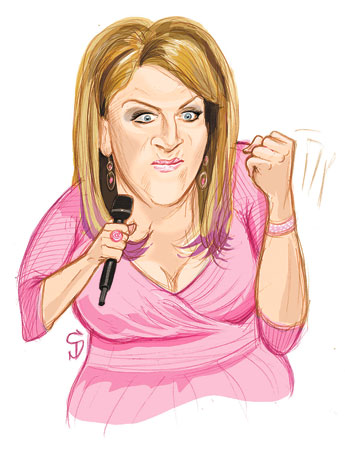 Do you remember that groundbreaking and annoying fantasy "Sex and the City" about four horrible New York socialites who magically found all kinds of awesome boyfriends to date, even though three of the tramps were narcissistic, boring crones?
First of all, there are more available women than men in New York, so men get the pickings there — not the other way around — which can chip away at any New York woman's sanity and judgment.
Second of all, as comedian Lisa Lampanelli jokes, "Sex and the City" was so unrealistic, it was like "The Golden Girls" minus 30 years.
Lampanelli is a real 40-something New York woman who had sex in the city for years. And? She ended up in rehab for love and sex addiction, leading to a year-and-a-half hiatus from men.
When she started dating again last March, she realized dating in New York still wasn't going to be easy. Plus, she wondered which men would sign up to be with the "queen of mean," an "insult comic" in the vein of Don Rickles?
"A lot of people can't see past my act," she tells me. "I was like, 'Where does a 48-year-old bitch go to meet guys in New York?' You don't go to clubs. That's horrendous. You don't want to date other comics."
To get ideas for men, she called Steve Ward of VH1's matchmaking show "Tough Love."
"Steve basically told me it would take, quote, 'a magician' to fix me up with somebody, because of how my act is."
Lampanelli responded, "I get it, I get it. My act is kind of hard-core. Some guys couldn't see past it, if they're retarded.
"I was so mad at him for saying that," Lampanelli says. "But two weeks later, I met the guy of my dreams. I'm engaged and getting married."
The man she met is named Jimmy. They met through comedian Jim Breuer's satellite radio show.
Meeting someone through a friend is good, because, "you know they're going to show up at your house and not kill you."
Will getting married transform loud and brash Lampanelli into a proper housewife?
"If a proper housewife is somebody who makes her husband do all the chores — because I'm the one who earns all the money — then I'm definitely the proper housewife."
That's right. She does all the money-grubbing. Jimmy does all the cleaning.
"Somebody's got to be the earner. Somebody's got to be the doer around the house. We've got it worked out," she says. "I bought Jimmy a freakin' vacuum cleaner yesterday. He got a boner."
Lampanelli says she's doing "fantastic" with her addictions. She went to rehab for a variety of things, mostly for gobbling too much food and men.
"As far as my addiction to men, I don't even look anymore. But my gay friend says, 'It doesn't matter where you work up your appetite, as long as you go home to eat.'
"I'm sure in a few years, I'll start checking guys out. Why not? You gotta spank one out every now and again."
Lampanelli could have remained a sex-and-love addict and sought a like-minded mate with the same problem. But that doesn't work, she says.
"Because then, you won't let them out of the house without you, and you won't go out of the house without them. And you end up creepy and on 'Sex Rehab with Dr. Drew.' "
Another thing that happens with two sex addicts:
"One of you snaps out of it and decides to get better, and the other is still a loser with a dream. It sounds good on paper, but it's never worked for me."
Her addiction still manifests, but she actively works her brain against it, regularly.
"(Jimmy) is right now down at the gym, and I don't feel needy enough and co-dependent enough to go down and make sure he's not boffing some girl on the treadmill."
Fortunately, Jimmy understands her problem and listens.
"He gets it when I say, 'Oh my God, I'm feeling insecure, you're going out tonight,' " she says. "He just starts laughing, because the guy is so honest and good, and he's older and he's a gentleman. He gets that you don't stare at women.
"And he says, 'You want to come?' And I'm like, 'Nah, because that's feeding into the insecurity and letting it win.' "
She's also lucky, she says, because Jimmy trusts his recovering sex addict fiancee not to go tramping for sex in the city.
"He knows I'm not going anywhere. 'Cause really — look at both of us. Who'd have either one of us? That's what I want to know."
Contact Doug Elfman at delfman@reviewjournal.com. He blogs at reviewjournal.com/elfman.
Preview
Lisa Lampanelli
8 p.m. Saturday
The Pearl at the Palms,4321 W. Flamingo Road
$49.75 (942-7777)