Bieber tested positive for pot, Xanax at Miami arrest
January 30, 2014 - 12:59 pm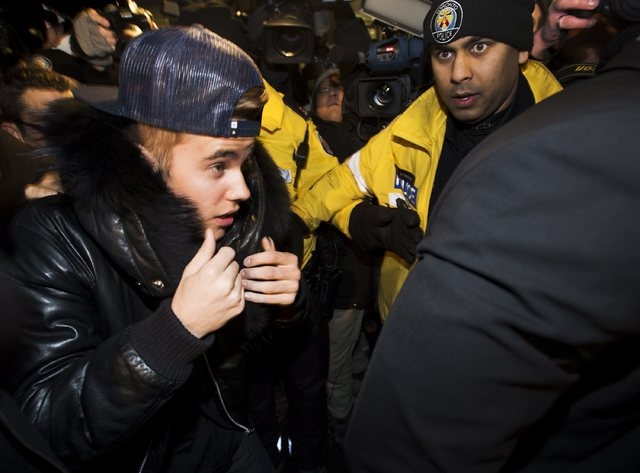 MIAMI — A preliminary toxicology report shows that Justin Bieber tested positive for marijuana and the anti-anxiety drug Xanax after his arrest last week in South Florida.
The report released Thursday by the Miami-Dade County State Attorney's office also shows no presence of other illicit drugs in Bieber's system, such as cocaine or oxycodone. The 19-year-old pop star was arrested last week on Miami Beach on charges of DUI, resisting arrest and having an expired driver's license.
Bieber has pleaded not guilty but told police after his arrest last week that he had been smoking marijuana and took a prescription drug.
A previous Miami Beach Police Department report found that breath tests placed Bieber's blood-alcohol content below the .02 level considered intoxicated for under-21 drivers.
Bieber and R&B singer Khalil Amir Sharieff were arrested police described as an illegal street drag race between a Lamborghini and a Ferrari. Sharieff is also charged with DUI.
Bieber, a Canadian native, turned himself in Wednesday to police in Toronto on a charge of assault for allegedly hitting a limousine driver several times in the back of the head last month.
Police allege Bieber was one of six people who were picked up by a limousine from a nightclub in the early morning hours of Dec. 30, and there was an altercation while en route to a hotel.
Police said during the altercation one of the passengers hit the limo driver in the back of the head several times.
"The driver stopped the limousine, exited the vehicle and called police," a statement said. "The man who struck him left the scene before police arrived."
Howard Weitzman, Bieber's attorney in California, said his client is innocent and declined to comment on the allegations against Bieber or any potential defense, saying it was now a matter for the court to handle.
The singer remains under investigation for felony vandalism in Los Angeles County over an egg-tossing episode that damaged his neighbor's home. Detectives searched his home on Jan. 14, and prosecutors have sought additional information before determining whether to pursue charges.
Last year, Bieber made headlines for everything from clashing with a paparazzo to fainting at a show to being photographed smoking marijuana. The paparazzo is suing Bieber for assault and battery.
German authorities charged him thousands of dollars after he abandoned a pet monkey that they seized from him for failing to have proper vaccination papers.
Bieber drew scorn last year for writing in the guestbook at the Anne Frank House in Amsterdam that he hoped the young Holocaust diarist would've been a "belieber," as his fans are known.
The singer also had to apologize to Bill Clinton after cursing the former president and spraying his photo with cleaning fluid in a New York City restaurant kitchen.