Big festivals, first Life Is Beautiful, led busy 2013 concert slate
December 28, 2013 - 2:18 pm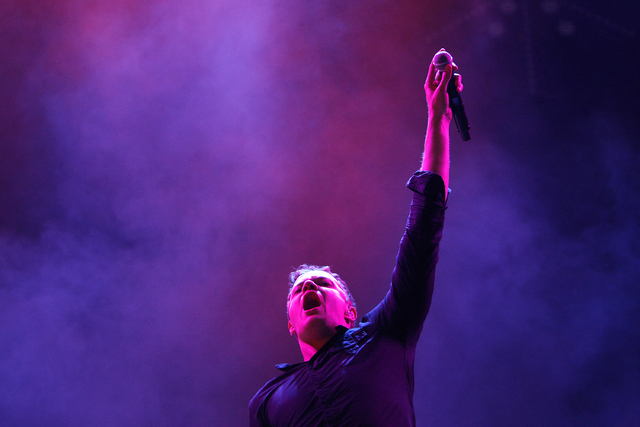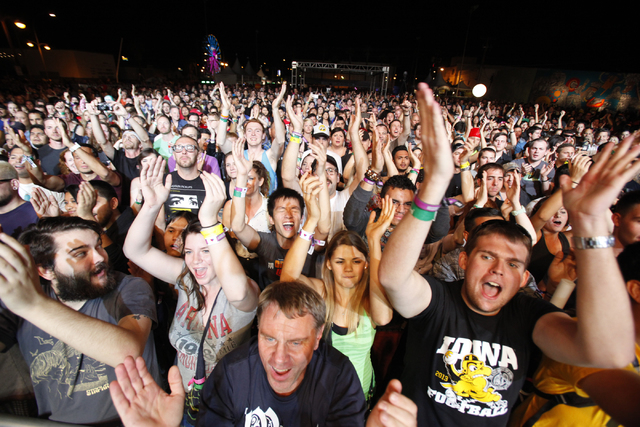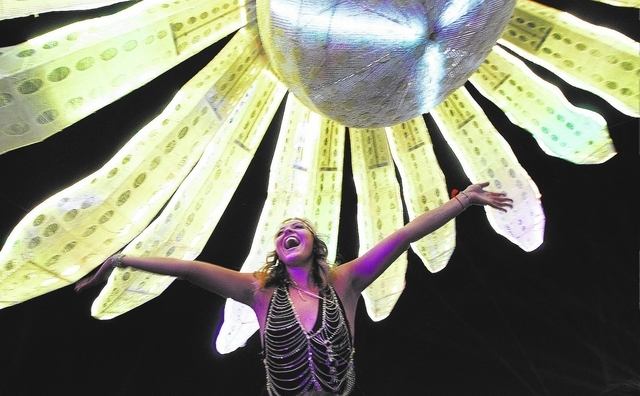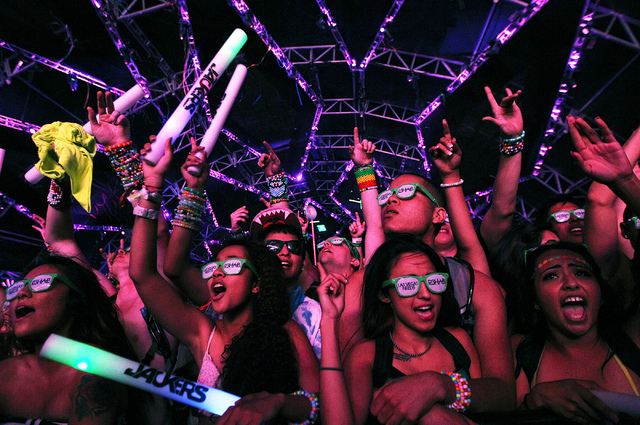 It was the end of the sad reign of the Seattle-soggy concert french fry.
Of all the many highlights of showgoing in Las Vegas in 2013 — and perhaps worldwide — tops would have to have been the long overdue development of an alternative to the kind of pore-clogging, garbage gut food offerings normally available at concerts.
Sure, there were plenty of greasy eats peddled at the Life Is Beautiful festival, which engulfed 11 square blocks downtown for two days in October, but there was also fresh seafood, vegan wraps, lots of stuff with arugula in them, and goat tacos, glorious goat tacos, as far as the eye could see.
It's hard to get a table at Nobu in a sleeveless Slayer T-shirt while reeking of suntan lotion, but you could sample their menu all the same at the festival in question.
The availability of high-end cuisine was one of the things that distinguished Life Is Beautiful, along with a fun block-party vibe, a well-curated lineup of unsigned Vegas bands getting a chance to perform in front of a broader audience and consistently excellent sets from top-billed acts such as Vampire Weekend, Kings of Leon and The Killers, who ended both the festival and the touring cycle for their "Battle Born" album with a triumphant, all-guns-blazing performance.
The debut of Life Is Beautiful came loaded with questions.
■ Would it be a logistical nightmare snarling up downtown?
■ Would the heavily hyped food component really be an attraction, a draw on its own?
■ Would enough people even show up to the thing?
In the end, the fest felt like a success from a spectator's perspective, with a big crowd overtaking the closed-off streets, digging good food and bands alike.
Life Is Beautiful was but one big festival in a city that's becoming home to an increasing amount of them.
The Super Bowl of electronic dance music, the Electric Daisy Carnival, returned for its third year at Las Vegas Motor Speedway in June with even more outsize production values, especially on the main stage, the Kinetic Field, which felt like "Alice in Wonderland" come to life with massive owl and mushroom props and a sound system capable of agitating Richter scales with the rumble it created.
Also in its third year, the iHeart Radio Music Festival came back to the MGM Grand Garden arena in September with such big names as Justin Timberlake, Elton John, Katy Perry and others holding court for two days. Ke$ha licked the faces of audience members, Miley Cyrus sang into a banana microphone surrounded by dancing little people and Paul McCartney performed as an opening act for maybe the first time ever on the fest's second night.
Another downtown festival, Punk Rock Bowling, had its biggest year yet with three days of reeling in the years — and beers — alongside such seminal bands as Devo, The Damned and Flag, which consisted of former members of hardcore punk pioneers Black Flag.
Besides hosting multiple festivals, Las Vegas also benefited from one of the biggest in the country, Coachella in Indio, Calif., which brought numerous spillover shows from bands heading to and from the event in April. Vampire Weekend, the Yeah Yeah Yeahs, New Order, Tegan and Sara and a reactivated Postal Service, who elated a sold-out Chelsea ballroom at The Cosmopolitan of Las Vegas with their heart-on-the-sleeve electropop, were just a few of the bands who played here and Coachella.
Alt-rockers aside, the old dudes had their day in 2013, too.
The Rolling Stones shook their hips and fists alike at the MGM Grand Garden in May. In September, the godfathers of heavy metal, Black Sabbath, headlined the same venue, looking a little timeworn but not sounding like it, with Tony Iommi's gargantuan riffs heavy as tank treads flattening all in their path.
A few weeks later, another group of British metal forebears, Iron Maiden, roared into the Mandalay Bay Events Center with operatic bombast and the band's ghoulish mascot, Eddie, appearing in the form of a 10-foot-tall Calvary officer.
Speaking of larger-than-life flourishes, there was Pink soaring high above the crowd, singing upside down at one point during her show at the Mandalay Bay Events Center in February and the massive pyramid of light that was part of Muse's blinding stage show at the same venue in March.
Music's reigning power couple, Beyonce and Jay Z, held court on separate occasions, she in June and December at the MGM Grand Garden arena, he in December at the Mandalay Bay Events Center. The former's show was an exercise in hair flinging, high-watt showmanship, the latter's was a more laid-back, yet no less commanding performance, with the rapper exhibiting an offhand mastery of the form.
Jigga aside, the MGM Grand Garden cornered the market on hip-hop's leading men with shows from Lil Wayne (August), Kanye West (October) and Drake (November).
A handful of the very best concerts of 2013 lit up The Joint at the Hard Rock Hotel, where Prince amazed with his guitar hero chops and virtuoso backing band 3rd Eye Girl in April, Slayer pummeled with an old-school set in October and Nine Inch Nails electrified in November on the band's first tour in four years.
Another venue that had a great year was the new Backstage Bar &Billiards downtown, which got off to a good start with shows by such can't-miss acts Kylesa (May), Lucero (August) and Baroness (September), who turned in the year's best progressive metal performance next to Meshuggah's incredible set at the House of Blues in March.
Finally, we'd be remiss not to mention MGMT's mesmeric showing at the Boulevard Pool at The Cosmopolitan in August, which, with its mind-bending visuals, was like the star gate sequence from "2001" set to song.
Contact reporter Jason Bracelin at jbracelin@reviewjournal.com or 702-383-0476. Follow on Twitter @JasonBracelin.