Bikini models compete for thousands of dollars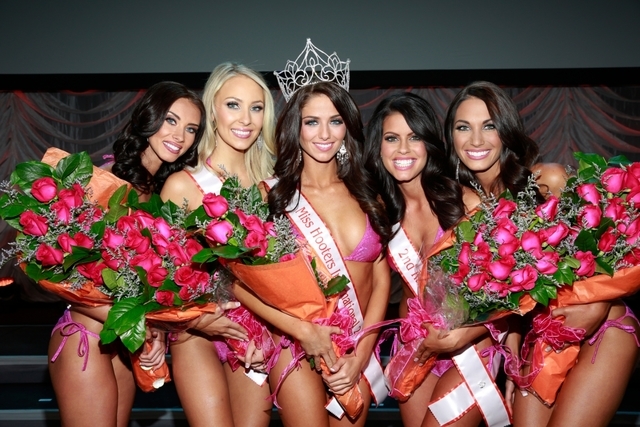 Riddle: "Do you know how you become an economist?" my favorite econ professor used to joke. Answer: "You call yourself one."
Hello, everyone, I am an economist. And I'm here to tell you, we can roughly measure the Las Vegas economy based solely on one question: How lucrative are contemporary female objectification contests?
Let us review.
Mid-2008: Prive nightclub in Planet Hollywood gave away a free breast augmentation, worth a guestimated $6,000-$10,000, to one of hundreds of A-cup women in the club.
March 2011, mid-recession: Studio 54 nightclub in the MGM hotel awarded $5,000 and a ring-girl gig to the winner of a "Miss Knockout" competition.
Now, during economic expansion, on Friday and Saturday this past weekend, the Las Vegas International Model Search handed the winner $25,000 "in cash" during a ticketed event in the MGM Grand. That was after those 52 models from 20 countries strutted their bikini bodies in front of fans at the D Las Vegas hotel-casino to promote this event.
Plus, the Hard Rock Hotel is in the beginning weeks of a summerlong Rehab Bikini Invitational that pays a hefty $25,000 to the winner, $10,000 to second place, $5,000 for third place, and $2,000 to every woman in fourth through 10th places.
And on Wednesday, the winner of a Hooters bikini contest at the Hard Rock hotel received a $30,000 prize package.
You and I can thoughtfully discuss the merits and demerits of female objectification in Nevada.
But this financial indicator is solid: If the perceived financial worth of objectified women in bikinis is skyrocketing, America boasts an increasing ratio of female sexuality to the strong dollar.
As bikini values rise, so goes the economy.
Doug Elfman's column appears Tuesdays, Thursdays and Saturdays. Email him at delfman@reviewjournal.com. He blogs at reviewjournal.com/elfman. Find him on Twitter:@VegasAnonymous