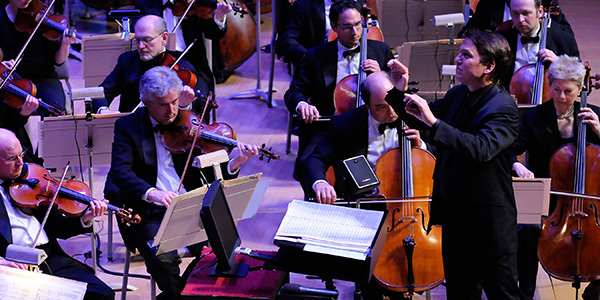 The orchestra's name may say Boston.
But, in keeping with its frequent billing as "America's Orchestra," the Boston Pops has a constituency that's probably more national and international than any other orchestra, conductor Keith Lockhart says in a pretour telephone interview.
As a result, "it's nice to feel like you're going to hometown crowds wherever you play" — including Las Vegas' own Smith Center for the Performing Arts, where the Boston Pops will perform Sunday as part of the orchestra's seven-city Southwest tour, its first West Coast swing in about a decade.
The concert may be the Boston Pops' introduction to The Smith Center's Reynolds Hall, but Lockhart's already checked out the place — during his March visit with the BBC Concert Orchestra, for which he's principal conductor.
His initial impression?
"I think it's just fantastic," Lockhart says of The Smith Center. "I knew Vegas had a new hall, but I was surprised because it's opulent — but, going on top of that, it sounds really great."
Little wonder, then, that "all the (BBC) players were grousing, 'How come London doesn't have a hall that's anything as nice as this?' "
And it's a big change from the Boston Pops' most recent Las Vegas concert venue: Caesars Palace in 1996, when the orchestra played two Christmas shows during a holiday tour.
This Southwestern swing, which began Friday in Tucson, Ariz., and ends next week in Southern California, has its holiday element as well: the orchestra's seasonal signature, "Sleigh Ride," which composer Leroy Anderson wrote for the Boston Pops in 1948. (It's been a jolly holiday staple ever since.)
Then again, the concert — touted as "The Very Best of the Boston Pops" — features a big mishmash of things the orchestra does best, Lockhart says.
The concert's opening half focuses on "great American classical music," what Lockhart describes as the foundation of the Pops' repertoire.
There's Leonard Bernstein's "Candide" overture, for starters, followed by "Buckaroo Holiday," from Aaron Copland's cowboy ballet "Rodeo," plus Largo, the second movement from Anton Dvorak's "New World" Symphony, and Duke Ellington's "It Don't Mean a Thing (If It Ain't Got That Swing)."
Pianist Michael Chertock joins the orchestra for the first-act finale: George Gershwin's "Rhapsody in Blue."
But it's the program's second half that really puts the "pop" in the Pops, with renditions of, among other selections, another beloved rhapsody: Queen's "Bohemian Rhapsody." Add Abba's "Dancing Queen," melodies from "Riverdance" and the snappy, tap-happy "42nd Street."
Sunday's concert also spotlights another Pops tradition: the audience sing-along.
It's been a fixture of Boston Pops concerts for 75 years, when the late Arthur Fiedler — who led the orchestra from 1930 to 1979 — discovered that "audiences like to sing along with a great orchestra," says Lockhart, 53, who's now in his 19th year with the Boston Pops.
This time around, the sing-along — "You Must Remember This" — spotlights such Oscar-winning movie favorites as "Over the Rainbow," "Zip-A-Dee-Doo-Dah," "Que Sera, Sera," "Moon River," "Raindrops Keep Falling on My Head" and "The Way We Were." (Another featured song, "As Time Goes By" from "Casablanca," wasn't eligible for an Oscar, but "Casablanca" captured a best picture Academy Award.)
Speaking of movies, the Pops salutes Fiedler's successor and Lockhart's predecessor — composer John Williams, who led the Pops from 1980 to 1993 — with "Hedwig's Theme" from the "Harry Potter" franchise and the "Flying Theme" from "E.T. the Extra-Terrestrial." (Williams won one of his five Academy Awards for the latter.)
"I like to think we still do the core things, but the repertoire has broadened out," Lockhart says. "Where else can you hear 'Largo' and 'Dancing Queen' at the same concert?"
On this road trip, the orchestra plays seven concerts in eight days, which is a little tiring, the conductor admits. But he says the orchestra travels well, thanks partly to a sense of camaraderie that builds when it's away from home.
The Boston Pops may be "America's Orchestra" now. But when the ensemble played its first concert, billed as a Music Hall Promenade Concert, in 1885, the Boston Transcript newspaper complained — about the price of beer, which was 10 cents a glass. Tickets were a quarter.
Some 128 years later, ticket prices have risen considerably — but not as much as the costs associated with touring, Lockhart says.
"It's a more challenging time for all the arts, with the expense of things like touring," he says. "That's why the orchestra is so excited" about the current road trip, Lockhart adds. "The cost of things has tripled — and the fees have not."
As a result, "like everyone else, we feel the pressure to create new audiences," he says.
And, of course, to satisfy the ones gathering Sunday at Reynolds Hall to hear, and cheer, the Boston Pops — who, Lockhart predicts, will be doing some cheering of their own.
"I can't wait," he says, "to introduce my colleagues to your wonderful hall."
Contact reporter Carol Cling at ccling@reviewjournal.com or 702-383-0272.
Preview
Boston Pops
5 p.m. Sunday
Reynolds Hall, Smith The Center for the Performing Arts, 361 Symphony Park Ave.
$39-$139 (702-749-2000, www.thesmithcenter.com)