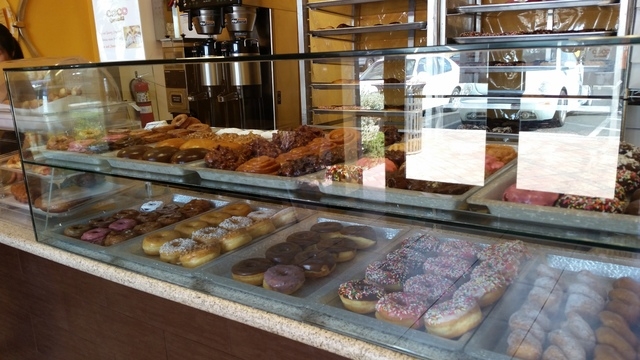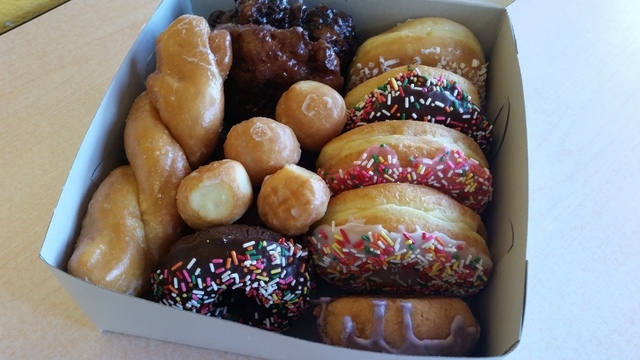 Whoever Coco is, she knows how to make a mean doughnut.
Coco Donuts is an unassuming little shop tucked away in a northwest strip mall at Cheyenne Avenue and Hualapai Way. Signs on the door advertise that it also sells coffee, but trust me, you're here for the doughnuts.
Or maybe a Dough'sant (Coco's version of a cronut, priced $1.50 to $3 each) — Coco has those too, glazed with raspberry, covered in coconut or filled with cream. Regular doughnuts ($1 each) come in a variety you won't find in most commercial doughnut shops: Cinnamon Sugar Cake, Blueberry Cake, Devil's Food Cake and seasonal Pumpkin Cake are among the classic selections. Specialty choices include cream, lemon, raspberry or apple filled, apple or blueberry fritters, bear claws, butter milk and French cruller. Fancy ones have options such as peanut or coconut covered and maple or raspberry icing.
And you're missing out if you don't try the red velvet doughnut, which is really more of a breakfast cake: moist, dense and completely decadent.
If you're looking for something hot, kolaches are also on the menu. For those unfamiliar, a kolach is basically pastry that generally contains meat and cheese. Coco has them with sausage, and a ham and cheese crossaint is also available. Coffee, iced coffee, cappucino, hot tea and hot chocolate also are served, and a cooler near the checkout offers some bottled beverages.
Seating inside is just two small tables, as Coco is mostly a stop-and-go type of place. Online ordering is available at cocodonutsvegas.com.
During your first visit, be sure to ask for a punch card: purchase 10 dozen doughnuts, and your 11th dozen is free.
When I stopped in around 9:30 a.m. on a recent Monday, the doughnut selection was still plentiful, and everything I sampled tasted extremely fresh. A handful of free doughnut holes was included with my dozen.
Coco Donuts is open from 5 a.m. to 5 p.m. (or whenever the doughnuts sell out) Monday through Thursday, 5 a.m. to 1 p.m. (or sell out) Friday and 6 a.m. to 1 p.m. (or sell out) Saturday and Sunday. Holiday hours are 5 a.m. to noon on Thanksgiving, Christmas Day and New Year's Day.
Coco Donuts
10040 W. Cheyenne Ave., Suite 145
702-562-2626 or cocodonutsvegas.com