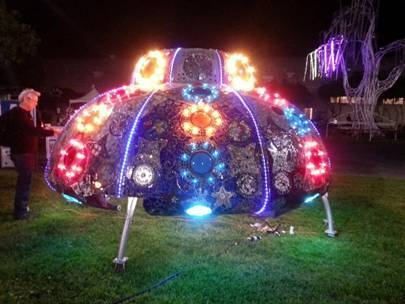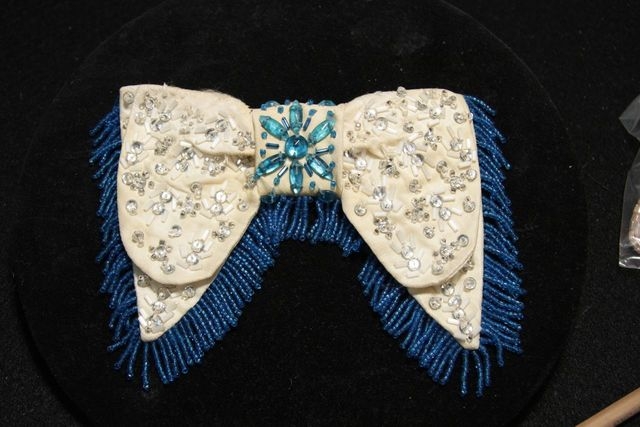 Music
WINCHESTER HOSTS
PLENTY OF PIANISTS
Six pianists, 60 fingers, 88 keys.
That's the formula for "60 in the 88s," a Saturday concert presented at the Winchester Cultural Center, in conjunction with the Las Vegas Jazz Society.
During the concert, jazz pianists Alex Clements, Jason Corpuz, Otto Ehling, Uli Geissendoerfer, Matt Green and Dave Richardson will show off their talents, accompanied by bassist Jeff Davis and drummer Santa Savino.
They'll perform at 2 p.m. Saturday at the Winchester center, 3130 S. McLeod Drive. For tickets ($12, $15 at the door), call 702-455-7340.
Art
SPACESHIP PROJECT
LANDS DOWNTOWN
Art and technology inspire an otherworldly visit — from a San Francisco-based spaceship, which doubles as an art installation and mobile classroom, that's docked at downtown's Learning Village through Dec. 8.
The Youth Educational Spaceship Project — a collaboration between Las Vegas' Downtown Project and the Burning Man Project — includes a whimsical spacecraft adorned with recycled mosaics, blinking lights, a fog machine and robotic voice synthesizer.
Free tours and interactive workshops of the Y.E.S. Project, created by artists Dana Albany and Kal Spelletich, will be open to the public from 11 a.m. to 3 p.m. Sunday. The spaceship project will be closed Nov. 25-29 for the Thanksgiving holiday, but will reopen from 11 a.m. to 3 p.m. Dec. 7; closing ceremonies, from 4 to 7 p.m. Dec. 8, will including a local children's art show.
Passes for the Y.E.S. Project — based at the Learning Village, 727 Fremont St. — may be reserved at https://ticketcake.com/venue/learning-village/las-vegas. For more information, click on www.burningmanproject.org/event/youth-educational-spaceship-project-lands-in-las-vegas-on-november-15.
Lecture
DINOSAUR TALK
TAKES OVER MUSEUM
If a new dinosaur sounds like a contradiction in terms, talk to Alan Titus.
He'll discuss five new species of Ceratopsids — horned dinosaurs — Sunday afternoon at the Las Vegas Natural History Museum.
Titus, a Las Vegas native, has been resident paleontologist at Utah's Grand Staircase-Escalante National Monument for the past 13 years. During that time, at least five new species of Ceratopsids have been found at the national monument.
In his talk — titled "All the Bells and Whistles: Late Cretaceous Horned Dinosaurs (Ceratopsids) of Grand Staircase-Escalante" — Titus will discuss how the dino-discoveries are radically changing perceptions of Late Cretaceous dinosaur evolution and ecology.
Titus will speak at 4:30 p.m. Sunday at the Las Vegas Natural History Museum, 900 Las Vegas Blvd. North. Admission is $5 for adults, $4 for seniors, military and students and $2.50 for children 3 to 11; museum members are free. For more information, call 702-384-3466.
Music
BENEFIT HONORS
CSN'S 'DR. TOM'
Tom Ferguson may be gone, but he's definitely not forgotten.
The memory of the jazz pianist, arranger and educator known as "Dr. Tom," who died Aug. 29, inspires a benefit concert Sunday at the College of Southern Nevada for a scholarship named in his honor.
Ferguson spent two decades at CSN, from 1988 to 2008, serving as coordinator of music and heading both the Fine Arts and Performing Arts departments.
Many of the fine arts staff at CSN today were hired by Tom when the program was just developing, according to Dick McGee, chairman of the fine arts department. "He brought a wealth of expertise and experience to the program, which began with 300 students and is now at 2,700 each semester."
Before coming to CSN, Ferguson performed professionally, serving as pianist at several Strip hotels, including Caesars Palace and Bally's. He also performed at Jazz at the Four Queens with numerous artists, including Lou Tabakin, Eddie "Lockjaw" Davis, Carl Fontana, Joe Henderson and Louis Bellson. While at CSN, Ferguson spent seven years as pianist/conductor at the Las Vegas Hilton (now LVH).
Following Ferguson's retirement from CSN, he continued to perform and tour until he suffered a stroke in January 2010.
Ferguson was a noted jazz arranger and many of his arrangements will be featured at Sunday's benefit, with McGee conducting the Tom Ferguson All-Star Big Band made up of "Dr. Tom's" musical colleagues and friends. Comedian Pete Barbutti hosts; a reception will follow the concert.
The benefit begins at 2 p.m. Sunday in the Nicholas J. Horn Theatre on CSN's Cheyenne campus, 3200 E. Cheyenne Ave., North Las Vegas. To reserve tickets ($10), call 702-651-5483 or visit www.csn.edu/pac.
Music
DE ALBA RETURNS
AS JUDY GARLAND
The yellow brick road led Judy Garland far beyond Oz.
And David de Alba — who first impersonated Garland at the long-running San Francisco club Finocchio's — brings his Garland tribute, titled "Dorothy: The Later Years," to the Onyx Theatre Sunday afternoon.
The show focuses on Garland's final performances in the 1960s, before her death in 1969; de Alba's Garland impersonation encompasses not only songs but costumes.
"Dorothy: The Later Years" will be staged at 2 p.m. Sunday at the Onyx Theatre, 953 E. Sahara Ave. Tickets ($15-$20) are available by calling 702-732-7225 or visiting www.onyxtheatre.com.
Exhibit
COSMO SPOTLIGHTS
LIBERACE BLING
For the first time in three decades, Liberace is back on the Strip. Or, more precisely, his costumes are back on the Strip.
The flamboyant pianist known as Mr. Showmanship died in 1987, but his legend lives on — and so do the personal and performance pieces featured in "Too Much of a Good Thing Is Wonderful: Liberace and the Art of Costume," opening Monday at The Cosmopolitan of Las Vegas.
The free pop-up exhibition showcases such blingy Liberace trademarks as his rhinestone piano (to be displayed at The Cosmopolitan's tri-level Chandelier bar lounge), and his Rhinestone Roadster, which will be parked near the resort's Strip entrance.
A pop-up museum, on the corner of the Strip, off the casino floor, will showcase everything from his signature candelabras to sequined jumpsuits and a fox fur coat with a 16-foot train.
Curating the exhibit: Denise Clemente, assistant professor of history and associate director of the public history program at the University of Nevada, Las Vegas, who also served as historical consultant for Baz Luhrmann's recent big-screen adaptation of "The Great Gatsby."
The Liberace Foundation for the Performing and Creative Arts presents the exhibit; donation boxes will be available at the exhibit for those wishing to donate to the foundation's scholarship.
"Too Much of a Good Thing Is Wonderful: Liberace and the Art of Costume" will open Monday at 3 p.m.; daily hours are 3 to 10 p.m. through Jan. 2. For more information, call 702-698-7640.
— By CAROL CLING