Briefs: Music, theater and family fun
January 30, 2014 - 9:04 pm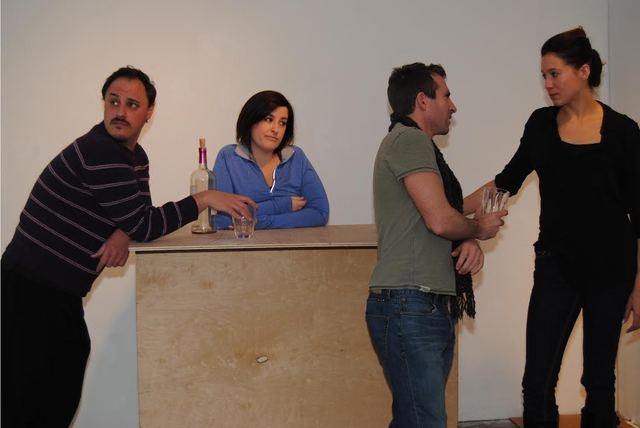 Music
HERTZENBERG SOLOS
AT CABARET JAZZ
Kristen Hertzenberg's singing a different song these days.
After more than six years as "Phantom — The Las Vegas Spectacular's" Christine, where she showed off her classical training and Broadway affinity, a more eclectic musical side has emerged.
It's one she'll show off during a solo show — Saturday at The Smith Center's Cabaret Jazz — with such numbers as Bonnie Raitt's bluesy "Love Me Like a Man," which Hertzenberg calls "about as polar opposite from 'Phantom' as you can get."
But there's also "more upbeat stuff," Hertzenberg adds, reflecting "all my favorite songs," including "Vegas" by Sara Bareilles.
"With 'Phantom' and all the other shows I've done, I've always been handed music," Hertzenberg says. "I put on a wig and costume and play somebody else."
On Saturday, however, it's all her — along with Benjamin D. Hale (alias "Million Dollar Quartet's" Johnny Cash) on vocals and guitar, Martin Kaye ("MDQ's" Jerry Lee Lewis) on vocals and piano, drummer George Bryant, guitarist Pablo Gadda, bassist Bob Sachs and Joel Ferguson on pedal steel.
After performing the show at downtown's Art Square Theatre, then at the House of Blues' Foundation Room at Mandalay Bay, Hertzenberg didn't expect to get another chance, "but then the Cabaret Jazz opportunity came up," she says.
Having sung there before with regular headliner Clint Holmes, and as performer at the monthly Composers Showcase there, Hertzenberg says "it's my favorite room in town,. The space is so beautiful — and the sound is exquisite."
You can catch her act at 7 p.m. Saturday in Cabaret Jazz at The Smith Center for the Performing Arts, 361 Symphony Park Ave. For tickets ($25), call 702-749-2000 or visit www.thesmithcenter.com.
Theater
'PICASSO' PLAYS
ONYX THEATRE
A physicist and a painter walk into a bar.
No, it's not a joke. It's a play. But never fear — "Picasso at the Lapin Agile" has plenty of jokes, as you'd expect in the first full-length play written by that wild and crazy Steve Martin. SRO Productions opens the comedy Friday at the Onyx Theatre.
Set in 1904, "Picasso at the Lapin Agile" brings together Albert Einstein and Pablo Picasso — before either has become world-famous — to debate the merits of art, science, love and relationships with other eclectic characters. Just as the discussion turns to future generations, a time-traveling stranger interrupts to add his own twist to the proceedings.
Robert Routin directs the production, which will be staged at 8 p.m. Friday and Saturday at the Onyx Theatre, 953 E. Sahara Ave. More performances will be at 8 p.m. Feb. 8 and 9. For tickets ($20), call 702-732-7225 or visit www.onyxtheatre.com.
Family fun
YEAR OF THE HORSE
GALLOPS INTO LV
Chinese New Year celebrations marking the Year of the Horse begin Friday, launching a 23-day celebration bringing good-luck symbols to several Strip locations.
At Aria, 3730 Las Vegas Blvd. South, an 8-foot stallion, a 70-meter dragon and 144 Chinese lanterns anchor the display, while at The Venetian, 3355 Las Vegas Blvd. South, and the adjacent Palazzo, 3325 Las Vegas Blvd. South, fountains, walk-through water features and hand-painted horse sculptures are among the attractions.
Traditional dances performed by the Yau Kung Moon lion dance team kick off at 1 p.m. Friday at CityCenter's The Shops at Crystals, 3720 Las Vegas Blvd. South, and at 6 p.m. Friday at the MGM Grand, 3799 Las Vegas Blvd. South, with Saturday performances scheduled at The Cosmopolitan of Las Vegas, 3708 Las Vegas Blvd. South; Bellagio, 3600 Las Vegas Blvd. South; the Flamingo, 3555 Las Vegas Blvd. South; the Quad, 3535 Las Vegas Blvd. South; and Harrah's, 3475 Las Vegas Blvd. South.
As always, Bellagio's Conservatory and Botanical Gardens marks the holiday with a variety of elaborate displays featuring everything from prancing horses to an 18-foot Chinese money tree. Adding to the atmosphere: musical performances by the Beijing Trio of Las Vegas, performing traditional folk and popular Chinese music from 5 to 6 p.m. daily. The conservatory is open around the clock at Bellagio; for more information, call 702-693-7111 or go online to www.bellagio.com.
And artist Jia Lu makes her Las Vegas debut in celebration of the Chinese New Year at Exclusive Collections Gallery in the Forum Shops at Caesars, where she will greet patrons from noon to 6 p.m. Friday and Saturday and noon to 4 p.m. Sunday. Her exhibit of figurative works is on display through Feb. 7 in the Forum Shops gallery, 3500 Las Vegas Blvd. South. For more information, call 702-432-1154.
Music
FREE CONCERTS SET
IN HENDERSON, LV
Two free concerts — one in Las Vegas, one in Henderson — enliven the weekend music scene.
Pianist Timothy Hoft joins the Henderson Symphony Orchestra at 8 p.m. Friday at the Henderson Convention Center, 200 Water St.
Hoft is scheduled to perform "riverrun" by T. Takemitsu; Igor Stravinsky's music for the 1947 ballet "Petrushka" and the fox trot "Remembering Gatsby," by John Harbison, round out the program for the orchestra, under the direction of Taras Krysa. For more information, call 702-267-2171 or go to www.hendersonlive.com.
The Brass Roots Quintet will take the stage at 2 p.m. Saturday at the Charleston Heights Arts Center, 800 S. Brush St., performing a wide-ranging repertoire embracing everything from classical to contemporary music. For more information, call 702-229-6383 or visit www.artslasvegas.org.
Theater
GREEN VALLEY HIGH
DEBUTS 'MARY POPPINS'
The flying nanny has landed — at Green Valley High School, where the stage version of the beloved Disney musical "Mary Poppins" is performed through Feb. 8.
Music Theatre International, the world's largest licensor of musical theater, chose Green Valley High School students to become the first of their peers to perform "Mary Poppins." The production also will be judged for a potential spot in the International Thespian Festival this June in Lincoln, Neb.
Las Vegas-based Flying By Foy — the theatrical specialists behind the airborne sequences in Broadway shows from "Mary Poppins" to "American Idiot" — provides special effects for the Green Valley production. New York-based choreographer Greg Kata oversees new dances and staging for the show, which is based on the stories of P.L. Travers and the 1964 movie adaptation. "Downton Abbey" creator Julian Fellowes supplies the stage version's script, which highlights Richard M. Sherman and Robert B. Sherman's Oscar-winning original score.
"Mary Poppins" will be performed at 7 p.m. Friday and 1 and 7 p.m. Saturday at the Green Valley High School Theatre, 460 Arroyo Grande Blvd., Henderson. Additional performances will be at 7 p.m. Feb. 6-8. Tickets ($12 for students and seniors, $15 general admission), may be purchased online at www.GVHStheatre.com.
— By CAROL CLING