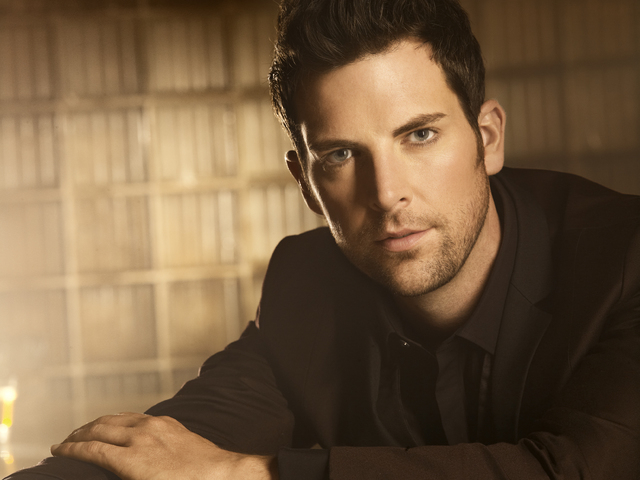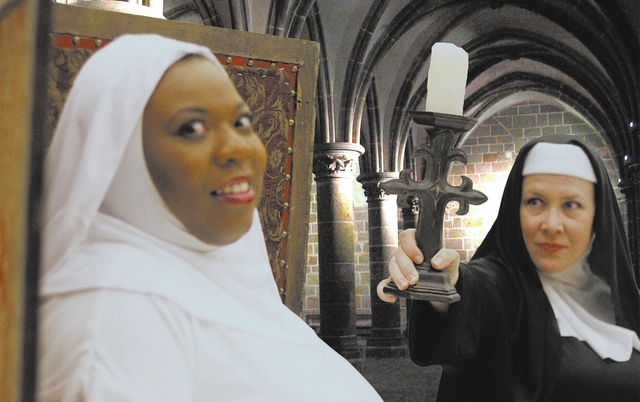 Theater
'THE WOMEN'
OPENS AT CSN
It's a jungle out there. Get set to laugh as "The Women" claw and scratch their way through it, starting Friday at the College of Southern Nevada.
Clare Boothe Luce's biting 1936 satire focuses on high-society wives dealing with the complications of marriage, motherhood — and divorce. More than 20 cast members play more than 40 roles — and make more than 80 costume changes during the show.
Among the cast members: Cynthia Dobek, who's grown into the role of one of "The Women" after playing Little Mary, the daughter of one of the main characters, in the play's 1973 Broadway revival.
"The Women" will be presented at 7:30 p.m. Friday and Saturday and 2 p.m. Sunday in the Nicholas J. Horn Theatre at CSN's Cheyenne campus, 3200 E. Cheyenne Ave., North Las Vegas; performances continue at 7:30 p.m. Nov. 15-16 and 2 p.m. Nov. 17.
Tickets are $12 for adults and $10 for students and seniors; for reservations, call 702-651-5483 or visit www.csn.edu/pac.
Music
MUSICAL ARTS SOCIETY
SETS MASTERWORKS
Works by Bach, Brahms and Mozart highlight the Southern Nevada Musical Arts Society's first Masterworks Concert of the season, Sunday afternoon at UNLV's Artemus Ham Hall.
Celebrating their 51st season, the Musical Arts Chorus and Orchestra will be joined by a quartet of guest soloists — soprano Linda Lister, contralto Valeria Ore, tenor Robert Peterson and bass-baritone Neil Wilson — for a performance of Mozart's "Coronation Mass."
Douglas L. Peterson, SNMAS' music director, will conduct the program, which features J.S. Bach's "Cantata 34" and Johannes Brahms' "Schicksalslied (Song of Destiny)," along with "A Salute to the Armed Forces" by Don Wyrtzen.
The concert will be at 3 p.m. Sunday in Artemus Ham Hall at the University of Nevada, Las Vegas, 4505 S. Maryland Parkway. Tickets ($18 for adults, $12 for seniors, disabled and military and $8 for students) are available by calling 702-895-2787 or visiting pac.unlv.edu. More information is available at www.snmas.com.
Dance
'FIREBIRD' LIGHTS UP
DANCE THEATER
A new version of an old favorite highlights the Las Vegas Contemporary Dance Theater's Smith Center program Friday.
Igor Stravinsky's classic score for "The Firebird" inspires the world premiere of a new version choreographed by Bernard H. Gaddis, LVCDT's founder and artistic director.
Gaddis brings a contemporary spin to "The Firebird," originally created by Mikhail Fokine in 1910. Maria Fernanda Vicuna-McGovern will dance the title role.
The "Firebird" premiere provides the finale for a program that also features the world premiere of "Crashing … Through," choreographed by Hope Boykin, principal dancer with the Alvin Ailey American Dance Theater.
Rounding out the evening: Gaddis' "Solstice" and "Bad Blood," choreographed by Ulysses Dove for the Ailey company, which has been the sole company to perform the work — until CDT presents it Friday.
The program begins at 7:30 p.m. Friday in Reynolds Hall at The Smith Center for the Performing Arts, 361 Symphony Park Ave. For tickets ($24-$79), call 702-749-2000 or visit www.thesmithcenter.com. For more information, click on www.LVDance.org.
Theater
NCT, COCKROACH
TEAM FOR 'LINE'
UNLV's Nevada Conservatory Theatre and downtown's Cockroach Theatre — founded by UNLV theater department alumni — team up for a production of playwright Israel Horovitz's "Line," which opens its two-theater run this weekend in UNLV's Black Box Theatre.
The longest-running Off-Off-Broadway show (it's been playing continuously since 1974), "Line" focuses on a group of people lining up for an unnamed event — and competing for front-of-the-line status — as it explores human frailties in explosive, and hilarious, fashion.
NCT has "always wanted to work with" Cockroach Theatre, says Brackley Frayer, NCT's executive director. Cockroach's Will Adamson, a UNLV alumnus, directs a cast that includes Jordan Fenn, Glenn Heath, Paul Neal, Stephan Petway and Stefanie Resnick.
"They're alums — it would be fun to do more with them," Frayer says of the NCT-Cockroach collaboration. In addition, the joint production represents "a way to get NCT downtown."
The joint production continues at 8 p.m. Friday and Saturday and at 2 p.m. Sunday in the Black Box Theatre at the University of Nevada, Las Vegas, 4505 S. Maryland Parkway. "Line" continues at 8 p.m. Nov. 14-16 and 2 p.m. Nov. 17 at the Art Square Theater, 1025 S. First St. For tickets ($13.50-$15), call 702-895-2787 or visit pac.unlv.edu.
Music
MANN AND MARIZA
PLAY CABARET JAZZ
A world of music comes to The Smith Center's Cabaret Jazz when "Voice" contestant Chris Mann performs this weekend, followed Monday by Portugal's Mariza.
Classically trained singer-songwriter Mann found new fans last year on NBC's "The Voice," following work behind the scenes as a "Glee" session singer. (He also occasionally appeared as a member of the fictional vocal group, the Warblers.)
Mariza, meanwhile, specializes in the traditional Portuguese musical style known as "Fado" and will perform a variety of songs new and old, including favorites from other artists who have influenced her.
Mann will perform at 7 p.m. Friday and Saturday in Cabaret Jazz at The Smith Center for the Performing Arts, 361 Symphony Park Ave.; tickets are ($36-$49). Mariza will take the Cabaret Jazz stage at 7:30 p.m. Monday; tickets are $26-$125. Call 702-749-2000 or visit www.thesmithcenter.com for more information.
Tribal heritage
NATIVE AMERICAN
PROGRAMS SET
The Lost City Museum in Overton observes Native American Day Saturday with a variety of activities, while a champion Hopi hoop dancer visits four Southern Nevada libraries starting Tuesday.
Performances and demonstrations by Native American artists and dance groups highlight Saturday's Lost City Museum program. Navajo tacos are on the menu and visitors will have the opportunity to purchase handmade, authentic crafts and jewelry.
Activities will run from 10 a.m. to 4 p.m. Saturday at the museum, 721 S. Moapa Valley Blvd. (From Las Vegas, take Interstate 15 to exit 93.) Admission is $5, with children and museum members free. Call 702-397-2193 for more information.
Champion Hopi/Choctaw hoop dancer Derrick Suwaima Davis, meanwhile, returns to local libraries to celebrate Native American Heritage Month.
A master at maneuvering five rattan hoops around his body, Davis creates intricate patterns that convey the Hopi story of creation, keeping time to the singing and drumming of the musicians accompanying him.
Davis will present free performances at 4 p.m. Tuesday at the Windmill Library, 7060 W. Windmill Lane; at 4 p.m. Wednesday at the Bunkerville Library, 150 W. Virgin St., Bunkerville; at 10:30 a.m. Thursday at the Clark County Library, 1401 E. Flamingo Road; and at 10 a.m. Friday at the Sunrise Library, 5400 Harris Ave. For more information, visit the Las Vegas-Clark County Library District website at www.lvccld.org.
Music
UNLV OPERA THEATER
PRESENTS DOUBLE BILL
Two one-acts about nuns add up to one night of heavenly music as UNLV Opera Theater performs a double bill of Puccini's "Suor Angelica" and Hindemith's "Sancta Susanna" for two nights starting Thursday.
The tragic "Suor Angelica" focuses on a young woman who is sent to live in a convent after bearing a child out of wedlock; Sheronda McKee and Cordelia Anderson sing the title role.
The controversial, expressionist-influenced "Sancta Susanna," composed in 1921, deals with the conflict between celibacy and lust, as Sister Klementia (Stephanie Weiss) advises the title nun (sung by Lillian Roberts and Carrie Wachsberger) to become conscious of her physical desires.
Linda Lister, director of the UNLV Opera Theater, directs the double bill, which will be presented at 7:30 p.m. Thursday and Friday, Nov. 15, in the Dr. Arturo Rando-Grillot Recital Hall at the University of Nevada, Las Vegas, 4505 S. Maryland Parkway.
For tickets ($10 for adults; $8 for UNLV faculty and staff, military, and seniors; UNLV students are free), call 702-895-2787 or go online to pac.unlv.edu.
— By CAROL CLING