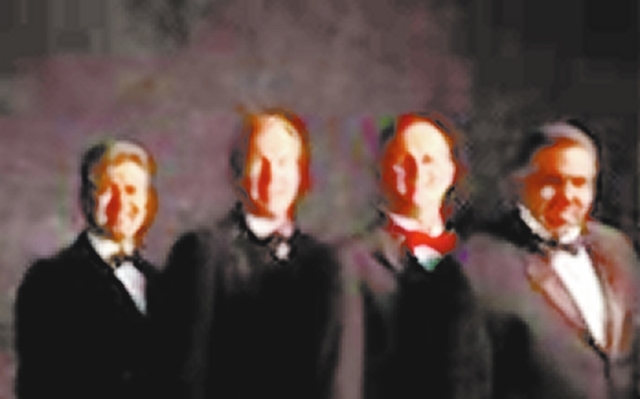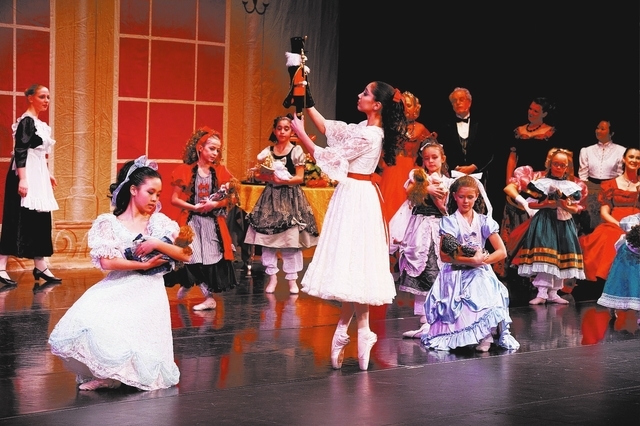 Dance
TWO BALLET TROUPES
STAGE 'NUTCRACKER'
If there's never enough "Nutcracker" to satisfying your holiday ballet cravings, take heart — because two local troupes contribute their interpretations of the fanciful Tchaikovsky classic this weekend.
Nevada School of Dance's production features an ensemble of 76 performers, ages 4 to 19, dancing the central roles and in the corps de ballet as young Clara and her Nutcracker Prince visit magical realms where dancing dolls, snowflakes and bonbons come to life.
Artistic director Luz Morante and co-artistic director Sergey Popov oversee the NSD production, which will be staged at 7 p.m. Friday and 6 p.m. Saturday at Faith Lutheran High School Performing Arts Center, 2015 S. Hualapai Way. For tickets ($20 for adults, $18 for students 12 and younger and seniors 60 and over), visit www.nevadaschoolofdance.org.
The Las Vegas Ballet Company, meanwhile, has added Act I to "The Nutcracker" highlights it has presented for the past five years, and will perform the entire ballet Friday through Monday at the Summerlin Library.
"We've added music and choreography for new kids, and new parent dancers," LVBC artistic director Kyudong Kwak said. "Many have never been onstage before. We've also added new stage design and props."
Under the direction of Kwak and executive director Yoomi Lee, LVBC will present "The Nutcracker" at 7 p.m. Friday and 2 p.m. Saturday through Monday in the Summerlin Library Theatre, 1771 Inner Circle Drive. For tickets ($25 for adults, $20 for students and seniors), call 702-240-3262.
Music
TENORS SHARE
HOLIDAY TUNES
It's time to look back on 2013 — and look forward to 2014. Musically speaking, that is.
Tenors 4 U has both directions covered as the quartet presents a free Friday concert in downtown Las Vegas.
Billed as "Christmas for You Too," the concert features tenors Michael Rodrigues, Mark Thomsen, Marco Varela and Alfonse Anderson singing a mixture of entertaining, inspirational selections ranging from classical to pop.
Tenors 4 U will perform at noon Friday at the Lloyd George U.S. Courthouse, 333 Las Vegas Blvd. South. For more information, call 702-229-3515 or visit www.artslasvegas.org.
Theater
WINCHESTER HOSTS
'LA OTRA POSADA'
Mexico's Christmas traditions inspire the Spanish-language pastorela (Christmas play) "La Otra Posada." Presented by the theater group Inarte, "La Otra Posada" ("The Other Inn") recounts the Nativity story, when Mary and Joseph were turned away from an inn and sought refuge in the stable that became Jesus' birthplace.
In addition to reflecting the culture and folklore of Mexico's diverse regions, "La Otra Posada" also emphasizes — with a comic flair — the importance of sharing throughout the Christmas season.
"La Otra Posada" will be presented at 7 p.m. Saturday at the Winchester center, 3130 S. McLeod Drive. Tickets ($10 in advance, $12 the day of the show) are available by calling 702-455-7340.
Family fun
SANTA, SNOWMEN
LIGHT UP SPRINGS
It may be December in the desert, but the Springs Preserve gets into the holiday spirit — and counts down to Christmas — with special seasonal activities.
Offering a Southern Nevada variation on a winter wonderland, a variety of desert "snowmen" (along with snowwomen and snowcritters) created by local artists and groups decorate the Snowman Stroll in the preserve's gardens. The stroll (free with admission) continues through Dec. 27.
And the preserve's daily train rides get a peppermint-stick twist from 11 a.m. to 3 p.m. Monday and Tuesday as Santa Claus boards the "Polar Express" to read holiday stories and hand out candy canes.
The Springs Preserve, 333 S. Valley View Blvd., is open from 10 a.m. to 4 p.m. daily (except Wednesday, Christmas Day); admission for Nevada residents ranges from $4.95 to $9.95 ($10.95-$18.95 for out-of-state visitors. For tickets or more information, call 702-822-7700 or click on www.springspreserve.org.
Art
WOLFE UNVEILS
'HUMAN CANVAS'
Photographer Art Wolfe has spent four decades capturing wildlife, landscapes and native cultures around the world. But he shifts focus with his latest series, "The Human Canvas Project," on display at the Rotella Gallery.
Abstracting the human form through the use of lines, patterns, texture and unusual angles, Wolfe's images draw on ancient traditions of tribal peoples who decorated their faces and bodies with painted designs.
"The idea has percolated for more than 20 years," adds Wolfe, who says he views himself "more as an artist than as a photographer in this new series" and regards the images "more as pure art rather than as photography."
Fourteen images from the series are on display, with 43 photographs from the series available for purchase; the gallery will rotate images featured in "The Human Canvas Project," which continues indefinitely at the Rotella Gallery in on the second level of the Palazzo, 3327 Las Vegas Blvd. South.
Gallery hours are from 10 a.m. to 11 p.m. Sunday through Thursday and 10 a.m. to midnight Friday and Saturday; for more information, call 702-431-6030 or visit www.rotellagallery.com.
— By CAROL CLING