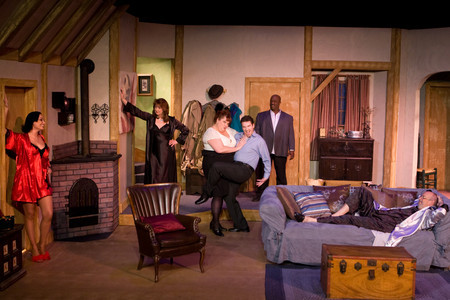 He and she. Him and her. He and her. She and him.
Mix and match. Add sex. Stir.
Slap and tickle for laughs and giggles.
"Just good, rollicking fun, people bed-hopping, a great deal of physical comedy," says Barbara King, who portrays Jacqueline, one of the bed-swappers whose extramarital mingling sends Las Vegas Little Theatre's "Don't Dress for Dinner" off on its farcical way.
"It's a hoot."
Kicking off tonight for a three-weekend run on the theater group's mainstage, "Dinner" often is dismissed by reviewers as a comic trifle, what New York Times critic Alvin Klein once waved away as a "babbling sex farce" and "flapdoodle … concocted by the numbers … that extols pretense and infidelity (and) validates multiple duplicity."
Youch! Yet audiences haven't been as emphatically unimpressed, supporting successful runs in Paris and London, with a Broadway arrival eyed for later this season. (Besides, who isn't down with a little pretense, infidelity and multiple duplicity? And who can resist authentic "flapdoodle"?)
Penned by French playwright Marc Camoletti as a sequel of sorts to his other comedy, "Boeing Boeing," and adapted as British farce by Robin Hawdon, "Dinner" is about, well, let's see …
In a cozy farmhouse in the French countryside, this rascal named Bernard wants to send wifey Jacqueline away to her mom's for the weekend so he can canoodle (yes, this is the sort of play that invites the word "canoodle") with Suzanne, his Parisian model mistress. Bernie tries to alibi himself by inviting a chichi cook, Suzette — note the similar names, this will figure into the aforementioned flapdoodle — and inviting friend Robert to dinner.
"We laugh a lot during rehearsals, not only because the story is funny," says director Jay Joseph, "but because the actors are having such a good time up there." So anyway …
When Bernie's not around, the phone jingles and Jackie answers. The caterer's calling — Suzette's on her way. Then Robert calls, Jackie answers and finds out Robbie is spending the weekend — a fact she didn't know — as it becomes obvious these two are, yes, canoodling.
"I love British humor. It's so dry," says Tony Blosser, who plays Robert. "There were a couple of British comedies I watched to get ready." Back to our plot …
Jackie tells Bernie that Mom's got the flu and she canceled her visit. Bernie panics and informs pal Robbie about the, yes, canoodling with Suzanne, convincing him to tell Jackie that "Suzy" is actually his buddy's girlfriend.
"What's great about farce is that it's very quick, one-liner, one-liner, one-liner," Joseph says. "Some characters do have monologues, but even within the monologues, it's very quick. You have to stay on your toes." Where were we? Oh, right …
Bernie and Jackie head out grocery shopping when Suzy — the cook, not Bernie's lover — arrives. Oblivious Robert introduces her as his gal pal when Jackie and Bernie return. Bernie's ticked off by the mix-up and Jackie's uber-ticked, believing she had been Robbie's only paramour (yes, this is the type of play that invites the word, "paramour").
"It's very much like everybody wants what the other person has," Blosser says. "The single people want the security of being in a relationship and the married people want the freedom." As the action picks up …
Bernie and Robert secretly confer with Suzette, who agrees — for 400 francs — to play along as Robbie's inamorata (yes, this is the type of play that demands the word, "inamorata"). When Suzanne arrives (cue the name confusion with Suzette, Suzanne, Suzy, whatever), she's puzzled to discover she's now the cook, not Bernie's little cookie. Now Suzanne the mistress is irritated, but agrees to pretend to be Suzette the cook, but when Jackie gets up in Robbie's face about Suzette, he tells her she's his niece (yes, this is the sort of play that invokes the "niece" ploy to cover the lover switch).
Curtain. Intermission.
"There's a silliness to it that can be appreciated by anyone with a funny bone," King says. "These characters deserve one another." Curtain up. Act II …
Let's default to the CliffsNotes summary: There's mistaken assumptions, lingerie, a Chanel coat, jealous lovers dumping ice and spritzing soda on each other and one more complication showing up: George, Suzette's husband.
"It's a blast," King says.
"Don't Dress for Dinner"? Thy name is flapdoodle.
Contact reporter Steve Bornfeld at sbornfeld@ reviewjournal.com or 702-383-0256.
Preview
"Don't Dress for Dinner"
8 p.m. today, Saturday, Thursday; 2 p.m. Sunday (through Jan. 24)
Las Vegas Little Theatre, 3920 Schiff Drive
$19-$22 (362-7996)