Britney Spears' dad and me, in the kitchen, talk crawfish
February 25, 2014 - 12:57 am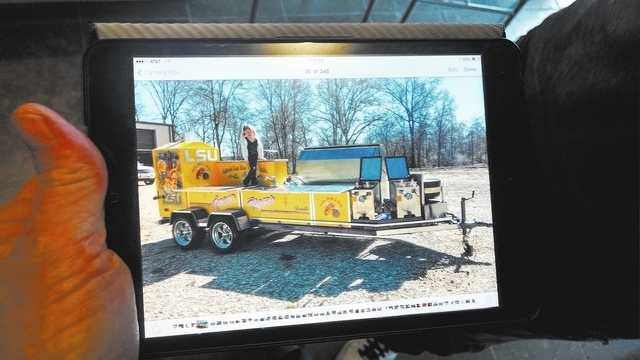 Phil Maloof hired Britney Spears' dad, chef Jamie, to cook for hundreds of people at the Maloof family Super Bowl party. That's where I met Jamie Spears, in the penthouse kitchen in Palms Place towers.
I knew Spears was a big LSU Tigers fan. I went to LSU, and he's from a town near LSU, while my family is nearby in New Orleans. So mid-Super Bowl, we talked about home.
Me: My family had to run from (Hurricane) Katrina. Did you have family that had to run from Katrina?
Spears: All my family. But we're north of the lake. We got a lot of wind. We got some water.
Me: This is a really nice party.
Spears: Yes, it is. I'm glad to be here. I haven't cooked for Phil in probably two to three years. … I only do two or three (events) a year because I'm so busy. The (Maloof) family's wonderful.
Me: How did you even meet them?
Spears: My daughter's manager, Larry Rudolph. I've been knowing them ever since the Palms started. … Larry and George (Maloof) were good friends. I had come to California. I was thinking about trying to go to a chef's school or something. Larry told me, "Let me talk to George." So I loaded up my truck. I took all my stuff down to Phil's condo on Wilshire Boulevard, and I went and cooked for him: fried chicken, mashed potatoes, Southern stuff. That's what I cook, Southern stuff and comfort food, Louisiana food. And he hired me. So it was a long, very good relationship.
Me: What did you cook today?
Spears: Everything I did today was Southern. I did chicken wings, but mine have a different kind of sauce on it. I did pulled pork. I did a brisket. I did an old Southern salad: green onion and egg. And quail breast with bacon on it. I had venison deer sausage with jalapeno and cheese. And banana pudding.
Me: What's your secret?
Spears: I have no secret. It's simple. Everything I do is simple.
Me: With certain pulled pork and some of that stuff, do you want to cook for days, or a half-a-day?
Spears: Well, I have a real cooking rig at home. (For this), I improvised. I started at 9 o'clock yesterday morning. I finished at 4 this morning, and then I got here at 7:30, and I've been cooking on two-and-a-half hours sleep. It's just something we do at home. We cook.
Me: It took me years to find good crawfish here (in Vegas).
Spears: That's what we specialize in, is crawfish. I had a seafood place — me and my grandmother — 13 years in Kentwood, La.
Me: How often do you come to Vegas?
Spears: I don't usually come very much, but my daughter has a show here now, so we're in and out.
Me: How do you like the show? Have you seen every single show, or do you just watch it every now and then?
Spears: I never miss a show. I love the show.
Me: What do you think people should go see it for?
Spears: It's the best show in Vegas.
Me: Her shows are always so extravagant.
Spears: It is. She's an "A" class performer, so she deserves an "A"-class show.
Me: Have you ever been onstage before?
Spears: Hell, no.
Me: She should take you up onstage one day.
Spears: No.
Me: Come on.
Spears: Nn-Nn.
Me: So now that you're coming into Vegas, are you enjoying it at all? Or do you just work?
Spears: I just work. I don't go out. I don't do anything like that. I go to work from 1 o'clock or 12 o'clock to 1 o'clock in the morning, and then when we finish our run, I fly out.
Me: For some reason, I thought you were cooking a lot.
Spears: No, I cooked for four years, and I quit. I just do it for special occasions.
Me: What's your favorite thing in the world to eat?
Spears: Crawfish. Crawfish etouffee. Boiled crabs.
Me: Do you want anyone to hire you for VIP stuff?
Spears: No. No. I got as much cooking as I want to do.
Me: Is there anything you want me to tell the world?
Spears: Hmm. Life's good.
Me: Thanks for the food.
Spears: I ought to get Phil to do a crawfish boil. I'll come do it.
Me: There's nothing better than a crawfish boil.
Doug Elfman's column appears on Page 3A in the main section on Mondays, Tuesdays, Thursdays and Saturdays. He also writes for Neon on Fridays. Email him at delfman@reviewjournal.com. He blogs at reviewjournal.com/elfman.